A month ago I suggested value investors interested in fertilizer MLPs might consider buying Rentech Nitrogen Partners, LP (NYSE:RNF) with a target of $27.60 per unit.
You will recall Rentech has two industrial plants. The one in East Dubuque, Illinois, produces mainly the nitrogen fertilizers anhydrous ammonia and UAN, as well as industrial products such as urea-based diesel exhaust fluid and food grade carbon dioxide. The other in Pasadena, Texas, produces ammonium sulfate for agricultural use and ammonium thiosulfate and sulfuric acid for industrial use.
The units rallied to $27 but have since fallen back and made a new low of $24.36 on September 26 after a MarketWatch columnist suggested the units were weak and could easily drop to $21.
But Rentech rallied back to my original price, so investors may be wondering if the reasons for the recommendation are still intact.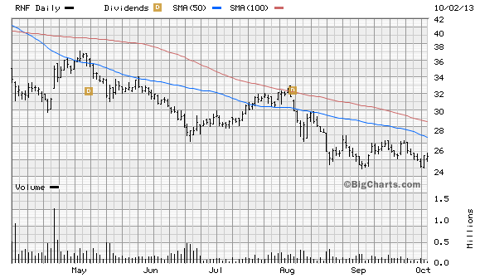 Click to enlarge
My first argument was I expected cornbelt ammonia prices to firm up as corn farmers started thinking about fall application and Gulf ammonia became squeezed due to plant downtime in Trinidad, which is the biggest exporter to the U.S.
Yara International (OTCPK:YARIY) settled ammonia contracts with phosphate producers CF Industries (NYSE:CF) and The Mosaic Company (NYSE:MOS) for October delivery at Tampa, Florida, up $5/mt to $490, so the squeeze was less than I thought it would be.
However, nitrogen fertilizer prices have indeed stabilized in the Midwest after declining steadily during all of 2013. This is because Tampa ammonia stabilized as well as urea and UAN prices at New Orleans. The corn harvest season is progressing, albeit late compared to last year, with 12% harvested on average as of Monday, versus the five-year average of 23%. Some states have harvested more, with Nebraska at 85% and Texas at 68%.
In addition, pre-plant winter wheat application has been very active, adding to demand for nitrogen in the Southern Plains. Winter wheat was 39% planted as of Monday, versus the 40% five-year average.
Rentech East Dubuque considers its selling area for fertilizers to be mainly the nearby crop growing areas of the states of Illinois, Iowa and Wisconsin. Ammonia and UAN make up 80% or more of East Dubuque revenues in the past, however, increased capacity for diesel exhaust fluid production and storage could start to eat into that.
Prices for ammonia, urea and UAN have stabilized during September, albeit at levels lower than earlier in the year. For example, in Illinois, retail ammonia has stabilized around $680/short ton and UAN-28% around $310/st. Wholesale prices would be less than those shown in the following table, which are posted retail prices by dealers. Wholesale prices might be $50-$100 less than those shown.
2013 Midwest Retail Nitrogen Fertilizer Prices ($/st)
14-Mar
28-Mar
11-Apr
25-Apr
9-May
23-May
6-Jun
20-Jun
3-Jul
18-Jul
1-Aug
15-Aug
29-Aug
12-Sep
26-Sep
Illinois Ammonia
$885
$886
$890
$889
$889
$889
$880
$866
$866
$842
$793
$695
$692
$685
$687
Illinois Urea
$532
$530
$532
$530
$527
$531
$516
$508
$508
$508
$487
$470
$476
$430
$422
Illinois UAN28
$380
$382
$391
$393
$392
$391
$392
$387
$386
$387
$360
$321
$320
$309
$313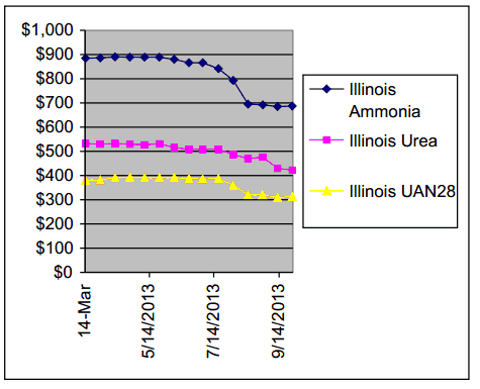 Source: USDA
According to Rentech's Q2 earnings release dated August 8, East Dubuque has already sold or locked in all of its expected UAN deliveries of approximately 289,000 tons for 2013 at $293/st (293,000 in 2012), and 79% of its expected ammonia deliveries of approximately 128,000 tons for 2013 (149,000 in 2012) at $655/st.
The MLP's reduced guidance for full year 2013 (cash available for distribution) to $2.05-$2.40/unit assumed $550/st ammonia for the remaining deliveries. Given cornbelt ammonia seems to have stabilized at $680, it would appear that target will be met, and there is some upside to pricing in my view, however, the volumes left to sell are low. In addition, the East Dubuque plant will be down for as long as a month sometime in Q4, which started yesterday.
The East Dubuque's reduced production during the downtime was expected to be part of the reason the MLP estimated 60 cents per unit in lost CAD, however, that number would be less given the lower pricing that has prevailed since the August 8 guidance.
Since East Dubuque had delivered 52,000 tons of ammonia and 120,000 tons of UAN in the first half of 2013, the guidance implies the plant expects to deliver another 73,000 tons of ammonia and 169,000 tons of UAN during the second half of 2013.
There is some downside risk to these volume estimates, especially because Agrium Inc. (NYSE:AGU) is responsible for providing orders for about 80% of its nitrogen fertilizer sales.
East Dubuque normally produces about 300,000 tons of ammonia per year (293,000 in 2012) and produced 150,000 in the first half of 2013. To produce the guided amount of ammonia sales and UAN in the second half, East Dubuque would have to produce 129,000 tons of ammonia in the second half, compared to 150,000 tons in the first half, or 21,000 less tons.
Although one month of ammonia production would have one expect to lose 25,000 tons, the ammonia expansion (see below) should allow East Dubuque to increase production rates at the tail end of the quarter to an annualized 372,000 short ton per annum rate.
The East Dubuque plant is going to have tied in 70,000 tons of additional ammonia capacity during the turnaround, which is expected to have a total cost of approximately $100 million, $80 million for the ammonia capacity, and $20 million for 20,000 more tons of ammonia storage, bringing total on-site storage to 80,000 tons. The budgeted cost of the Rentech ammonia capacity expansion at $1,143/st is competitive ($1,430 including storage) with other recent ammonia expansion plans. CF's Port Neal, Iowa expansion will provide 81,000 more merchant tons ammonia by 2016 to the corn belt, and 1.35 million tons urea, for an estimated cost of $1.7 billion ($1,190/st product).
Rentech's main cost of production at East Dubuque is of course natural gas. The 129,000 tons of ammonia production would typically require about 4.5 million mmBTU of natural gas.
As of the August 8 guidance, the MLP had hedged 3.1 million mmBTU of natural gas with a weighted average cost of $3.66, or about 69% of estimated requirements. After adding transportation costs of about 50 cents/mmBTU, the total hedged natural gas cost is expected to be $4.16, and the remaining requirements should be about the same, given current NYMEX futures prices.
The cost of gas per ton of ammonia is therefore about $145/short ton based on typical estimates for ammonia production from natural gas, and adding additional variable costs would bump this up to about $185. Assuming a $550/short ton netback price, Rentech East Dubuque should continue to achieve attractive gross margins of circa $365/short ton on its merchant ammonia sales.
UAN requires approximately 0.41 short tons of ammonia per ton, plus conversion costs, or about $105/short ton at current natural gas prices. Therefore, the $293/st locked in UAN price for 2013 should realize gross margins of about $188/short ton for UAN, again, profitable and attractive.
Next time I will cover Rentech's Pasadena, Texas, ammonium sulfate plant, which was acquired in November of last year. I'll cover profit prospects for East Dubuque's emerging urea-based diesel exhaust fluid business and relationship with Yara, in my next installment.
Disclosure: I am long RNF. I wrote this article myself, and it expresses my own opinions. I am not receiving compensation for it (other than from Seeking Alpha). I have no business relationship with any company whose stock is mentioned in this article.