By Edward Faubert
Cocoa, cotton, and sugar have all seen weather problems boost prices, while coffee declined on lack of demand.
Coffee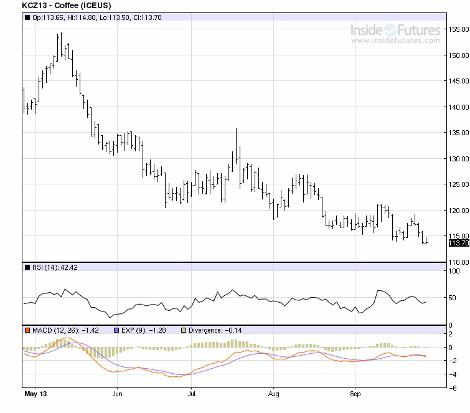 Coffee prices continued to decline in the third quarter, settling just 20 points off the contract low. Prices as measured by the ICE futures contract (KC) finished the third quarter at $1.13 a pound, down 9.65 cents, or 8%, and down 42.75 cents, or 27%, YTD. The market has been in a long-term downtrend and marked a four-and-a-half-year low on Sept. 30.
With the harvest in Brazil -- the world's largest producer -- now complete, traders are eyeing the harvests in Mexico, Central America, and Colombia, which begin in earnest in November and run through March of next year. Weather conditions have been generally favorable throughout the region, which accounts for one-fifth of global production. Latin American production is expected to be off by 1.6 million bags vs. a year ago, as a result of coffee rust, a fungus that attacks the leaves of the trees.
ICE futures prices tend to reflect the supply and demand for Mexican, Central American, and Colombian coffees, and there is no shortage of nearby supplies. Signifying lack of demand, the total ICE certified stock position currently stands at a healthy 2.8 million bags compared with 2.1 million bags a year ago, and 1.4 million bags two years ago. Money managers have maintained their profitable net short positions and are currently net short 23,800 lots, compared with net short 27,500 lots three months earlier.
Cocoa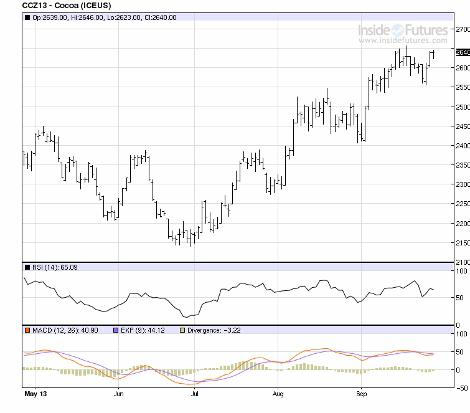 Cocoa prices as measured by the ICE Futures contract (CC) rose sharply during the third quarter by $467 a ton to settle at $2640 a ton, up 18% over the past three months and up $367 a ton, or 15% YTD. After having staged two failed rallies during the second quarter, the cocoa market finally broke out of its sideways trading range in early August, moving up to a new contract high of $2,657 a ton by mid-September.
The sharp rise in prices was not warranted if one looks exclusively at the latest estimate by the International Cocoa Organization. In August, it revised its production estimate of this year's crop year-ending Sept. 30 upward by 10,000 tons, and raised estimated grindings by 11,000 tons. The result was a statistically unimportant change in the ending stocks to a grinding ratio from 44.5% to 44.6%. Instead, traders have turned their attention to next year's crop prospects. Fueling the market has been reports of drier-than-usual weather in West Africa, which accounts for 70% of the world's production. Adding fuel to the fire for the bulls were reports of strong demand from both North America and Europe.
The rally also caught chocolate manufactures by surprise. They had reduced their forward buying to the lowest level in three years. And yet, like all weather-affected markets, future prices will be dictated by the whims of the weather, and nimble traders know the weather can change quickly. Money managers got this one right from the start of the move and have since piled on, increasing their net long position from 42,800 lots three months ago to currently 63,700 lots.
Cotton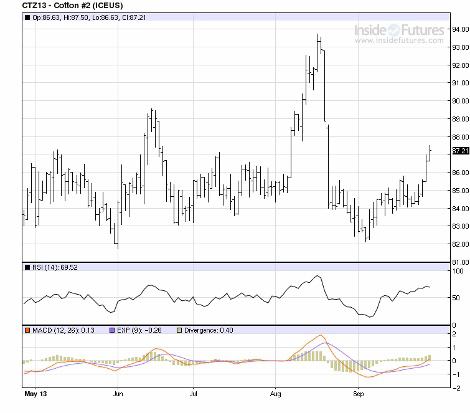 Cotton prices as measured by the ICE Futures No. 2 contract (CT) finished the third quarter at 87.21 cents a pound, up 3.20 cents a pound, or 4%, during the quarter, and up 8.47 cents, or 10% YTD. Most of the action in cotton for the past three months has been sideways at between 84 and 86 cents a pound, except for a brief two-week rally in mid-August to 92 cents a pound and a subsequent run back down.
Traders are focusing on U.S. weather patterns, with fears that too much late rain in the producing areas could reduce yields. China continues to be supportive to prices by holding 62% of total world stocks, considered by traders to be in strong hands. The USDA, in its September estimate, increased its projection of world production for the 2013/2014 crop year ending Sept. 30, 2014, to 117 million bales, while slight lowering use to 110 million bales. The result is a projected-record world surplus of 95 million bales.
Despite record stocks, money managers are betting prices will go higher. They slightly reduced their net longs during the quarter to 41,300 lots, compared with net long 51,700 lots three months earlier.
Sugar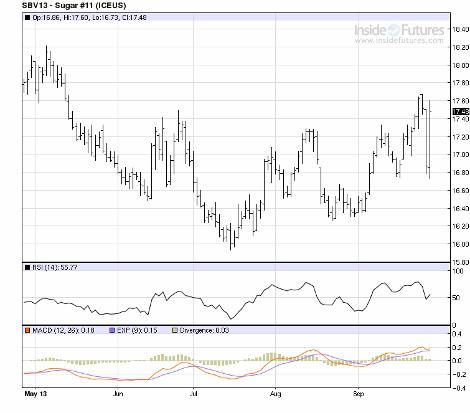 Sugar prices as measured by the ICE Futures NY 11 contract (SB) finished the third quarter at 17.48 cents a pound, up 0.56 cents, or 3%, during the quarter but down 2.55 cents, or 11%, YTD. After a long-term slide that began in 2011, prices have moved up to a four-and-a-half-month high in recently volatile trading.
The USDA projects total world production of sugar for the 2013/14 crop year (October-September) at 175 million metric tons, setting a new record. The growth in production from Brazil to 40.4 million tons was critical to this estimate. Prices have begun to firm, at least for now, on reports of decreased output in Brazil's critical Center South district. Money managers are betting that sugar has finally turned, and have reversed their net short positions from 47,800 lots three months earlier to net long 53,200 lots today.
Individual ETFs Available
All are based on futures contracts.