In the second half of September, the S&P 500 pulled back 4% from its intraday peak to its intraday low. Investors could still see market headwinds as investors digest the ongoing feud in Washington, D.C. But, even if markets do turn lower, investors willing to step in and take advantage of opportunity are usually handsomely rewarded by the end of Q4.
Markets tend to reward by year end
Despite market inspired headaches in September and early October, markets have typically finished the fourth quarter higher than they start. Over the past 10 years, the S&P 400 (NYSEARCA:MDY), Russell 2000 (NYSEARCA:IWM) and MSCI EAFE (NYSEARCA:EFA) have all posted gains 8 times. The S&P 500 has gained 7 times and median returns for all the major market ETFs have exceeded 5% for the period.
Source: Seasonal Investor Database

Looking deeper, consumer goods are solid performers in the period. The consumer staples ETF (NYSEARCA:XLP) has gained in 8 of the last 10 years, returning an average 2.8% and 4.22%, respectively. While those returns lag the broader markets, the XLP boasts a significantly lower standard deviation.

2 cigarette stocks you can buy in October
Across the Seasonal Investor database, there are 40 consumer goods companies that have finished the quarter higher in at least 8 of the past 10 years. Included among them are two cigarette companies with a strong history of posting gains.
1. Altria Group (NYSE:MO) made the list of consumer stocks to buy in September too. The company remains one of the most shareholder friendly in terms of dividend and buy back activity. When it boosted its dividend by 9.1% in August, it marked the 47th consecutive dividend increase in the past 44 years. In addition to returning money through dividends, the company also boosted its share buyback program by $300 million. This year, the company expects its earnings will grow 7-9% as tobacco brand sales remain stable, with gains in smokeless offsetting cigarettes. Altria's expansion into spirits is also helping boost operating results. It's seeing solid case growth for its Chateau Ste. Michelle, Columbia Crest and 14 Hands labels.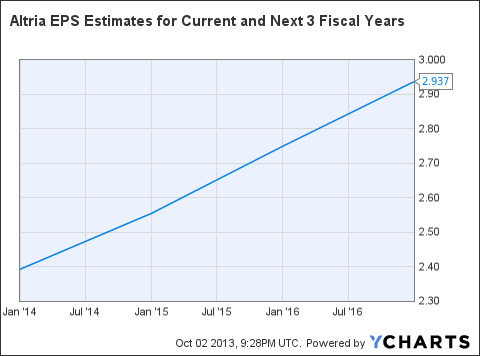 MO EPS Estimates for Current and Next 3 Fiscal Years data by YCharts
Over the past decade, shares have gained ground in Q4 8 times, producing an average and median return of 8.39% and 10.92%, nicely ahead of the broader market average and median returns.
Source: Seasonal Investor Database

2. Reynolds American (NYSE:RAI) is another solid performer in the final quarter. The company has been squeezing profit out of its Pall Mall and Camel cigarette brand while it invests to expand in moist snuff and snus. The company is also investing in smokeless cigarettes. The company's Pall Mall and Camel brands still own 8.5% and 8.7% of the U.S. cigarette market, respectively. And Reynold's is enjoying growth in its super premium Natural American Spirits brand, which owns just 1.2% market share and generates handsome margins near 50%. The company's Grizzly brand smokeless tobacco is the market share leader at 28.8%. The company is also trying to win share in the nicotine replacement category, taking on market leader Nicorette with its own Zonnic brand. Zonnic may offer strong opportunity given its convenience store distribution and lower count and cost packaging. Regardless, the main attraction for investors is the cash flow and resulting return of capital. Since 2004, the company has cut headcount by 35% and doubled its operating margin to 33%. At the same time, its boosted its dividend by 150% and doubled its earnings per share.
Source: Reynolds American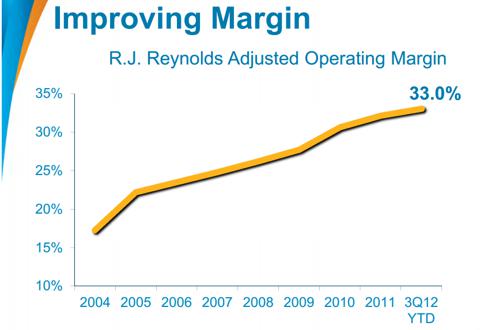 Over the past 10 years, Reynolds has gained in 8 of the past 10 years, returning an average and median 12.07% and 11.76% in the process.
Source: Seasonal Investor Database

Overall, investors looking to spread some of their risk across stable cash flow friendly companies this quarter could do far worse than Altria and Reynolds.
Disclosure: I have no positions in any stocks mentioned, and no plans to initiate any positions within the next 72 hours. I wrote this article myself, and it expresses my own opinions. I am not receiving compensation for it (other than from Seeking Alpha). I have no business relationship with any company whose stock is mentioned in this article.