The Company
Retractable Technologies (NYSEMKT:RVP) manufactures and markets VanishPoint® and Patient Safe® safety medical products. The VanishPoint® syringe, blood collection, and IV catheter products are designed to prevent needlestick injuries and product reuse by retracting the needle directly from the patient, effectively reducing exposure to the contaminated needle. Patient Safe® syringes are uniquely designed to reduce the risk of bloodstream infections resulting from catheter hub contamination. Retractable's products are distributed by various specialty and general line distributors.
Investment Thesis
Breaking The Safety Syringe Market Monopoly can be a daunting task, but in the end The Good Will Prevail.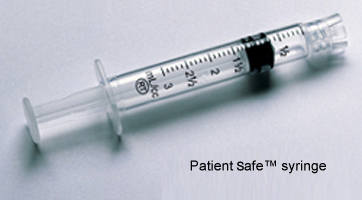 Safety Syringe Market
More than 1.3 million people die each year from unsafe injection practices, according to the World Health Organization. Potential routes of transmission of bloodborne pathogens such as HIV and Hepatitis C include needlestick injuries and the reuse, sharing, or unsafe disposal of non-sterile syringes. Healthcare and pharmaceutical markets across the world are now transitioning to the mandatory use of safety syringes to help protect those at risk of infection from needlestick injuries and other unsafe injection.
The world usage of syringes is estimated at approximately 18 billion units per annum with almost half of these sold in the USA alone. The safety syringe market is about 50% of that, at 8 to 10 billion units per annum valued at up to $5 billion per annum.
In addition, the safety syringe is penetrating the global syringe market, with growth estimated at greater than 10% per annum. The primary factors driving the safety syringe market include:
Reducing the impact and incidence of needle stick injuries;
Reducing virus transmission; and
Legislation for mandatory use of safety devices in the health care sector.
The Verdict
A Texas jury ordered Becton Dickinson (NYSE:BDX) to pay Retractable more than $113 million in compensation to resolve a 6-year antitrust battle involving safety syringes and other products.
The final award could climb as much as three times higher under the federal antitrust statute. Jeffrey Sherman, Becton Dickinson's senior vice president and general counsel, said in a statement that the company "will file an appeal at the earliest opportunity."
Retractable said in a statement that the verdict "vindicates" its claim that "industry giant" Becton Dickinson tried keep a monopoly in the safety syringe market through "false advertising," as stipulated by the Lanham Act.
Becton Dickinson called the jury's decision "a mixed verdict." The company noted the jury's "unfavorable" verdict regarding Retractable's Lanham Act claim. But Becton Dickinson also pointed out that the jury rejected Retractable's broader claims of monopoly against Becton Dickinson regarding safety syringes, conventional syringes and safety IV catheters. The jury also didn't buy Retractable's claims for contractual restraint of trade and exclusive dealing for any of the three product classes, Becton Dickinson noted.
Still, the jury verdict will hurt. Becton Dickinson will record a $340 million pretax charge ($211 million after taxes, and approximately $1.06 per diluted share) in its 2013 fourth quarter results as a result of the outcome. Becton Dickinson said its guidance for the rest of the year remains otherwise unaffected.
Background
For more than a decade, Retractable has asserted that BD engaged in illegal tactics to squelch demand for Retractable's superior products. The two companies reached an antitrust settlement in 2004, but a few years later Retractable returned to court with a new set of accusations. In addition to antitrust claims, the new suit included allegations that BD infringed Retractable's patents on a safety syringe. The case tied the two sets of claims together with an argument that one of BD's anticompetitive tactics was to flood the market with a cheaper knockoff of Retractable's syringe.
Retractable Technologies has developed retractable needles and needleless syringes that greatly reduce blood-borne infections.
Retractable Technologies sued Becton, Dickinson and Co. in 2007, saying the manufacturer of medical devices had violated the company's patents for a retractable syringe, created a monopoly on the market and used anticompetitive tactics to push out competition.
A jury dismissed most of the counts, including claims that BD had established a monopoly on the market, but agreed that the company did engage in anticompetitive conduct with the intent to acquire and maintain a monopoly in regards to safety syringes.
The jury also said BD engaged in false advertising under the Lanham Act. The judge in the case will rule on if those specific items deserve a financial payment as well.
"The company is very pleased with the verdict, and believes that it is a step toward opening the market to its innovative products," said Retractable Technologies attorney Roy Hardin.
BD's Dirty Tricks
Retractable Technologies said BD employed various forms of exclusionary contracts with health care facilities in order to dominate the market. Under the contracts, facilities would be required to maintain a certain level of purchases through bundling of items, so they would not able to stray from one product, even if they could get it cheaper elsewhere, the complaint alleged.
Retractable Technologies also claimed BD caused or induced trade shows to bar and exclude Retractable's sales staff from entering and demonstrating their products.
"For example, Retractable has been barred from one or more trade shows, even though the purpose of the shows was to demonstrate available safety technology to medical staff," the complaint alleged. "Hospital and trade show personnel have explained the exclusion of Retractable's sales personnel by saying their facility is under contract with BD, exclusive to BD, or standardized with BD."
Retractable Technologies alleged that BD labeled several of their needle products as "safety" or "safe" even though they were no safer than traditional needles. That point is important because health care facilities are often willing to pay a higher price for "safety" products, which are sold in a separate sub-market of products.
A Simple Valuation
RVP has a little bit more than 27 million shares outstanding. Fully diluted there are approximately 30 million shares outstanding. The company has $19.6 million cash on their balance sheet. The total amount of the award could be $113 million x 3 = $340 million. Net settlement proceed would be around 30% lower than the amount mentioned, because of attorney fees and expenses. So that would leave the company with $238 million in the pocket, $7.93.
This would be our dream scenario. If, BD appeals, it could take a while when things would materialize.
Financials

The revenues have been sloppy and looking to the past doesn't make a lot of sense. What I would like to see is increasing revenues and a retirement of their Preffered Stock.
The Future
Retractable should gradually shift to emerging markets, where the marketplace remains largely untapped and the prevalence of infectious diseases makes the company's safety -engineered syringes valuable to both nurses and patients.
Chinese Interest?
The company purchases products from Double Dove, a Chinese manufacturer. In 2012, Double Dove manufactured approximately 72.0% of Retractable's units.
Founded in 1984, Double-Dove Group, is a major international enterprise that is specialized in medical devices and pharmaceutical products. The group owns the largest medical device manufacturing facilities in China with current production capacity of 2 billion single-use disposable/safety syringes, 100 million infusion sets, and 200 million IV solutions annually.
Last year, the Chinese medical device industry experienced rapid growth and a number of significant mergers and acquisitions. Both foreign and domestic medical device companies were quite active in the market. For instance, Kanghui Medical, one of China's leading orthopedic companies with a full array of products in trauma, spine, and surgical instrumentation, was acquired by Medtronic (NYSE:MDT), Inc. for $816 million in September 2012.
Similarly, Mindray Medical International Ltd., one of the largest Chinese medical device companies, acquired approximately 10 Chinese medical device companies from 2011 to 2012.
Compared with 2011, the number of medical device companies mergers and acquisitions almost doubled in China in 2012, which shows that the market vitality has increased sharply. But Chinese companies are also looking abroad, and the US market could see some buying spree the years to come.
We would like to see that Retractable is open to M&A activity.
Risks
In 1995, Retractable entered into a license agreement with CEO Thomas J. Shaw for the exclusive right to manufacture, market, and distribute products utilizing automated retraction technology. This technology is the subject of various patents and patent applications owned by Mr. Shaw. The license agreement generally provides for quarterly payments of a 5% royalty fee on gross sales.
BD's strong position in the syringe market should allow the enterprise to dominate the market.
Retractable safety syringes comprised 99.1% of the company's sales in 2012. Historically, unit sales have increased in the latter part of the year due, in part, to the demand for syringes during the flu season.
Final Note
Under the current supply chain system in the U.S. acute care market, the vast majority of decisions relating to the contracting for and purchasing of medical supplies are made by the representatives of group purchasing organizations ("GPOs") and purchasing representatives rather than the end-users of the product (nurses, doctors, and testing personnel). The GPOs and large manufacturers often enter into contracts which can prohibit or limit entry in the marketplace by competitors.
The fact that Retractable's progress is limited is principally due to exclusive marketing practices engaged in by BD, the dominant maker and seller of disposable syringes and other needle products, which practices have blocked the company from access to the market.
The verdict mentioned earlier in this article is a clear indication that things are changing in the syringe market.
The company will have to pursue various strategies to have better access to the hospital market, as well as other markets. Litigation is of course an important strategy, but the company has to push harder on sales and new products.
The essential and disposable nature of Retractable's medical products should allow the company to get a foothold in the safety syringe market despite the current monopoly of Becton Dickinson.
The safety syringe market seems to be commoditylike, but Retractable believes that its VanishPoint® products are the safest on the market, a fact that is reflected not only by public demand, but also by recognition from the health industry. VanishPoint® products retract the needle directly from the patient, effectively reducing exposure to the contaminated needle.
Disclosure: I am long RVP. I wrote this article myself, and it expresses my own opinions. I am not receiving compensation for it (other than from Seeking Alpha). I have no business relationship with any company whose stock is mentioned in this article.
Additional disclosure: Dutch Trader is managing partner of RJT Capital, a Dutch-based investment fund. RJT Capital is long Retractable Technologies (RVP). For our current holdings check: www.iextraders.nl/Portfolio/1139129/RJT.... name BD is used to replace Becton Dickinson.