I was reading one of my favorite books a few days ago - "Trade Like An O'Neil Disciple", and found inspiration to write this article. One of the themes in the fourth chapter was what the co-author Gil Morales termed as "The Big Stock Principle". I believe that Tesla (NASDAQ:TSLA) fits perfectly into this concept, as I will try to demonstrate.
What is "The Big Stock Principle"
Gil Morales explains the Big Stock Principle as follows: "The essence of the Big Stock Principle is that in any economic and market cycle certain companies appear on the scene that represent the leading edge of what is happening in the economy with respect to the new industries, new economic developments, and other themes that serve as essential drivers for the economy at any given point in time. In turn, because of their status as key companies representing the niches of growth, whether broad or narrow, in any given economic cycle, institutions have no choice but to own these stocks." This is the essence of the Big Stock Principle. One of the characteristics of "big stocks" is that they attract large trading volume. They are also usually perceived as overvalued by the broad investment community, but nonetheless, they continue to break into new high ground despite the perceived overvaluation.
These traits can be seen in the "big stocks" such as Microsoft (NASDAQ:MSFT), Intel (NASDAQ:INTC) Cisco (NASDAQ:CSCO) in 1980's and 1990's, and Amazon.com (NASDAQ:AMZN), Apple (NASDAQ:AAPL), Google (NASDAQ:GOOG) and Research in Motion (now BlackBerry) (NASDAQ:BBRY) in the 2000's. The fundamentals that drive the "big stock" higher are: rapidly rising earnings, sales, expanding profit margins, and excellent management. In certain circumstances, a lack of earnings is not perceived as a negative as the rapidly growing sales and the future expectations of rapid earnings growth as a company achieves economy of scale, are taken into account.
How does Tesla fit?
I believe that Tesla fits perfectly to the "big stock" concept. The company is operating in its own niche market for electric vehicles, and it is on the cutting edge technologically, with no meaningful competition, at least at the moment. The first mover advantage is often a big advantage, and many of the before mentioned leaders were the first in their respective fields.
The characteristics of a "big stock" are quite similar, if not the same as in the "superperformance stocks", a theme that I wrote about extensively a few months ago. And Tesla was one of the four stocks I covered in my early April article about the potential new "superperformance" stars. Tesla turned out to be the best performing stock among the four stocks that were covered, rising more than 300% since the article was written. The company is experiencing rapid revenue growth in the last several quarters, its gross margin is expanding, and the company is expected to achieve substantial profit growth in the next two years.
Brilliant management is perhaps a key part of a fast-rising company. We can see that a company like Apple had Steve Jobs, Microsoft had Bill Gates, Amazon has Jeff Bezos, and Tesla has Elon Musk. Musk has successfully developed PayPal and sold it to eBay (NASDAQ:EBAY), and he has a role in the development of SolarCity (NASDAQ:SCTY) and SpaceX. Musk is excellent in public relations, and his initial success with PayPal was mostly due to his viral growth campaign. He was certainly hugely responsible for Tesla's rising share price, on both operating and the PR side, and he has handled everything very well so far.
You can also see the massive surge in trading volume since Tesla's move began, indicating rising institutional interest in the stock.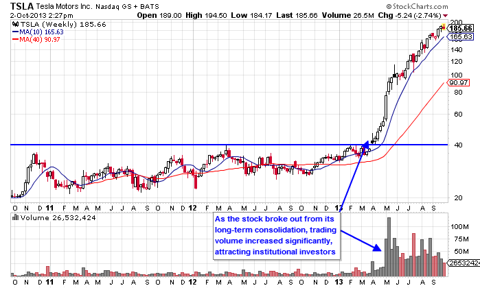 Click to enlarge
Source: Stockcharts
One important consideration
One thing remains very important, and that is the end of a company's ascent. The end can be very ugly for an investor in such stocks, especially if she buys near the end of a stock's rise. Once a big stock's rise is over, their fall can be as same in magnitude as their respective rise was. Competition gets stronger, future prospects dampen, and reality sets in. The stock is finally perceived as expensive, earnings and revenue growth decelerate or turn negative, and profit margins are pressured downward. Cisco and Microsoft, and most recently, Blackberry, are great examples, as these stocks are still significantly below their all-time highs. Cisco and Microsoft are in a 13-year trading range, while BlackBerry is in a much more difficult situation.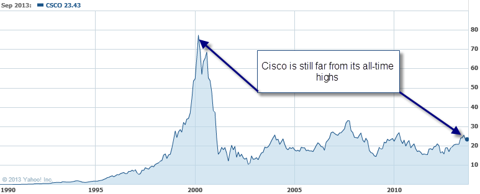 Click to enlarge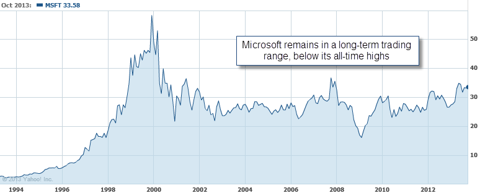 Click to enlarge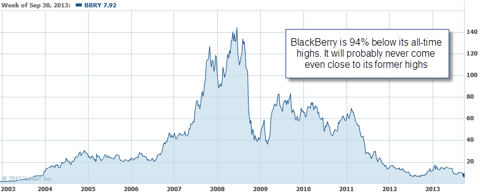 Click to enlarge
Source: Yahoo! Finance
Where is Tesla right now?
Tesla still remains the "big stock". All of the important characteristics remain quite positive: future expectations are rising, as reflected in the rising earnings and revenue estimates. And the price, which is the supreme fundamental, remains in a healthy uptrend, with no signs of selling pressure. Competition is still not strong enough, although they seem to be increasing their efforts, with General Motors (NYSE:GM) planning an affordable 200 mile range electric car and price of $30,000.
Conclusion
Tesla is the "big stock" of the 2010's. With all the important characteristics remaining in Tesla's favor, there is no reason to become negative, yet. Like all great things, Tesla's move will come to an end, and it is important for Tesla to keep delivering on its promises, and to gauge the market's perception on the company.
Disclosure: I have no positions in any stocks mentioned, and no plans to initiate any positions within the next 72 hours. I wrote this article myself, and it expresses my own opinions. I am not receiving compensation for it (other than from Seeking Alpha). I have no business relationship with any company whose stock is mentioned in this article.