There comes a time in a company's history where a key fork in the road is met. The company either needs to get things going or face the possibility of extinction. Right now, one great example of this is biotech darling Dendreon (NASDAQ:DNDN). The company, known for its prostate cancer treatment Provenge, has hit a wall in 2013. The next 6 to 12 months for the company are crucial, and will likely determine the fate of this company. For Dendreon, it's time to prove itself or perish. Today, I'll break down why the short case still exists, but offer a speculative trade for those who wish to be long this lottery ticket stock.
A recent review of Dendreon:
It's been a couple of weeks now since I discussed Dendreon in depth. At that time, the company had just received marketing approval for Provenge in Europe. The European decision was something that Dendreon bulls had been using as their main case for the long argument for several months. It was supposed to be a game changer, and potentially spark a great rally in the stock.
Well, that hasn't really happened. When Dendreon got the positive European news, shares did initially rise. On that day, September 17th, they hit a high of $3.41. That was the highest point in more than a month. The rally capped off a strong rebound from the 52-week low of $2.69 that was reached after Dendreon shares plunged 50% in just over three weeks on the heels of a very disappointing Q2 report. Since that September 17th high, Dendreon shares have continued lower, closing Wednesday at $2.90. So much for the big Europe news rally.
Positive decision in Europe equals lower estimates?
Now you would think that the positive news would lead analysts to raise their estimates on this name? Well, you'd be wrong. Before analysts can raise their numbers, they need more clarity on this situation. We don't know yet if Dendreon has a partner in Europe for Provenge, as many believe they need one. Secondly, how long will it be before revenues start in Europe? Also, just because a company produces revenues doesn't mean it will be profitable. Netflix (NASDAQ:NFLX) has expanded into many countries in Europe, but each addition pushes the international business further into loss territory. Remember, Dendreon itself is still a long way from profitability.
Dendreon's 2014 estimates have not really changed. Since that September 17th date, the analyst average for 2014 revenues has gone from $352.71 million to $352.70 million. The earnings per share estimate has stayed at a loss of $1.14. You would expect analysts to eventually raise their estimates if Dendreon shows it will generate revenues in Europe sometime in the next year. But at this point, that is unclear, and is something Dendreon will have to address on its next quarterly earnings report and conference call.
Until that point, we have to focus on the business as is. Right now, Dendreon is having trouble generating revenues in the US. The table below shows how the average 2013 estimate for revenues and earnings has continued to come down.

The current estimate is the lowest point I've seen for 2013 numbers. Why is that? Well, it has to do with analysts continuing to revise their estimates, especially those analysts who still had some hope for Dendreon. On September 17th, the high estimate on the Street was for $330.73 million in revenues this year. Obviously, that was unrealistic, as Dendreon told us Provenge would not see year-over-year growth, and Dendreon's total revenue figure for 2012 was $325.53 million. On Wednesday, the high estimate on the Street was $322 million.
Obviously, analysts have taken down their Q3 and Q4 estimates. Current forecasts call for $76.58 million in Q3, a decline of 1.8% over the year-ago period, and $81.34 million in Q4, a decline of 4.9% over the year-ago period. At the absolute worst, Dendreon needs to post a revenue number over $75 million in Q3. They really can't afford to post another low $70 million number like they did in Q2. It would obviously be nice to come in closer to $80 million in Q3, but given their recent history, that seems unlikely.
Balance sheet approaching the cliff:
The main problem that Dendreon has is that the company continues to lose large sums of money, which leads to extremely poor (negative) cash flow. Dendreon's balance sheet continues to get weaker by the quarter. The company has continued to reiterate that it can be cash flow positive in the US when a $100 million quarterly revenue mark is hit, but when will that be? As I showed in the table above, a $100 million mark was thought to be a guarantee in 2013 during most of 2012. Now, analysts aren't even sure that Dendreon can hit that mark in 2014.
So why did I make such a big point about estimates coming down a few million and Dendreon needing to do maybe $77 million in Q3 instead of $75 million? Well, more revenues are always nice, but it also comes down to costs. As I detailed in the Q2 earnings article above, Dendreon's plan to get their cost of goods sold down to 50% or lower by Q3 of this quarter is not happening. In fact, Dendreon stated that they expected gross margins to remain around Q2 levels, which were about 40%. That means an extra $7 million or so in added expenses for Q3, and we're not even sure yet if they'll hit that 50% mark in Q4 or even sometime next year. The cost savings that they were originally projecting are not coming true as hoped. That's why you see earnings estimates continue to come down.
If Dendreon does not improve its losses, it will also have a hard time improving its cash flow. Dendreon's cash and investments pile dropped by nearly $150 million in the first half of 2013, and has declined by almost $400 million in the past two years. That has really hurt the balance sheet, as you can see below. Dollar values in thousands.

Since we are now finished with Q3, it is possible, perhaps even probable, that Dendreon's cash pile is under $250 million, with working capital getting close to $200 million. Dendreon's debt level continues to increase by the quarter, and they have almost $28 million in notes due during 2014. Those notes only represented 4.1% of the cash balance two years ago. At the end of Q2, they were at nearly 10%, and the number is growing exponentially at this point. By the time those notes are actually due, Dendreon may use up 15%, 20%, 25%, or more of its cash balance just to pay them off. That doesn't even include the over $550 million (end of Q3 estimate) in notes due in 2016.
Even though revenues are expected to be better in the second half of 2013 and expenses should be less than in the first half, Dendreon will still blow through a large amount of cash. At best, I would think they will burn through $50 million, but I think $75 million is more likely, with a worst case of $100 million. Dendreon's cash pile is likely to go under $200 million early in 2014 if things don't change, and that's before they even think about paying back those notes. It's one reason I continue to suggest Dendreon think about raising funds. It would have been a better thing to do when shares were much higher, but it should be something seriously considered.
Competition eating away:
Dendreon has blamed a lot of its 2013 troubles on competition. Two competing products are Johnson & Johnson's (NYSE:JNJ) Zytiga and Medivation's (NASDAQ:MDVN) Xtandi. Dendreon initially addressed the competitive aspect on its Q1 conference call:
As anticipated, the largest impact was from the new complication entering PROVENGE's labeled indication with the December FDA approval of ZYTIGA and a compendia listing for XTANDI. We are feeling the competitive effect primarily in small and low volume accounts with metastatic patients who have previously received chemotherapy.
Management reiterated a bunch of these thoughts in regards to competition on the Q2 conference call with these statements:
1. During our Q1 call, we talked a lot about the competitive pressures given the December FDA approval of Zytiga and our labeled indication, and compendia listing for XTANDI. In the second quarter, the competitive landscape remained largely unchanged over the first.

2. One of the milestones of the quarter was receiving positive opinion from CHMP for PROVENGE in Europe, which we think demonstrates the importance of providing a new potential therapeutic option for appropriate prostate cancer patients in the EU, with a differing mechanism of action than the already approved Zytiga.

3. So the community oncology is one of our key market segments and the community oncology market in second quarter was down 10%. This is an improvement in the first quarter we were down 17%. We need to continue to focus on the community oncology marketplace. This is a big marketplace for us and we continue to feel some of the competitive pressure here as John had stated with the new entry in the first quarter of the indication for Zytiga in our label as well as the Compendia listing for XTANDI.
So competition is still a problem for them, and they noted that Zytiga had already been approved in Europe. When you look at the three companies behind these treatments, they are extremely different, as you can see in the key statistics table below.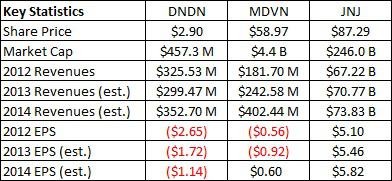 Everyone knows that Johnson & Johnson is a worldwide pharma giant, so the marketing power JNJ has for Zytiga is tremendous. Dendreon doesn't have the ability to spend as much on marketing campaigns, and that scale gives JNJ an edge. Additionally, looking at these names from an investment point of view, which would you prefer? Right now, Dendreon's 2014 revenues aren't supposed to show too much growth over 2012 levels. Medivation is growing very fast, and could turn a profit in 2014. Dendreon is not expected to turn a profit for a couple of years at the earliest. JNJ obviously has the biggest revenue and earnings base, along with a steady dividend. If you are looking for safety, JNJ is your best bet. If you are looking for potential growth, Medivation looks the best. Dendreon appears to have the most risk, which is why it has the smallest market cap and share price. If Dendreon's future was a little brighter, it would not be trading for less than $3.00. This was a $50 plus stock a few years ago.
Some hope for longs:
One positive I have been talking about is the short squeeze potential for Dendreon. Short interest remains elevated, as you can see in the chart below. More than 52 million shares were short at the latest update, which represents about a third of Dendreon's outstanding share count. You would have hoped that the European news could have started a huge squeeze, but the rally didn't last long.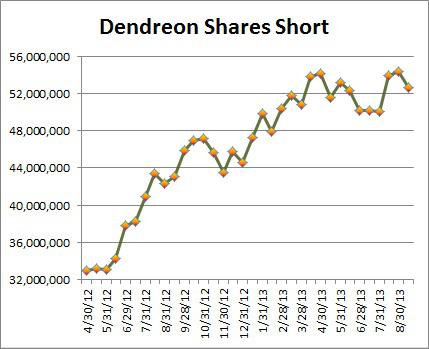 So what could those who want to be long do? Well, if you have to be in this name right now, you might want to use some sort of hedge. Selling calls at strike prices above where we are now seems logical, but it would cap your upside. If Dendreon were to have a massive rally, you could miss a large portion of it. So for those that think Dendreon shares could go lower in the short-term, but be a tremendous winner from here, what else can you do? Well, if you don't think Dendreon will go bankrupt, it depends on how low you think shares could go. Put selling could be an interesting strategy here. You could sell the January 2015 $3 strike puts for about $1.50, the $2.50 strike for $1.16, or the $2.00 strike for $0.84. This would effectively lower your entry price, providing some cushion if shares go lower from here. However, if Dendreon were to completely collapse, you could lose more than just your investment in the stock. So before executing any options trade, please understand the risks and price points you need for any options trades you are executing. Of course, if you think Dendreon shares might fall to $2.50 before a longer-term move higher, you could easily wait until then to jump in. An options strategy then would provide even more of a hedge against downside risk.
Final thoughts:
It is time for Dendreon to either prove itself or perish. The company needs to show meaningful improvement in revenues and cost controls during the second half of 2013. Otherwise, the company will continue to lose large sums of money and burn through a tremendous amount of cash. The balance sheet can't get too much weaker, making a highly dilutive capital rise inevitable if things don't improve quickly. Dendreon has been a great short idea lately, and I think this stock does go lower from here before eventually moving higher. I think this company can do well in the future, but there are some significant short-term challenges it must overcome first. Recently, Dendreon has not shown any ability to overcome these obstacles, which is why it remains a short candidate until this company can prove otherwise.
Disclosure: I have no positions in any stocks mentioned, and no plans to initiate any positions within the next 72 hours. I wrote this article myself, and it expresses my own opinions. I am not receiving compensation for it (other than from Seeking Alpha). I have no business relationship with any company whose stock is mentioned in this article.
Additional disclosure: Investors are always reminded that before making any investment, you should do your own proper due diligence on any name directly or indirectly mentioned in this article. Investors should also consider seeking advice from a broker or financial adviser before making any investment decisions. Any material in this article should be considered general information, and not relied on as a formal investment recommendation.