Starbucks (NASDAQ:SBUX) makes some great coffee but investors have gotten passionate about the shares and have driven expectations to a point that may not be achievable. The stock is priced for an improvement in already high margins, despite trends that suggest weakness. A rebound in coffee prices from a four-year low or any other margin weakness could send the shares down sharply. Even on continued strength in margins, there is little upside to the shares and investors may want to consider taking some profits.
Everything falling into place
Starbucks is the world's leading coffee retailer with more than 19,000 stores and multiple retail channels. The return of CEO Howard Schulz in 2008 and a massive reorganization has come through with a quadrupling in the share price and strong expectations for future growth.
The company has been shifting to a franchise model with company-operated stores accounting for 79% of 2012 revenue, down from 82% in the year prior. Licensed retail stores accounted for 9% of 2012 revenue while consumer products contributed 12%, up from 8% in 2011. Coffee and beverages accounted for 75% of last year's revenue with food contributing another 19% to the top-line.
One impetus to the surge in shares has been the global plunge in coffee prices. Starbucks has been able to increase the price of its store-brewed coffee even as prices for beans hit a four-year low. Prices are now less than half of their 2011 high but momentum in agricultural prices can turn quickly. Prices for arabica beans have dropped to below the cost of production in Brazil, estimated at $150 per 60kg bag and has led the government to announce a program to buy inventory and support prices. It may not even take a poor growing season to send prices higher, just the continued protest of growers in some of the biggest producing regions.
Even after the rise, the stock still enjoys a good amount of bull support. Seeking Alpha contributor Jeff Williams makes the case recently for more upside on China and Asia-Pacific growth. His valuation based on discounted cash flows puts the stock at $77 per share which means it is trading at fair value.
Shares priced for perfection
The shares are up 53% in the last year and analysts have continuously upgraded their price target. Expectations for revenue this year and next are for growth of about 12% in sales, which is a fair estimate based on trend data shown in the table below.
Expectations for earnings per share are where the problem starts. Earnings are seen 25% higher this year and are expected to increase 20% to top $2.67 per share next year. This is despite an average increase of 18% over the last two years. Earnings for the fourth quarter, reported on October 30th, are expected to post an increase of 28% over the same period last year.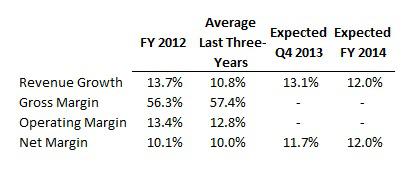 While expectations for revenue growth may be accurate, I do not think the company can meet the necessary margin requirement to see consensus earnings. Starbucks would need to see considerable improvement in its costs to meet the 12% net margin required to post earnings of $2.67 per share off of consensus revenue growth.
Cost of goods sold increased by 17.5% last year and has increased at a faster rate than sales for the last two years. Operating expenses increased by 9% last year, almost doubling the increase of 5% in 2011. These margins were achieved with a considerable reduction in the cost of the company's primary material. What if coffee prices increase next year? The margins could get crushed and there is no way the company would meet expectations.
Shares are trading for 37 times trailing earnings compared to the industry average of 23 times. Admittedly, the brand and growth is stronger than the industry average so you would expect a premium on the price but the current multiple is also well over the company's five-year average of 30 times trailing.
The projections below assume market consensus of 12% revenue growth in 2014 but shocks the income statement with a 20% increase in cost of goods. Operating and other charges are grown at the same rate as fiscal year 2012. Given this increase in costs, earnings could miss the consensus estimate by almost 23% and I believe shares could drop sharply on weaker sentiment and a lower price multiple.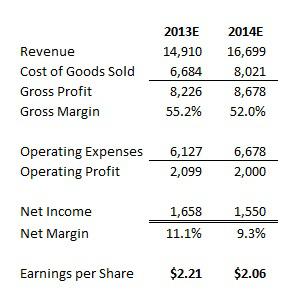 I built the table below to further test price sensitivity to a change in cost of goods and the price multiplier. Beyond cost of goods, all other assumptions like growth in operating expenses and sales are from the consensus estimate.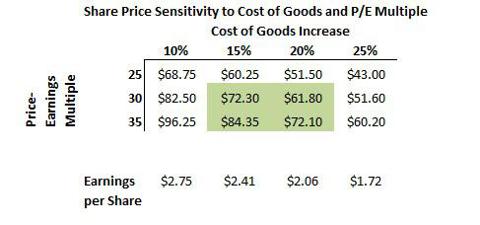 Remember, cost of goods increased by almost 18% last year so an increase somewhere between 15% and 20% is actually a conservative estimate. If coffee prices rebound, the company could easily be looking at much higher cost increases. As the highlighted area shows, there is little upside left in the stock unless it can maintain its lofty price premium and nothing acts to decrease the margins.
For comparison in the space, expectations for Panera Bread (NASDAQ:PNRA) are much more conservative and leave room for upside. Estimates are for 14% growth in sales this year to $2.4 billion and for growth of just 10% in next year's sales. This compares to 2012 sales growth of 17% and a 13% three-year average rate of growth. Estimates for earnings growth are for 15% this year and next compared to bottom-line growth of 26% last year. While Panera does not have the brand or the scale of Starbucks, the shares are not fighting expectations and trade relatively cheaply at 26 times trailing earnings.
Be a dispassionate investor
Starbucks investors are prone to the same brand loyalty of which I warned Apple (NASDAQ:AAPL) investors just before the product release of the new iPhones. I warned Apple investors of the enthusiasm and expectations built into the shares as the market awaited the new phones and that the downside to a mediocre product offering was not worth the risk. These brands carry an immense amount of loyalty and it is too easy to think that a good company must also be a good stock.
As an investor, you need to be dispassionate about your stocks. Enjoying the company's product is fine but you need to be able to look at trends in financials and compare them with market pricing and expectations. Starbucks makes some great coffee and has really sold the concept of the experience but the shares are priced for perfection in next year's data. Long-term investors may want to hedge their position with options and may even consider taking some profits.
Disclosure: I have no positions in any stocks mentioned, and no plans to initiate any positions within the next 72 hours. I wrote this article myself, and it expresses my own opinions. I am not receiving compensation for it (other than from Seeking Alpha). I have no business relationship with any company whose stock is mentioned in this article.