Baxter International (NYSE:BAX) has been beaten badly in the last week. First, there was what Barron's referred to as a stealth downgrade from JPMorgan. Why stealth? Because JPM was disallowed from rating BAX since December 2012 as they were involved in the BAX purchase of Gambro. Once that deal closed, JPM's analysts were able to publish analyses once again and they did so with a bang. Their previous rating was Outperform; the new rating on Sept 25 was Neutral. The stock plummeted, losing more than 6% and continuing to drop over the next several days.
On October 2, Credit Suisse followed with another downgrade from a major analyst (Neutral from Outperform) and it's now down another 2.58%. From its recent September 19 high ($17.20) BAX is down -9.2%.
The Main Question: Is the market correct here or is it overreacting to the downgrades in the face of a skittish overall market environment? It's October, after all, and October is routinely considered the most volatile of months. Are traders simply looking for reasons to bail? BAX has had a good run-up (see chart below) over the past year, so it's not a stretch to see the downgrades as a good opportunity to take some profits.
Why Downgrades Now? Let's start with a look at what drove those downgrades. Analysts see Baxter's hemophilia drug market (FVIII, which helps blood clot) at risk. Biogen's (NASDAQ:BIIB) expected introduction of Eloctate (rFVIIIFc) in the first half of 2014 could be a game changer in that field. Eloctate's potential advantage is that it is a longer-acting drug.
How big a deal is this? Potentially very big: FVIII represents about 16% of Baxter's revenue and up to 30% of its profits. That's not something investors want to see disappear. As noted in the Barron's article, Michael Weinstein, the JPM analyst, does question whether Biogen will be in a position to capitalize on this potential advantage. First and foremost is: Will doctors be quick to switch? Weinstein notes there's been a consensus that change will be slow in coming. But Weinstein surveyed some 50 hematologists. He suggests that this consensus may be wrong and ultimately comes down on the side of caution.
Credit Suisse analyst Bruce Nudell's team adjusted their floor price from $81 to $60, that $20 representing the value of Baxter's rFVIII market (see Barron's take on it here). Obviously, this is a worst-case projection. They do note that Baxter has its own product in the pipeline (potentially second half 2014) but consider that investors will be taking a wait and see approach pending the outcome of that process. They too surveyed hemophilia specialists and infer from that survey that Biogen could take 32% of the hemophilia drug market share in 12 months, and up to 54% in 5 years.
So, what is the worst case? Baxter fails to get approval for its product. Biogen captures that third of the market in a year. Everything else equal, BAX profits fall 10% (a third of the 30% they derive from FVIII) in 2014-15. Ugly indeed. But, remember, this is the worst case. On the other side, Baxter is on track for approval of its own long-acting competitive product. Baxter does dominate the market currently, doctors might well be inclined to stay within product families that are working. And, it remains to be seen how predictive the phone surveys of Barron's and Credit Suisse will prove to be. Polling is a complex science; calling 29 or 50 physicians may not be a valid survey. Without the details, it's hard to evaluate how solid the surveys are. On the other hand, they do tend to confirm each other. Finally, doctors are slow to move patients from a drug that's working; patients are often apprehensive of switching as well. So, that 10% may be overstating the potential profit loss. But, it is clear that Biogen will be taking a chunk out of Baxter's market share as this plays out.
Implications for the Longer-Term Investor: For the trader, Baxter is an interesting case, and it seems likely that most of the action driving the stock down has come from traders. But, the situation is quite different for the longer-term, dividend-growth investor who has a very different set of priorities.
BAX is known to income investors as a solid dividend performer. It has increased its dividend for 7 consecutive years, most recently increasing it 9% for 1 year and 17.64% for 5 years.
By mid-afternoon on October 2, BAX had lost 3.4% for the day, and the dividend yield was up to a bit over 3%. It bounced in the final 90 minutes to recover about a quarter of that loss.
With the price drop since those downgrades, at Wednesday's close it is paying 2.99%, the highest its dividend yield has been since at least 2008. It's not hard to see that as an opportunity that may not be there for long. To a large extent, this puts a floor on the stock price as dividend investors move in to take advantage.
With a payout ratio of 45.2%, there does not seem to be any immediate threat to that dividend unless there is a complete crash in earnings yield: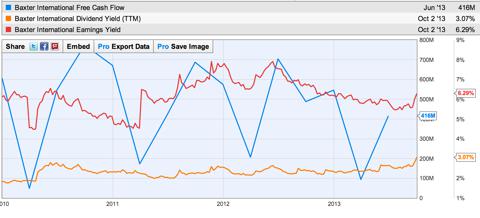 Click to enlarge
Its balance sheet metrics are reasonably solid: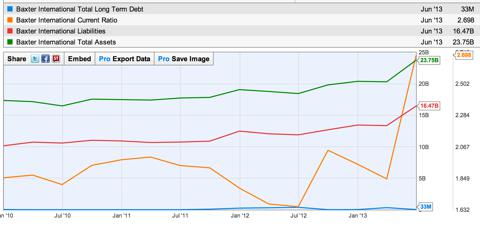 Click to enlarge
Some industry comparisons illustrate the relatively strong position of BAX overall. These data (from gurufocus.com) are a day old, so ratios have all improved a wee bit, but except for that edgy P/Book, there's a lot to like here: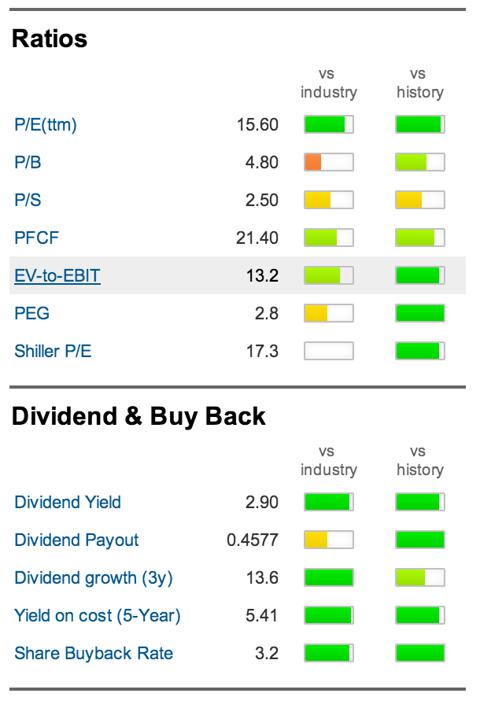 Click to enlarge
RSI Tells US BAX Is Oversold: Finally, perhaps the best technical indicator for being oversold is Relative Strength Index (RSI). At the close, BAX's RSI had fallen to 19.84. When RSI falls below 30%, conventional wisdom considers a stock as being oversold. This 5-year chart (from fidelity.com) shows that every time BAX's RSI has fallen to that level, it has rebounded resoundingly: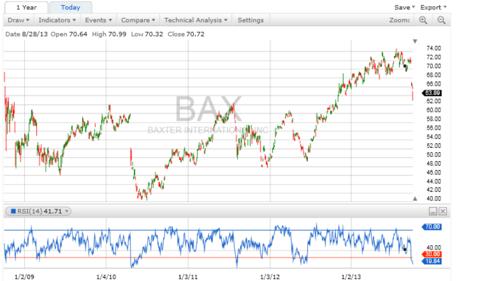 Click to enlarge
Summarizing: A good case can be made that investors have overreacted to the back-to-back downgrades of the past week thereby opening the cherished "buying opportunity" for the savvy investor. Long-term investors who are looking for opportunities in healthcare will, therefore, want to look carefully at BAX. It is paying a recent record-high dividend and has solid fundamentals. There is a downside risk of a 10% decline in profits if the worst-case for their hemophilia market does in fact play out. But there are several mitigating factors, any one of which will moderate, or possibly even eliminate, that profit loss.
The price has been stable in after hours trading Wednesday, but I would not be surprised by a solid bounce Thursday morning. It's folly to try to predict, but there is a look of a real bottom forming here. Buying opportunity? Perhaps so.
Remember, I am not a professional. I do not give advice. I am an individual investor who is simply sharing his research here. Every individual's goals and investment objectives are unique, and every individual should do his or her own due diligence to determine how any investment opportunity fits into those goals and objectives. I hope you find this useful, but it is not a substitute for your own inquiries.
Disclosure: I have no positions in any stocks mentioned, but may initiate a long position in BAX over the next 72 hours. I wrote this article myself, and it expresses my own opinions. I am not receiving compensation for it (other than from Seeking Alpha). I have no business relationship with any company whose stock is mentioned in this article.