On Wednesday, October 2, Enbridge (NYSE:ENB) announced that it was in the preliminary stages of talking to producers about a pipeline to carry natural gas to Canada's west coast for export as a liquid fuel. In the wake of Wednesday's potentially promising announcement, I wanted to highlight a number of reasons behind my decision to remain bullish on shares of Enbridge.
#1 - Recent Performance and Trend Status
On Wednesday shares of ENB, which currently possess a market cap of $33.18 billion, a beta of 0.65, a P/E ratio of 53.47, a forward P/E ratio of 20.49, and a current dividend yield of 2.96% ($1.22), settled at a price of $41.17/share. Based on their closing price of $41.17/share, shares of ENB are trading 0.87% below their 20-day simple moving average, 2.36% below their 50-day simple moving average, and 5.40% below their 200-day simple moving average. These numbers indicate a short-term, mid-term and a sustainable long-term uptrend for the stock, which generally translates into a moderate selling mode for most traders.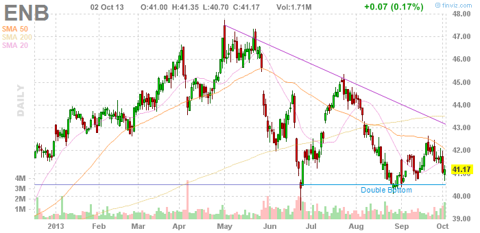 Click to enlarge
Although, by technical standards, shares are in somewhat of a downtrend, I really think a buying opportunity is presenting itself to the long term investor for two very specific reasons. The first reason concerns the company's P/E ratio and the fact that the company's P/E is expected fall significantly over the next 12 months, especially since earnings are expected to come in $C0.02/share higher than they were during Q3 '12 when the company reported EPS of $C0.34/share. The second reason concerns the fact that shares are currently yielding 2.96% which is roughly 8x-to-10x more than any interest-bearing account at your local savings bank.
#2 - Enbridge Plans to Develop a $1 Billion Diluent Pipeline in Alberta
On Tuesday, October 1, Enbridge announced its plans to build a new ~$1B, 200K bbl/day pipeline to bring diluent - used to thin out oil sands bitumen so it can flow through pipelines - to industry players in Alberta. This could be a crucial revenue generating venture for Enbridge, especially since the company is considered to be the most dominant Alberta-based crude shipper, transporting more than 1M bbl/day from the Fort McMurray area to market hubs in Edmonton and Hardisty along its Athabasca and Waupisoo pipelines.
The expectations for this project are seemingly very high, as a successful execution could mean that company has built enough commercial support to build two additional pipelines which would individually reach both Edmonton and Hardisty, respectively.
A Few Associated Risks
In the midst of the company's recent developments there are two cautionary catalysts (aka risks) that investors should be made aware of. The first of these catalysts comes from the company's CEO, Al Monaco, who noted, that in the wake of today's announcement, investors should be cautioned that the idea of an export-based pipeline is still in the conceptual stages, and to get too far ahead of themselves when it comes to these early-stage developments. The second of these catalysts concerns the increasingly crowded slate of potential pipelines that are being proposed by major energy firms such as Chevron (NYSE:CVX), Shell (NYSE:RDS.A) (NYSE:RDS.B), and Petronas in an effort to link-up their already proposed multi-billion-dollar export terminals.
If things begin to get overcrowded, and projects become significantly delayed, profit margins would be directly affected and as a result shares could see a near-term sell-off once such delays are incurred.
Conclusion
For those of you who may be considering a position in Enbridge, I'd keep a watchful eye on a number of catalysts over the next 18-36 months as they could each contribute to the company's long-term growth. These catalysts include but are not limited to the behavior of Enbridge's shares in the open market as well as it's plans to develop both a diluent pipeline in Alberta and an export-based natural pipeline along the west cost of Canada.
Disclosure: I am long ENB. I wrote this article myself, and it expresses my own opinions. I am not receiving compensation for it (other than from Seeking Alpha). I have no business relationship with any company whose stock is mentioned in this article.