On Thursday November 12, 2009 Suburban Propane (NYSE:SPH) will announce its quarterly and year end results. Suburban Propane Partners, L.P. originally known as The Suburban Gas Company, was formed in the suburbs of Newark, New Jersey, in 1928. The company's first major expansion took place in 1945, when it acquired the eastern properties of Phillips Petroleum and formed the Suburban Propane and Gas Corporation. The company has been publicly traded on the New York Stock Exchange since 1996, and operates as a Master Limited Partnership.
The company and its subsidiaries engage in the distribution of propane, fuel oil, kerosene, diesel fuel, gasoline, and refined fuels, as well as the marketing of natural gas and electricity in deregulated markets. As of September 27, 2008, it served approximately 900,000 active residential, commercial, industrial, and agricultural customers through approximately 300 locations in 30 states located primarily in the east and west coast regions of the United States, including Alaska.
My interest in the company first came about from screening stocks based on their price to free cash flow numbers and discovered the following results for SPH: (source Value Line)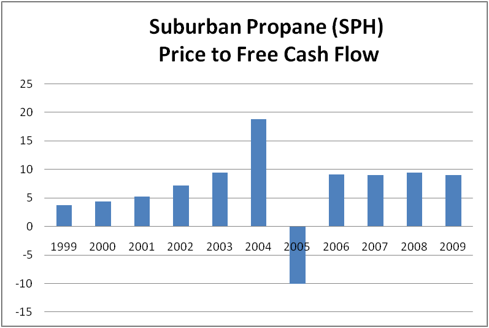 Click to enlarge
As you can see from the results, the company has consistently traded under a Price to Free Cash Flow (PFCF) of 10 for nine out of the past eleven years and this can be attributed to a superior management and an industry where prices, production and inventories are stable and gross margins are many times more predictable than Oil or Natural gas. The following is a chart that shows the year end available stockpile of propane over the last eleven years. (source: www.eia.doe.gov/)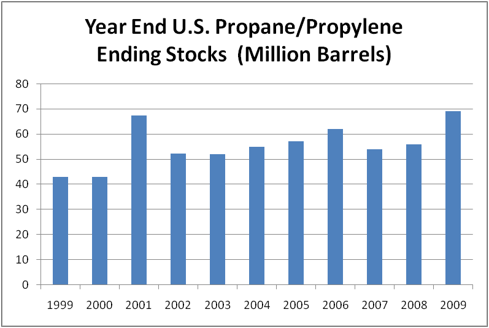 Click to enlarge
As can be seen from the chart above, year end stockpiles have been quite consistent and most of those stockpiles come from the good old U.S.A. As for the residential customer of SPH, most people who sign up to use propane in their homes usually keep the same provider for as long as they own their home and a customer can stay with the company for a decade or two as they can just hook up a small tank to the side of your house and they are ready to go. Many customers use propane for center heat stoves, so they don't need to use the main furnace as much. Prices have also been quite consistent over the last five years.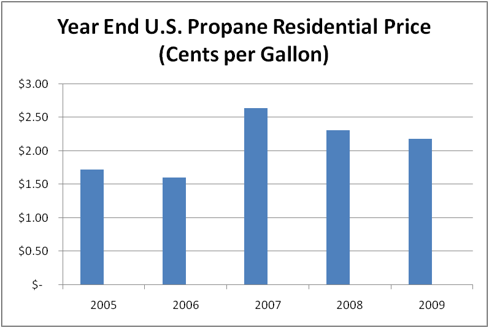 Click to enlarge

As an analyst I am interested in knowing what kind of gross margins are made off of each gallon of propane so I can adjust my figures on an ongoing basis. As can be seen on the chart below the industry has some very good margins;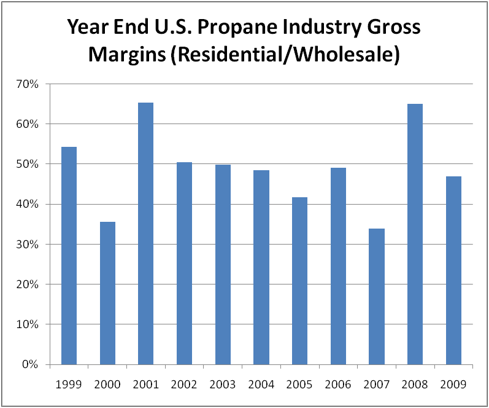 Click to enlarge
I became more interested in SPH because they also pay a very nice dividend to go along with their strong free cash flow numbers. Not only that but they are estimated to have a free cash flow return on invested capital (FROIC) of 19.1% for 2009. Here is the chart of their dividend payouts by percentage;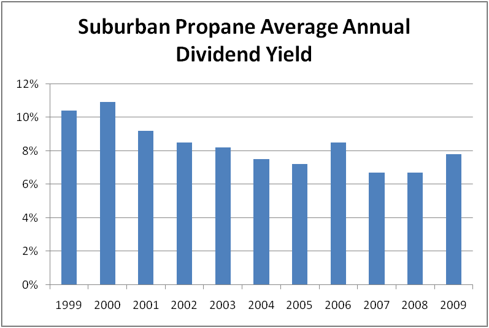 Click to enlarge
These strong payouts are the result of the company's free cash flow generation. Along with that point I was also surprised to find out that the performance of the stock, over the last decade, has been excellent.
Click to enlarge
For those keeping score, that is a return of 460% over the last ten years or an annualized return of 18.8% and that is without adding a nice 7% + dividend on top of that. I don't know what the company will report on Thursday but it seems that SPH is a rather unique find for someone with a three to five year time horizon.
Another interesting point is that propane is being considered as a possible alternative energy source for transportation as it is very cost effective. I read something very interesting the other day on the Yahoo message boards for SPH and will post it here for everyone to read.
First Here is the link.
And here is the message;
I attended a Propane Alternative Energy conference here in Rochester, NY and want investors in CLNE to know that it is a formidable alternative to natural gas as automotive fuel. While natural gas has been touted as the fuel for America due to supplies in the ground and the infrastructure to deliver it, propane is a secret companion (about 15%) to natural gas, being separated at the well head in some cases or at a processing plant prior to feed the natural gas into the distribution system.

The principal arguments for propane is that it only requires compression to about 140 psi for storage in vehicles and is practically non-flammable should there be an accident that causes puncture to the tank. Should this happen, the gas is too concentrated to burn near the vehicle and disperses rapidly in the air. Its volumetric energy is about 60% that of gasoline, and the total volume of tanks that can conveniently be mounted in a car or light truck is 60 gallons, however, only about 60% of the propane can be removed as a liquid before there is only gas left in the tank. This making its range before refueling equal to what your car can get with 24 gallons of gas.

In contrast, natural gas is liquefied at about 3000 psi, meaning the tanks have to be constructed of carbon fiber laminates that are costly, while propane tanks can be made from steel, albeit 1/4" thick. The advantages of propane that it shares with natural gas also means an extremely clean engine with no dilution of the engine oil. If a longer lasting oil for viscosity reasons is used, it is easy to get 70,000 miles per oil change. Engines should routinely last for 300,000 miles before rebuilding.

Propane refueling stations will be showing up in Conoco=Phillips (NYSE:COP) gas stations, but a person can also get refueled from a propane dealer. Fleets of trucks will be served by private refueling stations and FedEx (NYSE:FDX) is looking into converting to propane. Therefore,I see the nation's fleet going into both natural gas conversion and propane. I am sure that Clean Energy Fuels is aware of these issues, but I would recommend they embrace propane, if nothing else as a backup fuel, since running out of fuel on the road can be a real problem for delivery by roadside assist vehicles while propane has the upper hand here as well.

While conversion of gasoline engines to propane is available in the after market, Ford (NYSE:F) is now offering trucks with the conversion already implemented. School bus propane fleets will crop up in the next 3-5 years as replacements are needed. I do not see the conversion of fleets to natural gas occurring as smoothly in the country driving situation. Therefore, we're seeing heavy truck fleets moving into natural gas with refueling occurring primarily on major expressways. I have therefore decided to split my alternative energy investments between CLNE and FSYS and watch the race between these two fuels from a comfortable seat in the grandstand.
This could be a major boost for SPH if any of this is enacted as they have 300 locations in 30 states which could be used as fueling stations for these cars, trucks and buses. I personally have a huge SPH depot about a mile from my house and would consider buying a propane vehicle, especially if I only needed to change the oil in the car every 70,000 miles. Again, I have no idea how the company will report on Thursday, but for the long term investor, I see a bright future for Suburban Propane.
Disclosure: Long SPH , No position in CLNE, FSYS or COP
The Fine Print: As Registered Investment Advisors, we see it as our responsibility to advise the following: We do not know your personal financial situation, so the information contained in this communiqué represents the opinions of Peter "Mycroft" Psaras, and should not be construed as personalized investment advice.
It should not be assumed that investing in any securities we are investing in will always be profitable. We take our research seriously, we do our best to get it right, and we "eat our own cooking," but we could be wrong, hence our full disclosure as to whether we own or are buying the investments we write about.