by Taras Berezowsky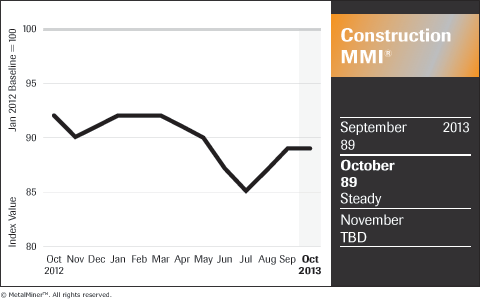 MetalMiner's construction metals price index tapered off for our October reading, with U.S. steel scrap prices falling for the second straight month and Chinese rebar prices turning around. The U.S. construction industry on the whole got hit by the muted economic data across the sector that we reported on last month. For example, the Housing Affordability Index continues falling, and having held below the long-term trend line, makes people worry about the threat of another housing bubble.
The Main Economic Indicator? Wait and See.
"The construction spending report is delayed due to the federal budget impasse and will reported later when released." That was the statement posted on behalf of the U.S. Census Bureau, which reports U.S. construction spending figures. Evidently, this office is "nonessential," as Obama and Congress try to hammer out a budget deal. However, based on the last available Census data, total construction spending figures improved.
According to Census data, nonresidential building construction increased 0.6% to $293.3 billion (seasonally adjusted) in July after dropping 0.6% in June, while residential construction spending rose 0.5% in July to $340.6 billion after rising 0.4% in June. Also, the Architecture Billings Index (ABI) was up 1.1 points for the second month in a row to 53.8 from 52.7 in July, marking the 12th month out of 13 that the index has clocked in above 50, indicating a rosier trend for the commercial construction sector.
But darker issues hover overhead.
Future Prices, Economic Landscape Uncertain
"Businesses will be navigating with impaired vision," Bernie Markstein, chief economist for construction data firm Reed Construction, wrote recently. Markstein was responding to the U.S. government shutdown, but he finds the debt ceiling outcome a much bigger concern for the industry. (He also notes that single- and multi-family home construction is well below long-term needs nationally.)
With government uncertainty and flagging data showing no spikes, look for MetalMiner's construction metals index to potentially get worse before it gets much better.
Construction Metals Index Price Drivers
Chinese rebar prices decreased by 2.0 percent this month. U.S. shredded scrap was down 1.9 percent for the month. The price of European 1050 aluminum effectively increased for U.S. buyers by 0.5 percent. After a tiny increase, the weekly U.S. Gulf Coast bar fuel surcharge finished the month higher. The weekly U.S. Midwest bar fuel surcharge held pat. Over the past month, the weekly U.S. Rocky Mountain bar fuel surcharge also did not move.

Last month was consistent for the Chinese low price of 62% Australian iron ore fines, which did not move, but remains roughly $20/ton lower than it was for several months this spring. The price of Chinese aluminum bar held steady last month. Prices for Chinese H-beam steel remained constant this past month, increasing only about $5 per metric ton.

The Construction MMI® collects and weights 9 metal price points used within the construction industry to provide a unique view into construction industry price trends over a 30-day period. For more information on the Construction MMI®, how it's calculated or how your company can use the index, please drop us a note at: info (at) agmetalminer (dot) com.