When it comes to developing an income-driven strategy, it should come as no surprise that I'm a big fan of finding higher-yielding blue-chip anchors that help solidify any income-based portfolio. In today's article I wanted to highlight a number of reasons why I'm remaining quite bullish on shares of AT&T (NYSE:T).
#1 - Recent Performance and Trend Status
On Wednesday shares of T, which currently possess a market cap of $182.63 billion, a beta of 0.40, a P/E ratio of 25.71, a forward P/E ratio of 12.67, a book value per share of $15.98 and a current dividend yield of 5.30% ($1.80), settled at a price of $33.94/share.
Based on their closing price of $33.94/share, shares of T are trading 0.56% below their 20-day simple moving average, 1.56% below their 50-day simple moving average, and 3.12% below their 200-day simple moving average. These numbers indicate a short-term, mid-term and a sustainable long-term uptrend for the stock, which generally translates into a moderate selling mode for most traders.
Although, by technical standards, shares are in somewhat of a downtrend, I really think a buying opportunity is presenting itself to the long-term investor for two very specific reasons.
The first reason concerns the company's P/E ratio and the fact that the company's P/E is expected fall significantly over the next 12 months, especially since earnings are expected to come in $0.04/share higher than they were during Q3 '12 when the company reported EPS of $0.62/share. The second reason concerns the fact that shares are currently yielding 5.30%, which is clearly much more attractive than any interest-bearing account at your local savings bank.
#2 - 5-Year Dividend Behavior
Since October 8, 2008, the company has increased its quarterly distribution five times over the last 60 months. The company's forward yield of 5.30% ($1.80) coupled with its ability to continuously increase its dividend on an annual basis, make this particular telecom stock a highly considerable option, especially for those who may be in the market for a sustainable stream of quarterly income.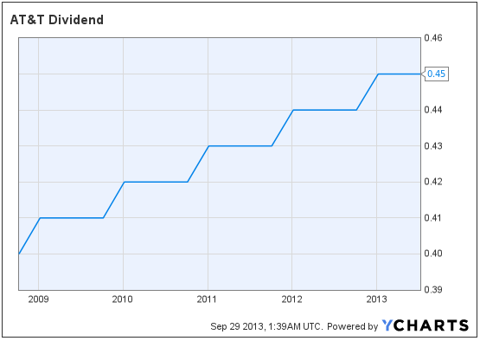 On Friday, September 27, AT&T declared a regular quarterly dividend of $0.45/share, which was in-line with its previous quarter and is payable November 1st to shareholders of record as of October 10.
#3 - The Company's Most Recent Business Update
On September 20, 2013 AT&T announced a number of key updates with regard to its upcoming Q3 performance. The company noted that it expects its Q3 smartphone upgrades to rise year-over-year, and that it will add 1M smartphone subscribers in the quarter, however it also expects the number of upgrades to drop on a year-over-year basis, thanks in part to a new 24-month upgrade policy.
Personally, and given the fact the company added 1.2 million wireless subscribers during Q2 '13, I think investors should be looking for an increase of at least 0.15 million subscribers from the previous quarter's 1.2 million. Based on those estimates, an overall increase of 1.35-1.45 million should be considered healthy, and anything below that would cause some concern.
As Wireless Revenue Growth Slows, AT&T Needs A Longer-Term Answer
When it comes to the wireless sector, subscriber behavior will impact the company's longer-term growth, and serve as a considerable risk to the long-term investor. If the company's wireless-oriented revenue growth continues to slow, as it had from 2008-2012, investors could be in a very unfavorable ride over the next 12-24 months.
In April 2013, The Daniel Report noted that the company's "growth in wireless is apparent from the firm's financial statements, which show revenue from the segment increased from $49.1 billion to $53.5 billion to $58.5 billion to $63.2 billion to $66.8 billion from 2008 to 2012, respectively. However, management acknowledges the rate of growth is slowing in wireless. For example, the 2012 annual report says "We continue to see a declining rate of growth in the [wireless] industry's subscriber base compared to prior years, as reflected in a 13.0% decrease in gross subscriber additions."
The year-over-year decline in wireless growth is certainly a concern of mine; however, we must keep in mind that AT&T is offering subscribers a new 24-month upgrade policy in an effort to curb such declines and acquire new customers in the process. If the company is successful in the launch of its policy, and demonstrates results that have a positive impact on wireless revenue growth then there's no real reason to worry. If, on the other hand, the strategy fails, AT&T may find itself in a position where such things as a wireless-based asset sale may be considered.
Conclusion
For those of you who may be considering a position in AT&T, I'd keep a watchful eye on a number of catalysts over the next 12-24 months as they could each contribute to the company's long-term growth. These catalysts include but are not limited to the company's ability to retain and further acquire wireless-based customers, as well as its ability to sustain and maintain a healthy dividend over the next 24-48 months.
Disclosure: I am long T. I wrote this article myself, and it expresses my own opinions. I am not receiving compensation for it (other than from Seeking Alpha). I have no business relationship with any company whose stock is mentioned in this article.