We've been meaning to provide slightly more color on Youbet (UBET), which reports 3Q09 results this afternoon. So, here we go -- now we are following up on our brief post regarding Breeders' Cup and Equibase data last week, and our online gaming update the other week.
We actually met briefly with Youbet management back on October 1st at the Thomas Weisel Consumer Conference in New York and watched CEO Goldberg's presentation - link to PDF here. The presentation and our conversation emphasized several key points:
Horse racing industry content disputes should be thing of past (we noted previously in initial post) and improved relations now sets stage for increased online penetration
Addressable market opportunity remains large, particularly relative to other online market segments where penetration is significantly higher
Youbet is working toward the launch of "casual" horse betting games in an effort to expand reach
Related slides from management presentation (click to enlarge) -- 2Q09 online (ADW) penetration jumped to 13% from 10% in 2008 (prior to content resolution):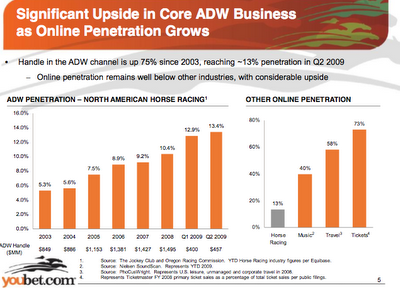 Casual games will have a simple user interface: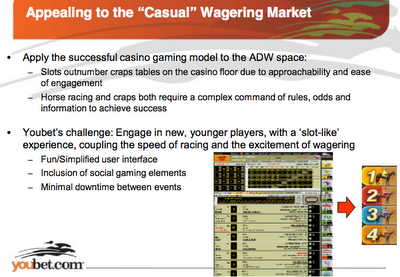 Most points are not new information, but represent key parts of our thesis: that online wagering growth would return in 2009 on the back of new content relationships. Moreover, Youbet is well placed to capture more than its fair share of increased wagering while generating significant excess cash flow. We still think this is the case, but note that Y/Y handle (and revenue) comparisons among industry participants are not comparable as some players (e.g. Churchill Downs - CHDN) benefit from especially easy Y/Y comparisons. In addition, one caveat was/is potential margin pressure related to new content and customer retention/acquisition, which remain risk factors to monitor.
In today's report, we look for continued handle growth with somewhat better margins Q/Q (net yield at/north of 7.0% with an operating margin north of 10% for the ADW segment) and break-even results for the economically sensitive United Tote segment. For reference, we discussed 2Q09 results 2Q09 results here.
With regard to points 1 and 2 above, potential to capture increased market penetration represents a key opportunity for Youbet. While acknowledging that horse racing market dynamics are arguably different than other online segments, we see no reason not to expect incremental penetration over time. Importantly, as noted in prior posts, Youbet's established franchise should allow the company to at least maintain market share. We estimate that if ADW penetration increased to 20% from an estimated 13% in 2Q09, the earnings power of Youbet's online segment might increase by 50% holding margins steady (risk factor, although top-line yields could compress slightly while realizing bottom-line operating leverage).
Recall that in both 2Q09 and the seasonally weak 1Q09, Youbet's ADW segment delivered earnings of $0.06 each quarter (untaxed because of large NOLs, which should offset taxes over time despite some vagaries in California tax law). Annualizing this figure, we have current year earnings of $0.24 for the ADW segment and, at 20% penetration, we have $0.36 per share. We can't help but mention that shares of Youbet are trading at only 9 times the former figure, assigning no cash value to the tote segment and no value to potential growth (e.g. higher penetration, new product launches, international opportunities, or changes in U.S. online gaming laws).
Finally, we continue to view Youbet's online segment as a predictable cash generating business. Even the tote business would be fairly predictable under different operating conditions. Although our current estimate of Youbet's 2009 free cash flow is lower than at the outset of the year, we expect the company to generate at least $10 million of excess cash this year, followed by another $10 million next year, and so on. Put another way, the the company's net cash position of $5.6 million at 6/30/09 should be at least $15.6 million at 6/30/10 assuming no share repurchases. Cash should keep piling up on the balance sheet (even with no growth), which we like.
Per our September post, we hope the company was finally active in 3Q09 repurchasing shares on the cheap. Aside from reinvesting cash in the core business to enhance growth (captured in operating and capital expenditures), we believe share repurchase remains a top priority for excess cash and we certainly expect to see buyback activity over the coming year (if able to repurchase at accretive levels). Strategic acquisitions are another potential cash use, yet we don't necessarily expect to see deals as Youbet already has an excellent platform from which to expand organically. Thus, we're left with one other potential use: paying a dividend, similar to PetMed Express (NASDAQ:PETS). We expect to see more cash rich Internet businesses initiate dividends over time and Youbet could seemingly join this club.

Disclosure: Long UBET, PETS.