For the first time in its history, Cisco (NASDAQ:CSCO) is facing an existential threat. By value, Cisco supplies 59% of the world's switches, 53% of its routers and 52% of its data centre equipment. But the era of IP networking - which Cisco has comfortably dominated - is giving way to another technology cycle known as "software defined networking". SDN is a new architecture for telecom networks in which the emphasis shifts from hardware to software.
On traditional valuation metrics, Cisco looks cheap
Cisco trades on a multiple of 11.5 times this year's earnings. Our valuation scorecard ranks it the fifth cheapest stock amongst 32 of its peers. However, Cisco is the market leader in a sector that is about to be heavily disrupted.
Cisco is a hardware company caught up in a software revolution
SDN technology will be hugely disruptive for Cisco because it fundamentally changes who controls the telecom network. Cisco's proprietary IP networking hardware will be threatened by open hardware standards. With networking hardware accounting for 78% of its revenues today, Cisco will have to transition into a software company to survive.
It faces a strategic dilemma
If Cisco ignores the open standards movement associated with SDN, it risks being side-lined. But if it embraces SDN technology too fast it could see revenues and earnings dip in the medium term. Officially, Cisco has chosen to engage with the SDN world. This is the right decision for its long term future. But in the medium term, its challenge is to adopt cutting edge SDN technology without cannibalizing its legacy hardware business. The problem is that virtually every market that Cisco operates in will be hit simultaneously by this disruptive threat, making its transition more difficult than for any of its rivals. Moreover, at 23.7%, Cisco's operating margins are the highest in its peer group and almost double the industry average. So it has further to fall.
The threat may not be imminent, but it will not go away
We are early in the SDN investment cycle. In 2012, the SDN equipment sector was worth less than $400m. So whilst Cisco's collapse is by no means imminent, if SDN technology gathers momentum, analysts could find themselves downgrading profit estimates for its core hardware business faster than they can upgrade estimates for its emerging SDN business.
Cisco may also get dragged into a dirty trade war over cyber-security
China and the US are in the midst of a trade war over telecom equipment. For years, the US has accused Huawei of being a national security threat, banning it from selling hardware to US telecom carriers. Now, with the Edward Snowden revelations, Cisco is suddenly in the firing line. The next two years could see weak sales in China, one of its most promising growth markets until the Snowden scandal broke.
The threat from software defined networks
Software defined networking (SDN) is a disruptive technology that has the potential to put a big dent in Cisco's growth trajectory.
SDN's open hardware standards threaten to commoditize the telecom equipment sector, most of which still promotes closed, proprietary systems.
Whatever Cisco does - embrace SDN or reject it - its earnings prospects are likely to fall in the medium term.
What does SDN mean for the IP networking equipment industry?
Every 25 years or so, telecom networks get totally re-designed. The last big re-build came with the internet in the early 1990s. As internet traffic exploded - by 2001, internet traffic exceeded voice traffic in the US - telecom networks had to rapidly invest in IP networking equipment.
Since the mid 1990s IP networking went from a niche data networking technology to a global telecommunication standard, crushing any technology in its path to global domination. Even 4G, the latest generation of mobile technology, has finally succumbed to become the first mobile network standard that is all-IP based.
Whilst internet protocol is itself an open standard, most IP networking hardware - routers, switches, servers and storage systems - contain embedded proprietary software. Given the compatibility issues associated with legacy equipment, telecom network operators tend to buy most of their IP equipment from a single vendor.
Now, however, "IP networking" technology is giving way to another technology cycle known as "software defined networking". SDN is a new architecture for telecom networks in which the emphasis shifts from hardware to software. It will be hugely disruptive because it fundamentally changes who controls the telecom network.
SDN aims to make telecom network architectures simpler, cheaper and more efficient to build and run. It does so by moving the intelligence out of networking hardware (e.g. switches and routers) into software. Open hardware interfaces allow industry outsiders to programme the telecom network to run their own network applications.
Software defined networks will turn intelligent telecom equipment hardware into dumb boxes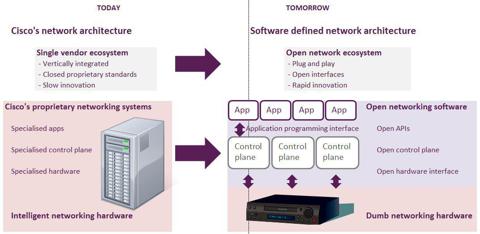 Click to enlarge
Source: CM Research
Industry profitability will shift from hardware to software
As the diagram above illustrates, the value within the networking hardware industry would move from hardware to software. Whereas vertically integrated, single vendor systems are common in telecom networks today, future networks based on SDN technology would have open hardware, control and application interfaces. This would allow industry outsiders to enter the high-value segments of the telecom equipment value chain.
In much the same way that Microsoft's (NASDAQ:MSFT) Windows sucked the profits out of the PC hardware industry in the 1990s, SDN will suck the profits out of the telecom equipment industry. Whoever controls the software will control the network and all the value in it.
Cisco's glory days could be over
By value, Cisco supplies 59% of the world's switches, 53% of its routers and 52% of data centre equipment. As the market leader, Cisco has the most to lose from the threat posed by SDN technology.
Founded in 1984 by a husband and wife team working as computer support staff at Stanford University, Cisco rode the internet wave from the outset. By the early 1990s, its proprietary routers and switches became the global benchmark for IP networking. Helped by the single vendor policies adopted by many network operators, Cisco's router and switches business has remained a cash cow for the company for the last 20 years.
But SDN technology changes Cisco's cozy relationship with network operators. If open hardware standards take off, vertically integrated, closed, proprietary IP networking hardware will be a thing of the past. Routers, switches and servers will begin to operate more on a plug and play basis, breaking Cisco's hold on the market.
What's the timescale?
SDN is a nascent technology. The market is still dominated by start-up companies and has only recently shifted from the R&D phase in its development cycle to the commercialisation phase.
Software defined networking is moving from the R&D phase to the commercialisation phase
SDN product cycle timeline

Click to enlarge
Source: GigaOm, CM Research
Like Cisco itself, SDN technology originated from Stanford University. The term "software defined networking" was coined as recently as April 2009. Then, in March 2011, the Open Networking Foundation was launched by Google (NASDAQ:GOOG), Facebook (NASDAQ:FB), Microsoft , Yahoo (NASDAQ:YHOO), Deutsche Telekom (OTCQX:DTEGY) and Verizon (NYSE:VZ) with a view to promoting SDNs. By 2012, several SDN start-ups began to be snapped up by the big boys: in July 2012, for example, VMware (NYSE:VMW) acquired Nicira for $1.3bn and in January 2013 Cisco acquired Intucell for $475m.
Cisco is faced with a strategic dilemma
As with many disruptive technologies, SDN has cornered Cisco into a no-win situation. If Cisco ignores the open hardware standards associated with SDN, it risks being side-lined - much as Nokia was since the launch of the iPhone in 2007. On the other hand, if it embraces SDN too fast it is likely to cannibalize its legacy hardware sales, triggering a dip in its medium term earnings. This is exactly what happened to Alcatel, Lucent Technologies, Nortel, Ericsson (NASDAQ:ERIC) and Nokia (NOK1V) in the early noughties as IP networking technology displaced their own proprietary telecom equipment.
Market position
For now, Cisco remains the undisputed industry leader...
On the face of it, Cisco is doing well on an operational level, relative to its main competitors. Revenues have been growing steadily at a respectable 7% CAGR for the last three years with most analysts forecasting this to continue. Likewise, operating margins for Cisco are miles above its competitors. Its latest reported operating margin for the year to end July 2013 was 23.7%. By contrast Huawei, Ericsson and Juniper's (NYSE:JNPR) most recently reported margins languish in a range of 8% to 11%, with Alcatel Lucent (ALU) dipping into negative margin territory. Again, many analysts forecast these super-normal margins to continue for Cisco.
Cisco appears to be outperforming many of its rivals at an operational level

By revenues, it is the largest player, though Huawei is catching up fast.

Revenues (US$m)

By profitability, it is miles ahead of the pack.

Operating margins (%)

Click to enlarge

Click to enlarge

Source: Company data, CM Research
... but Cisco is a hardware company in an industry undergoing a software revolution
Cisco generates 78% of its revenues from hardware and the rest from services. Within hardware, the switches and routers business has seen broadly flat revenues for the last four years. But data centre and wireless equipment revenues grew by 60% and 30% respectively last year. These businesses, however, still account for a small proportion of overall revenues, as the chart below illustrates. Switches and routers account for around half of revenues.
As SDN technology closes in, it will have to become a software services company to maintain its profitability.
Cisco needs to move from a hardware company to a software company...

... and shift its core revenue base from developed markets to emerging markets

In 2013, Cisco generated 78% of revenues from hardware

Surprisingly, emerging market revenues are falling in relative terms

Click to enlarge

Click to enlarge

Source: Company data, CM Research. Figures are for the years ended 30 July.
Geographically, the company is growing revenues in the west but - surprisingly for a technology company - seeing emerging market revenues fall as a proportion of revenues over the last two years. This is disturbing. Earlier this week John Chambers, Cisco's CEO, spoke on CNBC about weakness in emerging markets, an area most analysts forecast to grow rapidly. While the US was a "growth engine" and European demand was "recovering", Chambers described emerging markets demand as "mixed." In last month's Q4 earnings call, Cisco management reported that while emerging market revenues grew 8% year on year in the fourth quarter, some markets were stronger than others: India and Mexico saw double-digit order growth; Brazil and Russia were flat; and China was down 6%.
Cisco may also get caught up in the cyber-security war with China
The outlook for Cisco's Chinese revenues is likely to worsen, in our view. An ugly trade war is developing between the US and China in the telecom equipment market. Both sides accuse the other of selling telecom equipment with embedded spyware. Huawei has been banned in recent years from selling telecom equipment to the big four US telecom carriers. Now, after the revelations by Edward Snowden that the US government allegedly coerces American companies to spy on others all over the world, Cisco may start to feel the heat in China. Expect the Chinese government to make life difficult for Cisco in its largest emerging market.
Cisco's dominance in several markets could be threatened all at once
Cisco is the market leader in networking equipment, particularly switches, routers and data centers. As the market share chart below shows, the company supplies 59% of the world's switches, 53% of its routers and 52% of data centre equipment. Its domination of these core markets stems from the fact that many data network operators still operate Cisco-only networks.
How is Cisco positioned today in the telecom equipment market?
Global market shares by sector

Click to enlarge
Source: Company data, IDC, Gartner, CM Research
But if SDN technology becomes a mainstream technology, Cisco's business model of closed, proprietary, vertically integrated hardware systems will give way to a new plug-and-play model where all hardware has open interfaces and open software APIs (application programming interfaces), threatening Cisco's dominant market position.
As we explain in "Software Defined Networks" (CM Research, 11 September 2013), virtually all the markets Cisco operates in (see market share chart above) will be hit simultaneously.
Despite following the right strategy, Cisco's margins are destined to fall
Cisco has chosen to embrace SDN through Cisco One (Open Network Environment), because it knows that open standards represent the future. This is the right choice for the company in the long term. But in the medium term, this is likely to mean a dip in revenues and earnings. As Cisco builds up its fledgling SDN software business, analysts will be forced to downgrade profitability forecasts for its core hardware business.
Cisco may well come through this threat as the world leader in SDN technology. But that is several years away. In the next two to three years, it faces a very difficult transition. It finds itself in the position that Alcatel, Lucent, Nortel and Ericsson found themselves a decade or so ago.
Disclosure: I have no positions in any stocks mentioned, and no plans to initiate any positions within the next 72 hours. I wrote this article myself, and it expresses my own opinions. I am not receiving compensation for it (other than from Seeking Alpha). I have no business relationship with any company whose stock is mentioned in this article.