Tesla's (NASDAQ:TSLA) one-way road to stardom, thus far in 2013, has taken the electric car maker to heights unimagined. The elegance and performance of the Model S has transformed the electric vehicle market from a "tree hugger's dream" to the rationale that has divided the automotive industry on its future. "Teslonians", the devoted group of Tesla supporters, claim the future of cars is EVs, with Tesla leading the disruptive revolution. Critics, however, have categorized Tesla as a niche brand that does not have the mass market potential as other internal combustion engine [ICE] competitors. Though I believe Tesla's outlook lies somewhere in between both extremes, the company is currently being valued at the high end of its potential.
Valuation Matters
Tesla has outgrown its valuation considering the company is projected to sell 25,000 Model S vehicles by this year and 40,000 by next. Its SUV Model X is expected to hit volume production of around 15,000 vehicles in 2015, when it is delivered. For Tesla, it has not been a question of demand, but whether the company can overcome supply constraints to meet the vast orders. Take the Model X reservations, for example, which has 6000 vehicles reserved over a year before release.
To put these figures into perspective, premium brands like BMW, Mercedes and Audi sold 23,500, 26,800 and 13,000 vehicles, respectively, in the month of September in the US alone. It can be argued, and rightfully so, that Tesla is at different stages of production than the listed car manufacturers and that it does not have an affordable mass market car (range of $30-$35k).
Tesla has confirmed plans to develop a lower end EV model ("Gen III or Model E") in the next 3-4 years. According to CEO Elon Musk, this affordable vehicle will have approximately 200 miles of range and be in the $35,000 price vicinity. However, additional technology needs to be developed before the new, cheaper model can proceed. In addition, Tesla will need to open additional manufacturing plants to minimize logistics costs and ramp production. With a mass market product, Tesla can justify its valuation and be compared with ICE competitors. Until then, the company satisfies only the high end niche market.
Since the Model E is only a concept at the moment, investors are speculating and betting on CEO Elon Musk to deliver. To date, Musk has surpassed shareholder expectations, so Teslonians have a reason to be faithful in his ability to satisfy. With that being said, in the 3-4 year range that Tesla is expected to develop their Gen III model, competition in the EV market will have intensified. General Motors (NYSE:GM) has a 200 mile vehicle priced at $30,000 planned, while Volkswagen (OTCPK:VLKAY) will have its 2015 e-Golf model selling in the US.
Toyota (NYSE:TM) made headlines when Chairman Uchiyamada said the company does not see a market to accept major electric vehicles. Toyota is notorious for being an affordable brand to the masses, yet the company cannot see an EV in the affordable market. This implies that Toyota does not see EV technology developing enough in the near future, say 3-4 years, to be a presence in the affordable auto industry segment. In other words, Toyota is refuting Musks's belief.
While Tesla has had enormous initial success, pricing the stock at years ahead of results, including the idea of a concept Model E vehicle, is assuming the company executes its strategy to perfection. So far, a Model E prototype has yet to be announced, so the company is at the earliest stages of development. The slightest hiccup that would affect progress of Models X or E should be a huge blow to the stock, since it has priced in both already. Bottom line: there are just too many unknowns to justify Tesla's current $23 billion market cap.
Market sentiment changing
Once the honeymoon of being the early innovator fizzles out, the market becomes conscious of limitations. Investors saw this last year with Apple(NASDAQ:AAPL) when it hit its peak. Adjustments to market sentiment are triggered by the larger players which then spread downstream to media and finally the retail investor. The hype surrounding the stock begins to lose fuel (or battery in this case).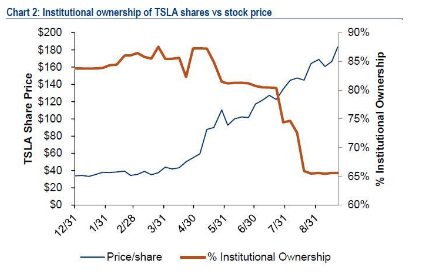 Citron Research released a report bringing attention to the huge decline in institutional ownership for Tesla's stock. Institutional ownership is down roughly by 20% since the first quarter. Is this a sign indicating the big players are seeing this change in Mr. Market's outlook towards Tesla? Goldman Sachs, Morgan Stanley and JP Morgan, all acting as joint bankers for Tesla's note offering in May, have sold a considerable amount of their positions. According to Bloomberg, Goldman owns about 0.34% of Tesla float (down from 0.65% after Q1), Morgan Stanley owns about 4% (down from 4.4% after Q1) and JP Morgan about 0.54% (down from 1.6% after Q1).

Another telling sign can be seen from the insider activity since end of first quarter. The above only displays the open market transactions of Tesla insiders. This does not include the exercise or conversion of derivatives, which are then sold directly after in open market. If included, exercised options from compensation that were directly sold in open market would add up to nearly 300,000 shares. This incorporates the 20,000 shares from CFO Deepak Ahuja. Granted, open market selling by insiders has not occurred recently, however, during this incredible run, no insider, other than Musk, has purchased in the open market. This can be open to interpretation as the exact reason for selling is impossible, but the absence of open market buying and sizeable option exercising should, in the very least, be suspect.
Tesla's short interest has hovered in the mid 20% region, with current short interest at 27% of the float. Surprisingly, there has not been a short squeeze since the stock's initial jump to $90 in May, indicating that Tesla critics are firm in believing the company is overvalued. At current price levels, which suggest inflated price, shorting the stock outright would be a foolish move, as investors would be laying a bet against the momentum behind Tesla's stock. A better bearish approach would be through options that can capitalize on downside potential while protecting from the volatility of a surge in price. Examples could include a put backspread for very bearish investors or bear spread for those more moderate.
Emotion Momentum
Tesla's early innovator status has attracted a lot of warranted hype to the company. The Tesla vehicles have potential to revolutionize the auto industry while providing environmental benefits. Investors, however, must remember that the product is separate from the stock. The same hype that has made Tesla a renowned brand has also prematurely surged its stock to levels it cannot support. At a price nearing $200, Tesla becomes a speculative investment that is driven by emotion. Being a fan of the product is not enough of an enticement to jump into the stock.
Investors must take a step back and reevaluate Tesla. Today, Tesla can only target the high end segment of the car market and early adapters with a limit on the amount of cars it can produce. Tomorrow, being at least three years down the road, this may change depending on how the strategy is executed. It's a ~$200/share gamble investors must be willing to wager, something the rational investor is not inclined to do after analyzing Tesla's fundamentals and announced prospects.
Disclosure: I have no positions in any stocks mentioned, and no plans to initiate any positions within the next 72 hours. I wrote this article myself, and it expresses my own opinions. I am not receiving compensation for it. I have no business relationship with any company whose stock is mentioned in this article.