Business Overview: Authentidate provides software solutions for electronic medical records. They service this through 3 methods: Software solutions for care providers, home telehealth devices, and patient discharge solutions.
Business Background: Authentidate has been public since 1992, originally traded as Bitwise Designs. Since then, the business has undergone many changes, and is now primarily in the healthcare arena.
Market Opportunity: $1.2B is flowing into electronic medical records (VP Biden announced this in August). Authentidate's entire business is based on electronic medical records and the numerous ways in which businesses are going to be needed to process them. In addition, telehealth monitoring is, according to many studies, expected to grow into a $12B industry by 2012. Their third solution, patient discharge, is the solution to a problem that has been experienced by many people in the industry, for quite a long time, however requires the electronic medical records to make it feasible, which we are now seeing.
Authentidate's Business Offerings:
Inscrybe – All forms, processes, and workflow with paper, are made electronic. Healthcare offices can be more efficient, increasing full time employee throughput by 50%. Document cycle times reduce from 22 days to 7 days. Approval/billing cycle times reduced by 2 weeks. Any regulatory changes are easier to comply to as well, because everything is electronic.
ExpressMD – A joint venture between EncounterCare Solutions, who developed the hardware, and Authentidate, who developed the software, for a home telehealth device. It will take your vitals and relay the information to your healthcare provider. For patients with chronic conditions, this is a very important aspect. As we see more government programs push for increased healthcare coverage, doctors will see that they have to care for 3-4 times the number of patients in certain areas, and a device like this is the only way to really meet the needs of all the patients. This is a 50/50 joint venture. Cyntrist is the current distributor/reseller signed up.

There are currently telehealth devices out in use in Florida as per a recent press release. Studies are showing that there is about a 48% savings when using telehealth at the care provider level – consumer benefit is even more because it increases quality of care, eliminates the need to visit a hospital very often, etc.

Patient Discharge – Over 20% of discharged patients are readmitted for complications. The solution proposed by Authentidate, distributed by Nortel right now (division acquired by Avaya), automatically provides referrals, increases the audit trail, notifies healthcare providers immediately when a patient can be discharged, provides follow-up services, and eliminates paper/fax communication by making it all electronic.
Product Overview: Authentidate provides electronic medical record services. In all three cases, the basic offering relies on the software portion, which is what Authentidate handles.
Stock Overview: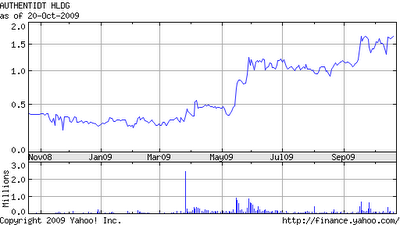 The stock price has made significant moves from hovering in the 30-40 cent range for a while, and is now approaching the $2 territory. Significant announcements driving the stock price include FDA approval for the telehealth device, Nortel contract for discharge solution distribution, and a recent number of contracts for Inscrybe.
Earlier this year, 2 board members and 2 executives purchased 990,000 shares. In addition, 547,000 shares were repurchased by the company itself. With ~35M shares outstanding, this represented a significant portion. Based on SEC filings and the dates on which these occurred, this was probably a transaction with Coghill Capital Management, possibly in light of the recent financial crisis requiring Coghill to liquidate shares.
Financial Overview: Authentidate burns about 600k/month, has about 6.5M of NCAV (June 30th), and just under 7M/year in revenue for last year. They have $2M in property, $3M in emergency funding from a board member's brother, and a German division of the business that provides secure transaction solutions. All three are current sources of possible funding. This means that should they decide to avoid dilution, the company has many avenues of raising funds. There have been SEC filings for another round of funding lately, underwritten by Rodman and Renshaw. While they are not currently profitable, US breakeven is in the $9M/year territory.
Funding: June 30th, they reported 6.5M NCAV. Assuming that burn rate hasn't changed, Authentidate will have somewhere around 4.5M NCAV for the period ended September 30th. $3M beyond that has already been secured. With an estimated 7.5M on September 30th, and 2M/quarter of burn, we're left with 3-4 quarters of cash at the current burn rate. There is property on the books worth $2M, that could probably fetch $1.25-$1.5M in a quick sale, giving them 2 more months. In a worst case scenario, they have a German division of the business that doesn't fit well with Authentidate's main focus, that could be sold for another $4-5M. In addition, they are obviously looking for more funding as per the SEC filings.
Last quarter's revenue: As you look over their income statements, you'll notice revenue was down significantly, below $1.6M for the quarter. This is due to the ended of their Liberty contract, which was generating about $100k/month. Here's a quote from the last conference call in regards to this very topic:
revenues were down at Liberty but then still in the fold our revenues would have been up about 39%. - Bill Marshall
The fact is that revenue was down significantly, that can't be argued. The thing to note though is that there is significantly increased demand for their service.
Hockey stick curve approaching in next few years? Here are the major points to consider:
Telehealth – ExpressMD's telehealth device is one of only a few that has FDA approval. This is a market that does not have an established leader, is expected to grow a lot ($12B in 2012), and enables Authentidate to spread its software solution into the homes of people and more doctor's offices.
Inscrybe - $1.2B is flowing into these services, which is the incentive that was needed to get care providers over the hump of making everything electronic.
Insider buying – 1.5M shares being bought is a significant statement on its own, and even though the company has not issued any guidance, I believe this is a bigger statement than anything else.
Recent moves in stock price – Interest in this stock, despite low volume days, is increasing, and the stock price has continued to move up.
Funding from board member's brother - $3M has been put up as emergency funding. This is a big sign because this board member bought 250,000 shares in March, and now family money is on the line.
Disproportionate income from hockey stick curve revenue?
Authentidate is a software services company. Their COGS is very low, it will consist largely of expenses that are fixed. Each time a transaction occurs, like a patient's records are pulled up, their only additional cost is a little bit of processing power and bandwidth.
Research/Development is largely fixed as well, the service has to be made once, and can be used millions of times. They've been working on this for numerous years now. With the recent push from Washington, they have a matured solution at the perfect time.
They have $100M+ in tax writeoffs.
Overview: Let's say that in 5-7 years, Authentidate is doing 90M/year in revenue. The $1.2B into electronic medical records has made it's way into the market, telehealth has taken off and we've established a #2-3 position, and patient discharge is doing great, with 5-6 major distributors.

It's possible that because expenses are largely fixed, we could see 70M in profit. Net Income could potentially be 40-50M.
Great business opportunity, is this an investment opportunity? There are currently ~35M shares outstanding, with a market cap around 55-60M. As Authentidate ramps up revenue, we'll see significant increase in net income and cash flow as well. Each of their offerings is addressing a major issue in the market, and there is a very strong push coming from the US Government for more and more efficiency. As the governmental push increases, certain niche healthcare providers will have to care for a multiple of their current customer base, which will no doubt require technological efficiencies, such as telehealth devices, electronic medical records, and increased patient discharge solutions. There are plenty of whitepapers talking about the efficiency of each one, and customers who have seen the benefits, along with recent customers signing on for these benefits attest to this. As a whole, Authentidate has a significant, and undervalued, potential for very large upside. The downside, in my opinion, is limited, because Inscrybe alone has been showing significant quarterly revenue growth, which will bring them to profitability.
Risk/Reward Analysis
Anyone who has studied Authentidate's filings can tell you that through a few sources (sale of business/property assets), Authentidate has the ability to have a year of cash available to them without outside funding. Even with that, the question is if revenue really will ramp up to where it needs to be for profitability (US is in the $9M/year range). In the end, this stock will either go to 0 or become profitable and see its market share multiply. One way to think about this is that the upside is much greater than the downside. In a worst case scenario, Authentidate should be able to ramp up Inscrybe revenues with additional contracts, that they have been getting (see their news releases), and can sell off other divisions of the business that are not related to electronic medical records. For those investing, be clear with yourself, there is a degree of speculation here. What to look for in their future? Major announcements include a few things:
Additional Funding
ExpressMD (telehealth) sales
More Inscrybe clients & Patient Discharge progress
Announcements around additional funding or telehealth device sales will probably be the biggest catalyst in moving the market's valuation on this company. Management does have an additional $3M available to them, but they probably won't want to have a quarterly conference call with only 1-2 quarters worth of cash on their books. You can keep an eye on their SEC filings here:
Still interested? Spend time on Authentidate's website, their investor information postings, listen to their conference calls, dig through all of their SEC filings, and do your own due diligence. Introduce yourself to me as well - send me an email, tell me who you are, and what interests you the most about Authentidate.
Disclosure: Long ADAT