Ralph Lauren Corporation (NYSE:RL) recently issued $300M senior unsecured bonds. Currently the bonds yield 2%, their first coupon payment should be made March 26, 2014; their last coupon payment is scheduled for March 26, 2018.
The Company expects to use the net proceeds from the issuance of the Notes for general corporate purposes which may include the repayment of the Company's €209.2 million aggregate principal amount of existing 4.5% notes due 2013.
Take a look at how the new Ralph Lauren bonds compare to junk rated L Brands (LTD) bonds due in 2019 and Phillips Van Heusen (NYSE:PVH) bonds due in 2023:
| | | | |
| --- | --- | --- | --- |
| | credit rating | price | yield |
| Ralph Lauren Corp Sr Nt 2.125% 2018, Cond Put Change Of Control, Cont Call 08/26/18@Par, Make Whole Call (cusip: 751212AA9) | A3/A | 100.57 | 2.00 |
| Limited Brands Inc Sr Nt 8.5% 2019, Cond Put Change Of Control, Cond Call, Make Whole Call (cusip: 532716AR8) | Ba1/BB+ | 119.75 | 4.52 |
| Phillips Van Heusen Corp Deb 7.75% 2023, Cond Put Covenant Violation (cusip: 718592AB4) | Ba1/BBB- | 116.47 | 5.59 |
L Brands and PVH are currently near the top of non-investment grade. Ralph Lauren, on the other hand, is rated at the top of upper-medium investment grade.
Ralph Lauren has done very well during the economic recovery. Overall net income has gone up an average 15% a year since 2011. So far this year the company has reported $308M net income. This is reassuring to bond investors, though possibly discouraging to stock investors.
Ralph Lauren stock currently trades around $164, down from a 52-week high of $192. The stock has a 0.97% dividend yield.
The Usual Suspects
I like the fact Ralph Lauren has made $300M net income in the past two quarters. This makes a $300M bond offering, during historically low interest rates, seem reasonable.
However, the new Ralph Lauren bonds' yield is currently quite low. Take a look at a few of the usual suspects on the secondary bond market:
| | | | |
| --- | --- | --- | --- |
| | credit rating | price | yield |
| General Electric Capital Corp Fr 3% 2020, Survivor Option (cusip: 36966TEV0) | A1/AA+ | 101.00 | 2.82 |
| Microsoft Corp Sr Nt 3% 2020 (cusip: 594918AH7) | Aaa/AAA | 102.08 | 2.67 |
| Ford Motor Credit Company Fr 3% 2018, Survivor Option, Call 09/20/14@Par (cusip: 345397WL3) | Baa3/BBB- | 100.12 | 2.86 |
| Ford Motor Credit Company Fr 2.75% 2018, Survivor Option, Call 10/20/14@Par (cusip: 34540TFJ6) | Baa3/BBB- | 99.60 | 2.83 |
Microsoft (NASDAQ:MSFT) is noteworthy because the company is currently rated Aaa/AAA. Ford (NYSE:F) bonds, due in 2018, yield 43% more than Ralph Lauren; the company's credit rating is right at the bottom of investment grade. General Electric (NYSE:GE) has a strong credit rating and yield, though the company has a massive amount of debt.
Let's look at a revenue comparison, between the apparel companies and the larger corporations: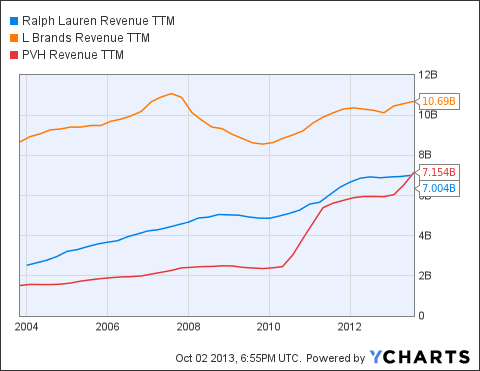 RL Revenue TTM data by YCharts
L Brands has been bringing in the most revenue, PVH has trended upwards (remember they bought Tommy Hilfiger in 2010.) Ralph Lauren has enjoyed nice, smooth revenue growth over the last decade.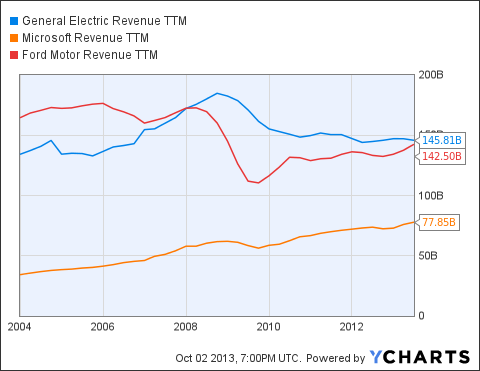 GE Revenue TTM data by YCharts
Microsoft's revenue trend seems similar to Ralph Lauren's, though Microsoft is doing $70B more revenue. While Ford and GE took a real hit during the economic downturn, they are still doing over $140B in revenue.
Ralph Lauren has the least outstanding debt of all these companies. Clearly the bonds are appealing for their quality, though unappealing for their yield.
Where's the Yield?
It is difficult to justify a yield lower than 3%, though Ralph Lauren could be a safe bet. If the company does not call their new bonds early, each bond should make $95 in taxable income (remember commissions and taxes though.)
L Brands on the other hands is steeped in $4.5B debt, their EBITDA is over $2B currently. Currently Limited Brands 6.625% 2021 bonds have a 5.16% yield, for investors willing to consider riskier junk bonds and a longer time frame:
| | | | |
| --- | --- | --- | --- |
| | credit rating | price | yield |
| Limited Brands Inc Nt 7.6% 2037, Cond Put Change Of Control, Make Whole Call (cusip: 532716AN7) | Ba2/BB- | 101.21 | 7.48 |
| Limited Brands Inc Deb 6.95% 2033, Make Whole Call (cusip: 532716AK3) | Ba2/BB- | 99.43 | 7.00 |
| Limited Brands Inc Sr Nt 6.625% 2021, Cond Put Change Of Control, Cond Call, Make Whole Call (cusip: 532716AT4) | Ba1/BB+ | 109.00 | 5.16 |
Notice the 2021 bonds are rated higher than the 2033 and 2037 bonds. Moody's rates the company's secured guaranteed notes Ba1 and secured unguaranteed notes Ba2. Also note these bonds are trading over par and have a make whole call.
Definitely keep in mind the Limited Brands bonds are rated below investment grade.
It's Leslie Wexner vs. Ralph Lauren
Apparel is a very tricky industry, and Mr. Wexner, who is 76, and Mr. Lauren, who will be 74 in two weeks, are leaders in their field. Many businesspeople would have left their companies long ago, taken a few million dollars and set sail. Lauren and Wexner, on the other hand, made these companies their lives.
L Brands and Ralph Lauren shareholders have done very well in the past four years. I view both brands as being strong and durable, so long as they continue a tradition of quality and strong design.
The economy is at a precarious crossroads with the U.S. government shutdown, at the moment. Luxury items are the first to be crossed off many household shopping lists when economic trouble arises. However, there are many wealthy consumers who are devoted to their favorite brands.
Ralph Lauren Bonds Do Not Pony Up, But I Like Them Anyways
Investors should absolutely consider the possibility the shutdown could affect holiday sales. If it lasts a week or two, then the effect would be minimal; the long-term effects of a shutdown that goes for over a month could detract from spending in November and December. Additionally if the U.S. defaults, rates are expected to go up.
Hopefully there is no default, though if rates trend upwards the Ralph Lauren bonds' yield may become favorable. Ralph Lauren's stock has done well, though if the company's earnings disappoint, it could correct further. If Ralph Lauren continues on with steady growth, it could reach higher. Also, keep in mind the current 5-year treasury yield is 1.38%.
Keep in mind, Ralph Lauren and L Brands' credit ratings could go up or down also. Quite frankly it is disappointing Ralph Lauren did not issue longer-term bonds in addition to the new 5-year issue. However, my sense is Ralph Lauren is being conservative, and is currently focused on maintaining quality.
If you have any thoughts on Ralph Lauren's new bonds, please leave a comment below.
Disclosure: I am long GE, RL, MSFT, F, LTD. I wrote this article myself, and it expresses my own opinions. I am not receiving compensation for it (other than from Seeking Alpha). I have no business relationship with any company whose stock is mentioned in this article.
Additional disclosure: I am long PVH, MSFT, F and LTD bonds.This article is not a recommendation to buy or sell, please consult a financial adviser to determine proper allocations, if any, to bonds, especially junk bonds.