The Coca-Cola company (NYSE:KO) is a beverage company selling carbonated soft drinks in restaurants, supermarkets, convenience stores and vending machines around the world. Coca-Cola's market value consists of a huge brand premium that relates to Coca-Cola's high recognition value: The red Coca-Cola can with white script is known to literally every person in all civilized parts of the world. Coca-Cola was introduced in 1886 and has established for itself a dominant position in the soft drink market. Competitors include PepsiCo (NYSE:PEP) and Dr. Pepper Snapple (NYSE:DPS). Stocks of multinational beverage companies have done reasonably well over the last five years with Coca-Cola delivering an 80% share gain to investors. DPS investors took home 95% and PepsiCo shareholders gained 38%.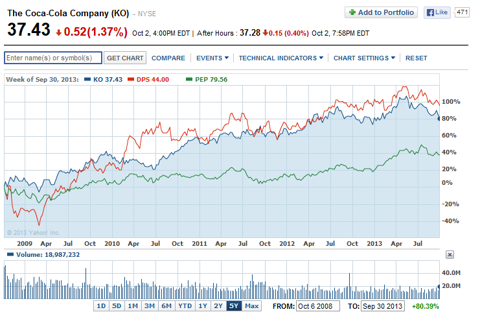 Click to enlarge
Coca-Cola gained mainstream investor recognition when Warren Buffett purchased a significant stake in the beverage company back in the 1980s. Coco-Cola and many other publicly listed companies were tremendously cheap in 2009 but have recovered significant ground since then. At $37.43 per share is Coca-Cola worthy of an investment?
Market valuation
A peer group analysis always provides a good starting point in order to determine whether a company is attractively priced relative to comparable firms. Coca-Cola trades at 16.50 times earnings, which clearly is not bargain territory. Its P/E ratio is similar to PepsiCo's multiple and Coca-Cola trades at a premium of 6% to the peer group average. Dividend investors receive a 3% dividend yield compared to 2.85% for PepsiCo and 3.45% for Dr. Pepper. Overall, valuation and dividend yield for Coca-Cola are not noticeably attractive or outstanding.

Click to enlarge
A look at Coca-Cola's free cash flows
From an absolute perspective I look at free cash flow to equity. KO's operating cash flows are relatively stable while cash outflows relating to Coca-Cola's investing activities spiked in 2012 driven by extraordinarily high purchases of short-term investments of $9.6 billion. I assume that the normalized level of investing cash outflows stands somewhere between $5-6 billion a year going forward. Coca-Cola has also stepped up its borrowing activity, both in gross and net amounts. I estimate that this trend is going to continue. For purposes of analysis I project net borrowing to be at around $4 billion a year, consistent with 2011 and 2012 albeit with a slightly increasing trend.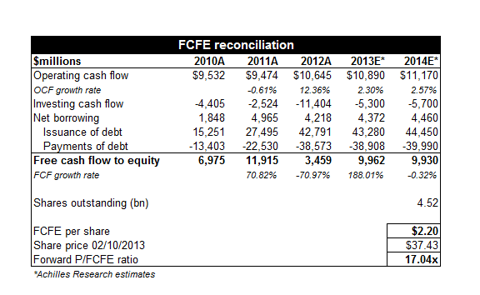 Click to enlarge
The estimated 2014 free cash flow to equity stands at around $10 billion of which nearly 45% are attributable to net borrowings. The resulting 2014 FCFE/share comes out to be $2.20. Consequently, Coca-Cola shares trade at more than 17x forward free cash flows: A very rich cash flow multiple that investors are required to pay.
Conclusion
Assuming slightly growing operating cash flows, investing cash flows roughly in line with historical averages and fairly stable net borrowing activity consistent with the past two years, investors have to pay 17 times 2014 free cash flow to access Coca-Cola's shareholder remuneration consisting of dividends and share buybacks.
While Coca-Cola is a great, growing company and does the right thing for shareholders the current share price includes a substantial premium for what seems to be a mediocre dividend yield. Since money is being made when you buy and not when you sell investors will find better priced opportunities in the market (for instance, here and here).
Disclosure: I am long DE, BP. I wrote this article myself, and it expresses my own opinions. I am not receiving compensation for it (other than from Seeking Alpha). I have no business relationship with any company whose stock is mentioned in this article.