Last quarter, I said that AudioCodes (NASDAQ:AUDC) was at an inflection point, and I'm sure we all witnessed it unfold. This quarter, I am looking for AudioCodes to provide some fireworks; on solid results, but more on its outlook and on new exciting opportunities as Unified Communications (UC) is discovering the need for a well rounded voice company like AudioCodes. On the upcoming call I believe the company will deliver one very clear message - Voice is here to stay and AudioCodes is here to deliver it.
My Estimates:
| | |
| --- | --- |
| Revenues: | $35 million |
| EPS: | $0.05 |
| Gross Margins: | 59.5% |
| Cash Flow: | $3.5 million |
| Debt Reduction: | $3.5 million |
Quarterly Commentary from CEO:
I expect this to be the start of revenue and EPS beats along with increased visibility due to enterprises embracing the cloud for their voice networks. We believe that the company is 3 to 6 months away from having solid 20% year over year growth as Microsoft (NASDAQ:MSFT) Lync and Web RTC kick into gear. Here's what we want to hear from the CEO:
Consulting: - AudioCodes is being brought in more on the front end of the end to end solution by both its customers and its partners. This will bring a new revenue stream to the services side for 2014 and pack a hefty margin to the bottom line.
Services: - We hope to hear that the new head of services is bringing new partnership opportunities to the company which will result in exciting new relationships in 2014, this will keep its growth rate above corporate average of 15%.
Lync: - That the deals continue to be bigger in scope and timeframe. The Microsoft program is gaining respect and commitment from the enterprise and AudioCodes' One Voice is responding to this new demand.
Software: - It's the wave of the future for AudioCodes and the company has initiatives to provide exciting new revenue ramps in 2014. How will strong cash flows influence small, accretive software acquisitions? We see this as a big leverage factor to the growth of AudioCodes.
Everything but Lync: - AudioCodes is not all about Lync. We would like to hear more on how the company is winning business with BroadSoft (NASDAQ:BSFT), Interactive Intelligence (NASDAQ:ININ), Avaya, AT&T (NYSE:T), Verizon (NYSE:VZ) and others in the UC world. In essence, how it can be One Voice to the UC world.
Premise vs. Cloud: - Everyone is headed to the cloud but this doesn't eliminate the need for the premise being equipped and serviced.
Mobile: - NYC just announced it'll be bringing free WiFi to major hubs of the city by year end and eventually wants the city to be WiFi ready in the future. Furthermore, Facebook (NASDAQ:FB) and Cisco Systems (NASDAQ:CSCO) announced today that they're bringing free WiFi to select retailers across the country. This is the fuel that'll bring Mailvision to the surface for AudioCodes as they're determined to bring an OTT solution mainstream. Do we have a new product? A new customer? Talk to us about it.
Chart: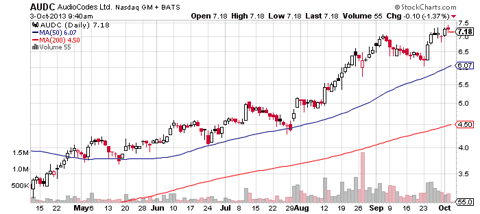 AudioCodes is at yearly highs and for the past year has continued to make successive new highs. This is the sign of a strong stock and all indicators point to AudioCodes making more new highs into year end. The stock is trading above its 50 day moving average another sign of a strong stock. With momentum behind it, I see AudioCodes hitting $10 - $12 in the coming months.
Analyst Coverage:
Oppenheimer has been covering AudioCodes since early 2013, and the analyst recently raised his target from $5 to $7 per share. He was quoted yesterday in a Bloomberg article talking very positively on AUDC. He said, "They have more potential revenue for future years than they are recognizing now. They should be able to meet management's target long-term sustainable sales growth rate of 15 percent." I suspect that with AudioCodes above his $7 target (on larger volume) that he may finally give AudioCodes the earned respect of a multiple on par with his valuation of Sonus (NASDAQ:SONS) a direct peer to AudioCodes. That would be equal to a $10-$12 target. In addition, I still look for Needham, Northland, Benchmark and others to possibly jump on board pre or post earnings as institutional interest has finally arrived and stayed. The company has spiked institutional interest over the past 2 months now it should be ready to get brokerage to see its merit in this 15 billion dollar market where it trades at a deep discount to its competitors.
Outlook:
| | |
| --- | --- |
| Revenues: | $36.5 million |
| EPS: | $0.07 |
| Gross Margins: | 60% |
| Cash Flow: | $9 million |
| Debt Reduction: | $4 million |
Conclusion:
I believe that this is the most exciting earnings preview for AudioCodes in over 3 years. I also believe that it's the first great earnings call of many great calls to come as no one really gets how good AudioCodes is at what they do. When they do figure it out AudioCodes will be priced to its peers which would make AudioCodes 2 to 3 times higher than the price it trades at today.
Disclosure: I am long AUDC. I wrote this article myself, and it expresses my own opinions. I am not receiving compensation for it. I have no business relationship with any company whose stock is mentioned in this article.