Merck (NYSE:MRK) just announced a new initiative to cut 8,500 jobs and reduce costs by $2.5 billion before the end of 2015. The cuts are part of Merck's ongoing restructuring since its merger with Schering Plough and amid major sales losses to generic competition.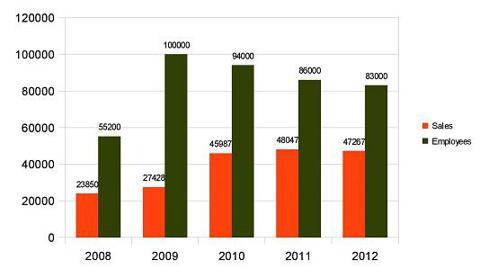 Merck: Sales / Employee Count
The new workforce reductions are in addition to previously announced reductions of 7,500 jobs and will result in a decrease of about 20% in Merck's total global workforce, which currently stands at 81,000 employees.
Merck has already shed 19,000 jobs since 2009 and reduced billions in costs as it scrambles to replace revenues drained off as key drugs lost exclusivity.
Singulair, once Merck's best-selling drug, saw its sales plummet by 80% since its patent expired last year. It brought in $618 million for the first half of this year, down from $2.8 billion for the same period of 2012.
The decision, though difficult for those involved, is a welcome announcement since it will make Merck a leaner company. Merck expects to realize approximately $2.5 billion in annual net cost savings by the end of 2015 and estimates that $1 billion, or 40%, of the savings will be realized by the end of 2014.
According to Merck, the majority of savings will come from marketing and R&D and are part of an overall global restructuring initiative that will focus on redesigning its operating model, reducing its cost base, sharpening its commercial focus and prioritizing its research and development program.
Merck will also reduce its global real estate footprint, particularly in New Jersey where it is currently headquartered. The company plans to establish its home base in Kenilworth, on an existing Merck campus, and to shut down both the Summit facility and the Whitehouse Station headquarters.
Financial Implications
Merck reiterated its full-year 2013 non-GAAP EPS target of $3.5 (mid-range) and revised its GAAP range to between $1.58 and $1.82. The company expects to record charges of approximately $1 billion in 2013 with the majority of the charges recorded in Q3 2013.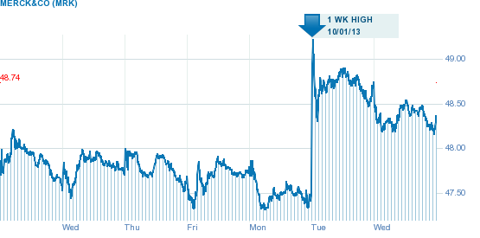 Market Reaction
Merck's shares rose 3.3% to $49.15 immediately after it announced the cuts before settling down to $48.37, still 1.6% higher than their September 30th close. So we can safely assume that the street likes the news.
Recommendations
Both generic competition and a faltering drug pipeline are taking their toll on Merck, with its sleep drug suvorexant and anesthesia drug sugammadex among the most recent pipeline stumbles. Creating a leaner meaner company with a more focused R&D division was not just needed but extremely essential to the company's performance going forward.
Merck is a great company and the news makes a long-term hold recommendation, as part of a balanced healthcare portfolio, a compelling proposition.
The financial impact on Q3 and 2013 earnings will be negative but might invite some welcome volatility. So, if you were thinking about Merck, while standing on the sidelines, this is the time to keep a closer watch on the stock for favorable entry point.
Disclosure: I have no positions in any stocks mentioned, and no plans to initiate any positions within the next 72 hours. I wrote this article myself, and it expresses my own opinions. I am not receiving compensation for it (other than from Seeking Alpha). I have no business relationship with any company whose stock is mentioned in this article.