I first mentioned FONAR (NASDAQ:FONR) back in October of 2012, saying that the company probably has most of its problems behind it. Since then, the stock has almost doubled over that period, however I think it is still very cheap. Yesterday the company announced its year end results as following:
Fiscal 2013 net revenues increase 25% over 2012 to $49.1 million
Fiscal 2013 net income increases 49% over 2012 to $10.3 million
Diluted Net Income Available to Common Shares for the Fiscal year ending June 30, 2013 was $1.34, which includes a partial reversal of the deferred tax valuation allowance of $2.5 million, or $0.41
FONAR records fourteenth straight quarter of positive net income and income from operations
FONAR added- to the Russell Microcap Index
FONAR has two different business segments. One segment is manufacturing, where it manufactures and services upright MRI scanning machines (Upright Multi-positional MRI scanners) and the other segment is service oriented, whereby it manages eleven diagnostic imaging centers through its wholly owned subsidiary Health Management Corporation of America.
The important thing to understand about this company, is that with a recent acquisition it made, it is slowly becoming a services related company, as opposed to simply being a manufacturer of medical equipment.
Back in March the company announced:
MELVILLE, NEW YORK, March 6, 2013 - FONAR Corporation (NASDAQ-FONR), The Inventor of MR Scanning™, reported that yesterday HMCA, a subsidiary of Fonar Corporation, acquired through a majority interest in a newly formed limited liability company, a business managing 12 Stand-Up® MRI centers and 2 other scanning centers located in Florida and New York for purchase price of $34.4 million dollars. The newly formed limited liability company will be known as Health Diagnostics Management, LLC (HDM).


The 12 Stand-Up® MRI centers managed by HDM together with the 11 managed by HMCA now comprise the largest network of Stand-Up® MRI centers in the nation (23). By combining the resources of HMCA and HDM, the Company will enjoy the benefits of 1) economies of scale, 2) shared administrative and technical expertise and capabilities, and 3) joint marketing strategies.
So in other words, the company doubled its diagnostic services business overnight, that I think is its main business from now on and its main growth driver.
There was no financial data with the announcement, so I cannot comment on the balance sheet, however this is a cheap stock by any metric. Even with yesterday's 20% rally, the company is still worth only about 4-5 times trailing earnings and trades at less than one time sales.
On a pure technical note, yesterday the stock traded about 821,000 shares, which is about 20 times the average daily volume of the last three months. Unusually when volume explodes like that, a stock goes higher.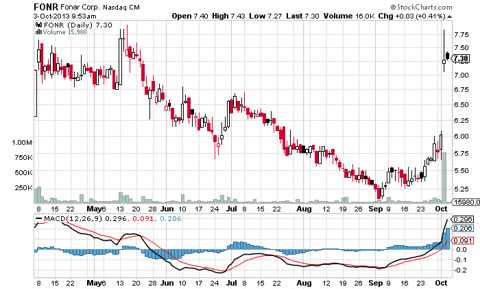 Click to enlarge
(Click to enlarge)
This is a tiny stock and has major competitors like General Electric (NYSE:GE), Siemens (SI) and Koninklijke Philips (NYSE:PHG). However it also has its own niche market making upright MIRs, and holds a bunch of patents in the space also.
As for a target price, pick any multiple you want under 10 and the stock is still undervalued. And not wanting to sound like a pie in the sky, I think a target price of $10 over the next 6-12 months is very achievable.
However, this stock tends to be very volatile, so be prepared for wild swings and very low volumes from time to time.
Disclosure: I have no positions in any stocks mentioned, and no plans to initiate any positions within the next 72 hours. I wrote this article myself, and it expresses my own opinions. I am not receiving compensation for it (other than from Seeking Alpha). I have no business relationship with any company whose stock is mentioned in this article.