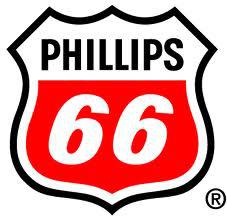 In May of 2012 ConocoPhillips (NYSE:COP) spun off its midstream, refining, and chemicals businesses into shares of Phillips 66 (NYSE:PSX). Since that time, Phillips 66 has raised its dividend three times. The latest increase was announced yesterday - a whopping 25% increase to $0.39/share. At yesterday's closing price, that equates to a 2.6% annual yield. Investors in PSX should expect even more dividend increases in the future from this shareholder friendly company due to its strategy of dropping down midstream assets to its Phillips 66 Partners (NYSE:PSXP) MLP. This strategy is a nice compliment to the company's world class refining and chemicals operations.
Phillips 66 - The Definition of Shareholder Friendly
According to the company's dividend webpage, PSX began trading as an independent company in May of 2012, with a dividend of $0.20/share. Since that time shareholders have been rewarded with three dividend increases:
Oct 2012: $0.25
Feb 2013: $0.3125
Oct 2013: $0.39
The amounts given above are per share and per quarter.
In addition, the company announced a $1 billion share repurchase program in Q3 of 2012, which it then increased by another $1 billion in December of 2012. In July of this year, the company bumped up the share repurchase plan by yet another $1 billion when it released Q2 earnings. Obviously, Phillips 66 is a company dedicated to sharing its success with shareholders.
Although I must admit to being surprised at the size of the most recent dividend increase, it was hardly a shock that the company decided to raise it. In my last article on PSX, Phillips 66's Q2 A Miss, But Stock is Worth Considering, I pointed out that the earnings miss was largely due to power outages and an extended turnaround at its Port Arthur plant. Other than that, the company was operating extremely well and financials were very strong:
Operating cash flow was $968 million; $1.2 billion excluding changes in working capital
Year-to-Date annualized ROCE of 18 percent
Debt-to-capital fell to 23%, down from 30% in Q2 of 2012.
Expect More MLP Drop-downs

PSX spun off its Phillips 66 Partners MLP in July of this year. PSXP was designed to own, operate, develop and acquire primarily fee-based transportation and midstream assets. The IPO generated proceeds of $377.8 million and significantly exceeded expectations.
Don't be surprised to see PSX's 1/3 interest in the Sand Hills and Southern Hills pipelines dropped down to the MLP unit within the next year or two. This will lead to increased tax advantaged distributions to PSX, which will eventually lead to increased dividends for PSX shareholders.
Summary and Conclusions
The case for investing in Phillips 66 is still solid despite a reduction in the spread between Brent and WTI. Although Phillips 66's stock price took a hit along with all the others refiners as a result of the narrowing spread, PSX is not a pure refiner: it has substantial midstream assets and operates the best chemical company in the world: CPChem, a 50-50 joint venture with Chevron (NYSE:CVX). Phillips 66 is targeting future growth in these two businesses, not refining. The chemicals and midstream sectors will continue to benefit from the on-going U.S. energy revolution. The midstream business will grow by building new pipelines to handle a huge surge in U.S. production of oil, natural gas, and natural gas liquids ("NGLs''). CPChem will grow its chemicals business by sourcing advantaged natural gas and natural gas liquids ("NGLs") feedstock for many years to come. As a result, CPChem will likely be the lowest cost chemicals producer in the world.
Expect PSX to trade back into the $70s within the next 12 months. Also expect the company to continue its rich history of rewarding shareholders with dividend increases. PSX is a long-term BUY.
I will leave you with a chart of COP and PSX since the spin-off. Note that on the day of the May 2012 spin-off, 100 shares of COP turned into:
(100_COP+50_PSX) = $5610 + $1667 = $7277
Today the combined shares are worth just under $10,000. That equates to a 37% return, which does not even take into consideration COP's hefty dividend (currently 3.9%), nor PSX's dividend, which now yields 2.6%.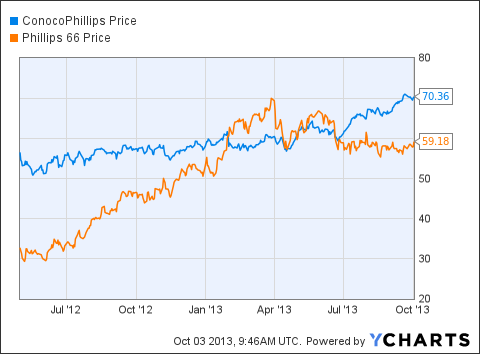 COP data by YCharts
Disclosure: I am long COP, CVX, PSX. I wrote this article myself, and it expresses my own opinions. I am not receiving compensation for it (other than from Seeking Alpha). I have no business relationship with any company whose stock is mentioned in this article.
Additional disclosure: I am an engineer, not a CFA. The information and data presented in this article was obtained from company documents and/or sources believed to be reliable, but has not been independently verified. Therefore, the author cannot guarantee its accuracy. Please do your own research and contact a qualified investment advisor. I am not responsible for investment decisions you make. Thanks for reading and good luck!