Warren Buffett has most notably increased the interest in the U.S. railroad sector when Berkshire Hathaway (NYSE:BRK.A) (NYSE:BRK.B) purchased Burlington Northern Santa Fe Railway in 2009 for $26 billion. Subsequently, Bill Ackman took an activist position in the Canadian railroad company Canadian Pacific (NYSE:CP). Railroad companies are profiting from a lack of pipeline capacity, an increase in the number of carloads for crude oil and an improving economic picture. Canadian Pacific profited also from an activist-induced CEO change: The stock is up 210% since 2009. Union Pacific (NYSE:UNP), the largest U.S. railroad company by market capitalization, is up 169%, Norfolk Southern (NYSE:NSC) gained 51% and Canadian railroad heavyweight Canadian National Railway (NYSE:CNI) 158%. Noteworthy is that the sector has pushed forward with very little volatility over the last five years. Many companies in the materials sector are battling capex overloads and are scaling back on mining projects. None of this has an impact on the railroad sector.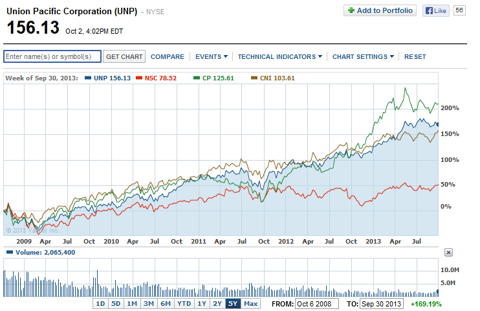 Click to enlarge
(Click to enlarge)
Industry outlook
The Association of American Railroads regularly reports on U.S. rail traffic and is looks like demand for railroad good transportation is going to stay solid:
Intermodal traffic in August 2013 totaled 1,031,179 containers and trailers, up 4.4 percent (43,398 units) compared with August 2012. The weekly average of 257,795 units in August 2013 was the highest weekly average for any month in history. Carloads originated in August totaled 1,178,619, up 0.5 percent or 5,285 carloads compared with the same month last year.
AAR Senior Vice President John Gray commented on increasing intermodal traffic volumes and the impact of past private infrastructure investments on railroad companies:
"In terms of average weekly volumes, August was the best intermodal month in history for both U.S. and Canadian railroads," said AAR Senior Vice President John T. Gray. "Because the fall is typically the peak season for intermodal traffic, it wouldn't be surprising to see new records set in September and October. Intermodal's strength is a testament to the massive private investments railroads have made in their intermodal operations and the tremendous effort they've put forth in improving the reliability, responsiveness, and cost effectiveness of their intermodal service."
Railroad companies have engaged in a capex spree over the last years in order to promote rail transportation services as a valid, cost-effective and environmentally friendly alternative to road transport. The industry faces nonetheless challenges from gradually declining coal volumes, while intermodal services have increased in importance. Future growth will depend more on growth coming from international partnerships and better economic growth that is about to return to its long-run average.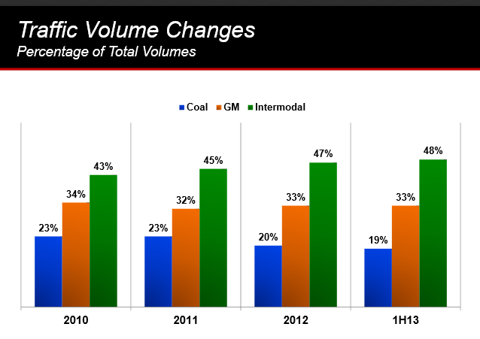 Click to enlarge
(Click to enlarge)
Which one is the cheapest?
The railroad sector seems to be fairly valued: Company multiples are leading to earnings yields of 6.3-8% which correlate roughly to the total long-term return investors can expect from the stock market. UNP, CP and CNI trade at multiples of 14-16 only with Norfolk Southern breaking out at the bottom of the range: Norfolk trades at 12.56 and has the highest earnings yield of all companies in the peer group. Dividend yields are between 1-2% with Norfolk Southern again leading the way: 2.65% is the highest yield among four of the largest railroad companies in Northern America.

Click to enlarge
(Click to enlarge)
Conclusion
Opportunities are often found where few people are looking. Instead of focusing on Union Pacific who has build up quite a following among retail investors, Norfolk Southern is less in the spotlight due its much lower market capitalization and scores much more favorably in terms of valuation and income stream. The underlying dynamics of the railroad industry (shift toward intermodal services, efficiency pressures) are going to affect all players in the industry the same way with little differentiation potential. From a valuation standpoint, Norfolk remains the most attractive railroad company in the sector and pays a 45% premium compared to the peer group dividend average of 1.83%. The high earnings yield also gives the company substantially more room to grow its equity value as compared to Union Pacific or Canadian National Railway. Long-term Buy.
Disclosure: I am long BRK.A. I wrote this article myself, and it expresses my own opinions. I am not receiving compensation for it (other than from Seeking Alpha). I have no business relationship with any company whose stock is mentioned in this article.