The rally in Tesla Motors (NASDAQ:TSLA) has come to a sudden halt. Shares, which recently hit a high of $194.50, have come back down to $171.00 in Thursday morning's trade. The main reason seems to be a car fire involving one of their vehicles, regardless of whether or not this was an isolated incident. With the stock coming down sharply in recent days, one must wonder whether the rally is over.
The valuation argument:
Whether or not you believe Tesla's current valuation is warranted, this valuation leads to volatility when you get news of a car fire like we saw recently. Transportation analyst Lou Whiteman projects that Tesla's value equates to about $1 million per sale in the US, compared to roughly $23,000 for General Motors (NYSE:GM). So Tesla is being currently valued at about 15 times what the Model S starts at on their website (with the federal credit).
Obviously, investors are valuing this name for the future growth potential. But at this point, for Tesla to reach the above mentioned GM comparable valuation, the company would have to be selling 900,000 cars. Obviously, Tesla on average sells higher priced cars than GM, but they still would need hundreds of thousands in unit sales to make up some of the difference in valuation.
So when you get a report of a car fire involving a Tesla vehicle, this is why you see a large decline in the stock, even if it is an isolated incident. Tesla shares, which peaked near $192 at Wednesday's high, were as low as $169 during Thursday's trade, as seen in the chart below. That's how volatile this name is, and is one reason why the average investor doesn't want something this risky in their portfolio. Additionally, this stock was a $35 earlier this year. While the stock can still go higher, you've missed a tremendous rally already.
(Source: Yahoo! Finance)
Continued dilution:
Like many growth companies, Tesla is seeing its outstanding share count rise by the quarter. Compensation is paid out in equity, and unless a company buys back stock, the share count will continue to rise. Tesla is obviously not buying back stock. In fact, they've been selling a bit of it over the past couple of years. The following table shows how the share count has continued to rise.

We don't know what the end of Q3 number is yet as Tesla has not reported their quarter. But even if we leave the share count at the Q2 level, which we know won't be the case, investors will have been diluted by 30% over the past three years. Further dilution will come, and the share count will continue to increase over time.
Short squeeze potential way down:
Tesla was a great short squeeze candidate early in 2013. There was a tremendous amount of shares short, and since the share count was lower, that meant a higher percentage of shares short. However, as the year has gone on, short interest in Tesla has taken a dive. While it's not at its lowest levels of the year, it's a lot closer to the bottom than the top, as you can see in the chart below.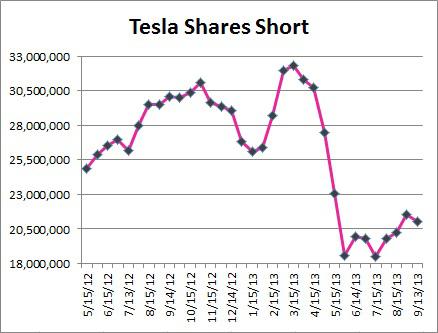 Since the middle of March high, more than 11 million shares short have been covered. That's 35% of all short positions that have been closed out. That in itself takes a chunk out of the bull case that more short squeezes are possible. But there is a second level to this argument. Tesla's volume has picked up tremendously as well. This means that Tesla's days to cover ratio, the number of days it would take all shorts to cover, has plunged. A chart of the days to cover ratio over the past year is below.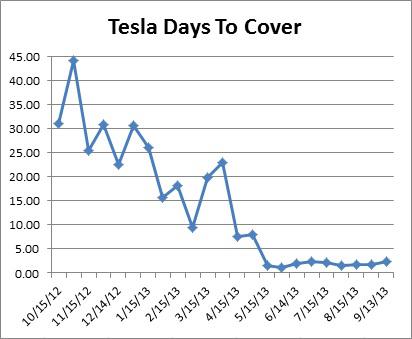 At this time last year, Tesla was trading less than one million shares a day, according to volume statistics from NASDAQ. The latest update shows that Tesla is currently trading more than 9 million shares a day, and that was as high as 15.75 million a day. Tesla's days to cover ratio has gone from 44 to 2.3. So late last year, it would take two full months of trading days for all shorts to cover. At this point, you are talking about two days. The potential for a short squeeze was tremendous at $50 a share, but has declined tremendously.
Final thoughts:
Tesla shares might have cracked for the short-term, and it remains to be seen if this trend will continue. While the car fire seems to be an isolated incident, a super lofty valuation means anything but perfection would knock down the stock, so profits have been taken. If this car fire turns out to be nothing, kind of like that Boeing (NYSE:BA) incident that knocked down shares temporarily a few months ago, look for Tesla to rally back towards $200. Tesla's bull case is not as strong as it used to be, as investors continue to be diluted by the quarter. Also, the potential for a short squeeze has come down dramatically in recent months. Interestingly enough, the recent analyst downgrade to neutral, with a $187 price target, now represents 10% upside in shares, instead of representing downside. Tesla still has plenty of growth potential ahead of it, which could lead shares higher, especially in a Fed-propped up market. Also, there still are a fair amount of short positions that could be covered. Tesla is a lot better investment at $171 than it was at $194, but just realize this was a stock at $35 a few months ago. Tesla's bull case might still be there, but it is not as strong as it was in the past.
Disclosure: I have no positions in any stocks mentioned, and no plans to initiate any positions within the next 72 hours. I wrote this article myself, and it expresses my own opinions. I am not receiving compensation for it (other than from Seeking Alpha). I have no business relationship with any company whose stock is mentioned in this article. Investors are always reminded that before making any investment, you should do your own proper due diligence on any name directly or indirectly mentioned in this article. Investors should also consider seeking advice from a broker or financial adviser before making any investment decisions. Any material in this article should be considered general information, and not relied on as a formal investment recommendation.