Risk markets continue to trade in the sweet spot on a flock of Fed comments (after someone let the doves out) and a slew of bullish Chinese economic data. Looking across markets, most prices are sitting not too far from where they were this time yesterday. Clearly, investors have seen, on balance, little surprise in the latest data and information flow. This included a wall of Fed speakers, several whom took the time to point out that neither inflation nor unemployment were presently indicating a need for the Fed to exit its ultra-easy policy stance. The Dallas Fed's Fisher did indicate a worry that the Fed's policy would stoke a destabilising Dollar Carry Trade. Talk is cheap but Treasury Secretary Geithner did say that he "deeply believes" a strong Dollar is important for the US and he has responsibility to implement policies to shore up confidence.
Some US stocks to watch Wednesday include GE (NYSE:GE), Caterpillar (NYSE:CAT), Alcoa (NYSE:AA), Barrick Gold (NYSE:ABX) (with the yellow metal trading at $1,117) and Exxon Mobil (NYSE:XOM), all of whom look likely to benefit from the equity friendly news from China overnight. Other stocks likely to be active include Adobe Systems (NASDAQ:ADBE) who are shedding 9% of their workforce, and builder Toll Bros. (NYSE:TOL) who said that Q4 contracts have risen.
Today's Market Moving Stories
Overnight, Japan's machinery orders report for September showed that private sector machinery orders marked a seasonally adjusted monthly growth rate of 10.5%, far above the consensus forecast at 4.1%. Looking into the details, even the future seems bright for the machinery orders, as the forecast for Q4 showed machinery manufactures expecting a 1.0% growth for the period. Only negative note in the report was the forecast for overseas orders, for which manufactures expected a fall of 10.6% in the fourth quarter after marking a surge of 41.7% in the third quarter.
The US Labor Department's Job Openings and Labor Turnover Survey found that the number of job openings in the U.S. increased slightly in both August and September, the first two-month rise since early 2007. Hotels, restaurants, education and health care made the largest contributions; even such hard-hit sectors as manufacturing saw a rise.
Speaking in Singapore (where the APEC group have gathered) World Bank President Robert Zoellick said that "recovery globally is not going to be symmetrical. It's going to be at a different pace". Zoellick also commented that the USD's status as a global Reserve Currency is secure for some time as gold isn't as transferable as the USD, although he warned that the US shouldn't be complacent.
Singapore's representative of the Asia-Pacific Economic Cooperation, George Yeo, said that "the upturn that we now have is a respite. The situation is still fragile. We should still address the root cause of the problem".
Proto bear Albert Edwards, a top analyst with French bank Societe Generale (OTCPK:SCGLY), expects global markets to hit a new low in 2010. He is sceptical of popular opinion that extreme policy responses will safeguard the West against a repeat of Japan's 'lost decade' of the 1990's.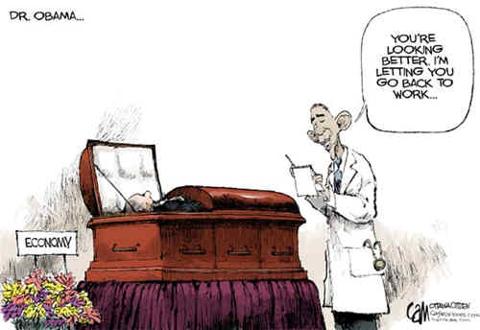 US Earnings Season Review
Corporate America's ability to cut costs continues to surprise. Cost-cutting again is the key to better-than expected earnings in the current reporting season, and top-down productivity measures are soaring. But I doubt that corporates can slash their way to a sustained profit recovery.
Moreover, the cost-out story is now adding to deflation risks at the margin, raising the double-dip risk. Bottom-up and top-down data show ongoing cost-cutting by American corporates. The September quarter reporting season repeated the pattern of the past two: profit surprises have again been due to cost-out, rather than revenue. With 389 S&P500 companies reporting, non-financial earnings have beaten forecasts by 5%. But dollar-weighted revenues have fallen 0.7% short of forecasts. Cost reductions increase margins now. Whether they increase operational leverage going forward is unclear. The simple point is this: if fixed costs are being cut, then operational leverage will be lower, not higher, in the recovery. If variable costs are being cut, then presumably they will be added back in the recovery.
UK House Prices And Activity
Having risen for the past six months, house prices are now more than 7% higher than the trough seen early in the year on both the Halifax and Nationwide measures. Some have argued that this is merely a London phenomenon due to demand from foreign buyers in response to the weaker pound. But the RICS survey shows prices rising in seven of the 10 regions of the UK. The other three regions show prices are broadly stable. Note that the gap between asking and selling prices is narrowing, reflecting the shift in bargaining power from buyers to sellers.
House prices are stabilizing because the cuts in the Bank of England's base rate have driven debt-servicing costs to a record low. This is preventing a rapid increase in foreclosures, despite rising unemployment. So, while new instructions have picked up a little, these sellers are not forced sellers and can thus haggle over price. And while new buyer interest is not growing at the pace seen in the Spring, it is still far outstripping new instructions.
In the background, the Bank of England still has its foot firmly on the monetary accelerator and appears to be in no hurry to raise interest rates, which will continue to support current homeowners. Indeed, we could see new mortgage rates fall in the coming months if lenders tighten spreads as they said they would in the latest BoE Credit Conditions Survey. House price gains and a more benign outlook for unemployment could translate into looser lending criteria in the coming months.
UK households appear to be more concerned about the possibility of higher interest rates as the proportion of buyers choosing fixed rate products has shot up in recent months, despite the initial payment being less favourable than that offered by the variable rate products
The BoE's Mervyn Speaks, The Pound Sinks
The Bank of England ((BoE)) presented its inflation report on Wednesday, upgrading their forecast for growth and inflation (which might exceed the 2% target in 2012, even factoring in a tightening of rates). But what really stole the show were the comments by BoE's governor talking down the pound. As anytime that a central banker says it wouldn't be bad to have a lower currency, wishes come true almost instantly, as the pound got whacked.
The inflation report states that, "inflation is likely to rise sharply in the near term, primarily reflecting the reversal of the VAT reduction, while sterling's past depreciation continues to push up on inflation. Thereafter, downward pressure from the persistent margin of spare capacity is the dominant force. This pressure acts to bear down on CPI inflation, although it gradually fades as the economy recovers."
BoE governor Mervyn King said in the introductory remarks that the "process of balance sheet adjustment implies the need for the UK economy to rebalance away from private and public consumption towards higher net exports. The fall in the exchange rate over the past two years will help to smooth that process." Other interesting comments were that they will "react to fiscal events as they unfold," that "no Central Bank is saying policy will stay low," that the MPC "has an open mind on doing more QE or not" and that "markets haven't pushed up bond yields yet." And, finally, that "I don't think you should ever take the warnings of credit agencies absolutely at face value."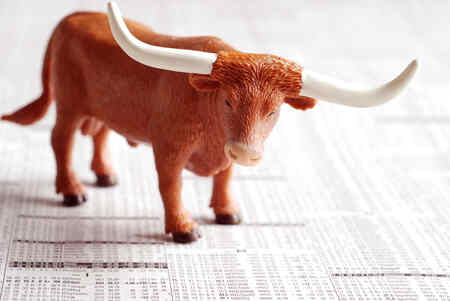 Company News
Basket case bond insurer Ambac (ABK) has warned that bankruptcy is a distinct possibility. Shares slumped 30% Tuesday. Don't you just love the way these companies are allowed present their accounts? What is outrageous about this pending bankruptcy is how this company escaped bankruptcy in 2008, was downgraded continually in 2009, yet just reported billions in profit five days ago. Now it warns of bankruptcy? This news could be a major drag on banks with large exposures, i.e. RBS (NYSE:RBS), Barclays (NYSE:BCS), Deutsche (NYSE:DB), UBS (NYSE:UBS).
Decent corporate earnings reports from cement maker Holcim (OTCPK:HCMLF), to French and Dutch banks Credit Agricole (OTCPK:CRARY) and ING (NYSE:ING) were in them all up strongly (5-6%) after hurdling the lowly bar of analysts estimates. Miners (BHP Billiton (NYSE:BHP), Rio Tinto (RTP), etc.) are scaling 14-month highs as the demand from the on-going party in China looks like continuing. DSG (OTC:DSGIF) (the electronics retailer) is up 7% after Citigroup upgraded them to a "buy," while German utility E.ON (OTCPK:EONGY) is ahead by 2.5% post raising their full year guidance.
Sainsbury reported a decent set of H1 results this morning (slightly ahead of expectations, with underlying operating profit rising 16.9% to £311 million on sales up 7.6% including VAT. Like for like sales were up 3.9% in H1, but are expected to slow, in line with the industry, as food inflation falls.
Reed Elsevier (RUK) has surprised the market by announcing that its CEO Ian Smith has left by mutual consent, having only joined earlier this year. He has been replaced by Erik Engstrom, who is currently CEO of Elsevier. Smith was always considered a strange appointment given his lack of media experience (formerly CEO of housebuilder Taylor Wimpey), and it looks as though his appointment falls into the category of mistake rather than inspired choice. Reed has also released its Q3 IMS, which indicates that H1 trends have continued into Q2 – namely the two main divisions (Elsevier and Lexis Nexis) holding up reasonably well, albeit Lexis Nexis is suffering a modest decline in revenues. Reed indicated the impact of operating gearing (from reduced sales) and increased investment in US Legal in particular are likely to result in a modest reduction in margin in 2010. This amounts to a minor profit warning.
AIB (AIB) is selling its Grafton Street branch, believed to be the most valuable in its network. The property is advertised as of Wednesday with an expectation that it could sell for between €28.37 million and €30.7 million, reflecting a yield of between 6% and 6.5%. AIB had previously tagged upward of €400 million in assets for sale during the early part of the summer, aside from the stake in M&T group. The branch also represents a key valuation side for one of Dublin's most important shopping streets, a prime and top tier retail location. Deka Bank recently purchased the Tommy Hilfiger store on the opposite side of the street for €25 million on a 6.4% yield. If Grafton Street does make a 6.5% to 6% yield, it will be a long way from the 2.8% paid for the first batch of branches sold by AIB back in 2006.
Tullow released an IMS Wednesday morning and delivered an operational and financial performance in line with expectations. 2009 working interest production is expected to average 58,000 boepd, in line with previous guidance. Capex was in line at £750 million.
Smurfit Kappa Group (OTCPK:SMFTF) reported very strong Q3 results with EBITDA of €192 milion, well ahead of consensus (€172 million). The outlook for the sector remains positive with box volumes having stabilised. The Group on Wednesday morning also launched a €500 million senior secured notes offering with the proceeds to be used to further paydown debt. The notes are expected to have a maturity of 8 years or more.
On a day when many will remember those killed and injured in warfare, the tradition of two minutes silence will be observed by numerous countries. According to some reports, the origins of this mark of respect lie in South Africa when in 1916 a minute's silence was observed to mark the publication of that country's first casualty list. It was subsequently changed to two minutes, and called the "Pause from work".
And Finally… Kill The Bankers? There's An App For That

Disclosures: None