The antics being played out in Washington D.C. might be a new headache for many more youthful investors than me, but I have seen this so often that I almost "lick my lips" in anticipation of buying on the dips and adding to my core holdings.
So, do we dump and hide in cash now? Not a chance folks, and I hope to make a compelling argument for actually taking advantage of any fear driven dip.
The Team Alpha Retirement Portfolio Is Positioned For Income
I know I must sound like a broken record, but keep in mind what the ultimate goal of this portfolio has been, and of course still is: Income!
Capital appreciation is great of course, but as a retired investor looking to keep a steady stream of income, the ups and downs of the share prices of our core holdings comes second. In reality, dividend paying stocks seem to always outperform the market during the dips anyway. Why? Because it is a flight to relative safety, much like treasuries.
If an investor sticks with mainly mega cap, blue chip, dividend winning stocks, the likelihood of those stocks underperforming, or literally tanking is small.
Take a look at this chart from "private briefing research", from Morningstar, by Robert Shiller: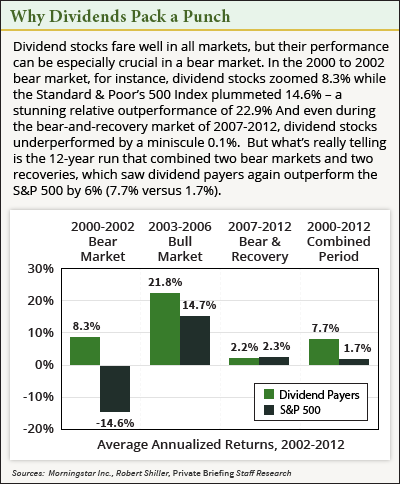 Shiller is obviously no slouch when it comes to facts, figures, and numbers, and one of the central themes of his investing approach is to hold for the longer term and buy on opportunities. He points out quite clearly that holding for a term of 5 years or longer, could offer protection against the whims of Wall Street, and share price fluctuations, in this chart: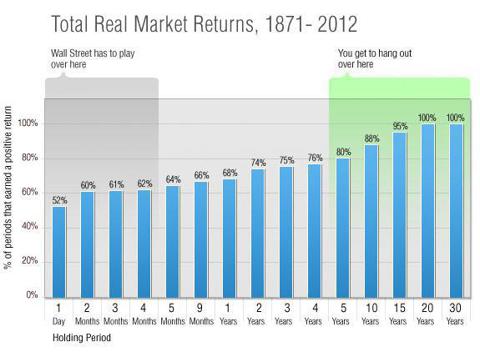 Click to enlarge
*Source: Robert Shiller, author's calculations. 1-day returns since 1930, via S&P Capital IQ.
The only thing for investors to do is to select the best stocks and hold them. Not to mention BUYING into the dips, rather than selling into fear.
Currently, the Team Alpha Retirement Portfolio consists of Apple (NASDAQ:AAPL), AT&T (NYSE:T) BlackRock Kelso Capital (NASDAQ:BKCC), Cisco (NASDAQ:CSCO), CSX Corp. (NYSE:CSX), Chevron (NYSE:CVX), Exxon Mobil (NYSE:XOM), Ford (NYSE:F), General Electric (NYSE:GE), Intel (NASDAQ:INTC), Johnson & Johnson (NYSE:JNJ), Coca-Cola (NYSE:KO), McDonald's (NYSE:MCD), Newmont Mining (NYSE:NEM), Procter & Gamble (NYSE:PG), Realty Income (NYSE:O), and Wells Fargo (NYSE:WFC).
The majority of the core positions are virtually "hold forever" stocks, ESPECIALLY when fear might force many investors to sell at low prices. That gives US the opportunity to buy the cheaper shares, add to select core holdings, and potentially increase or income, our yield on cost, and set us up for some capital appreciation when the stocks recover, and they will recover.
If you want to see what an actual "correction" looks like, read this well received article which shows various scenarios, and what our portfolio might look like if the markets tank. In each scenario the most important aspect for our goals, is that the income stream does not change.
Is there a slight chance that some borderline companies will cut dividends? Of course, but that is very unlikely. Is there a chance that stocks will never recover and it will be the end of our security forever? Not from any historical perspective.
Check this chart out: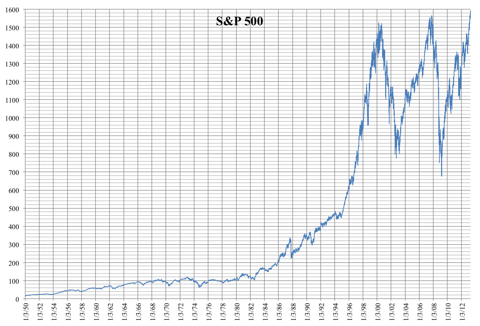 Click to enlarge
Every single drop in the S&P 500 has recovered, and reached new heights. I could have gone back into the 19th century, but that would simply be a bigger chart. Of course, that does NOT mitigate the pain endured while we are IN a market tank, but it is also interesting to note that each of the more recent drops have been tied to either banking issue disaster, housing issues, or regulatory issues.
That being said, the last time the government shutdown, was in 1996, and you can see by this chart, the S&P 500 continued to rise! Will that be the case this time? I have no idea, but the worst an investor can do would be to run and hide.
I really urge you to read this recent article, which could help you keep things in perspective. Also, if you REALLY want to know when to dump a stock, read this article. Dumping a stock needs to be for a really good reason, not out of fear.
Team Alpha Retirement Portfolio Has Plenty Of Great Stocks To Add To
When you review the core holdings of this portfolio, and know that it has climbed by over 42% and yields almost $6,800 on an initial investment of $100k, (actual yield on cost is about 5% right now), there are many stocks to choose from if a nice dip occurs.
Here is the short list:
I have written on each of these stocks, and nothing has turned negative on any of them. In fact, since the economy has been slowly healing, each of these companies fundamentals have gotten better! Take a look at my list of articles that will give you a plethora of information to research on each of them.
These are just some of the stocks I would focus on, and they will be on MY radar as well.
The Bottom Line
Now is NOT the time to run and hide. Personally I believe we will see another few days of the kids in D.C. throwing hissy fits, but I look forward to having the stocks I would like to add to, drop in price by a few percentage points.
Department stores have sale days, so does the stock market.
Disclaimer: The opinions of the author are not recommendations to buy or sell any security. Please remember to do your own research prior to making any investment decisions.
Disclosure: I am long AAPL, CSCO, CSX, CVX, F, GE, INTC, JNJ, KO, MCD, NEM, O, T, WFC, XOM. I wrote this article myself, and it expresses my own opinions. I am not receiving compensation for it (other than from Seeking Alpha). I have no business relationship with any company whose stock is mentioned in this article.