While it has underperformed in recent months, Phillips 66 (NYSE:PSX) has been one of my more solid long-term holdings. Since its 2012 spin-off from ConocoPhillips (NYSE:COP), the company has proven itself to be extremely shareholder friendly, with consistently large dividend increases and aggressive share buybacks. On October 2, Phillips 66 surprised many by announcing a 25% increase to its quarterly dividend to $0.39 per share. This would mark Phillips 66's third dividend increase in only six quarters. At current prices, Phillips 66 now yields about 2.60%.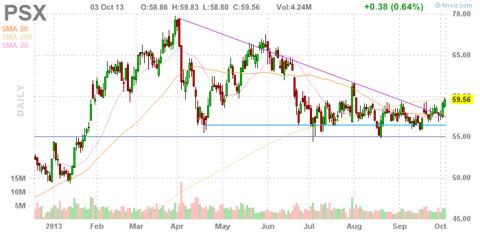 Click to enlarge
Phillips 66 continues its impressive record of shareholder returns
As noted above, Phillips 66 has now rewarded its shareholders with three dividend increases since its spin-off from ConocoPhillips. The company's original quarterly payout was only $0.20 per share. With this recent increase, Phillips 66 has essentially doubled its payout in a mere six quarters. This is quite impressive dividend growth for almost any company. Assuming a shareholder received their shares of Phillips 66 from the spin-off, their yield on cost would now be around 5%.
Not only has Phillips 66 provided its shareholders with dividend growth, but the company has also repurchased large amounts of stock. Since the spin-off, Phillips 66 has spent about $1.2B on share buybacks. YTD, Phillips 66 is on pace to buy back around 3.60% of its float.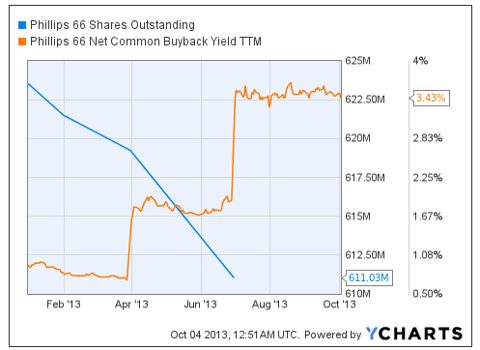 Click to enlarge
In a recent presentation, the company noted that share buybacks are immediately accretive to EPS and to ROCE. In addition, Phillips 66 appears to be undervalued, with the stock trading below its intrinsic value.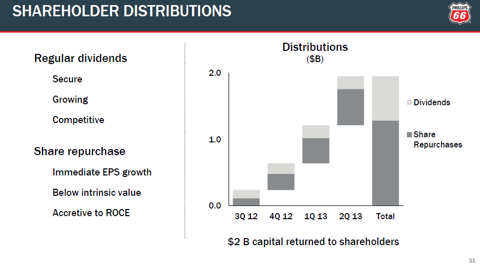 Click to enlarge
What to expect for Q3 2013
There is little doubt that Phillips 66 may face some pressure meeting EPS expectations for Q3 2013, with crack spreads having declined this quarter. However, the company is buffered somewhat by its non-refining segments.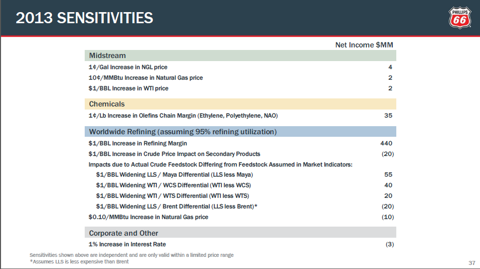 Click to enlarge
I suspect that the market is underestimating Phillips 66. Some analysts believe that Phillips 66's chemicals and midstream businesses are currently underpriced, with their PE multiple being more towards 15X to 17X compared to Phillips 66's current 9.0X.
During the prior quarter, Phillips 66 completed the spin-off of some of its midstream assets to Phillips 66 Partners (NYSE:PSXP). The IPO of PSXP was extremely successful, with it achieving much better pricing than expected. PSXP is expected to be a growth-oriented MLP, with stable and predictable cash flows due to its strategic relationship with Phillips 66. The company will likely be dropping down more assets to the MLP in future quarters. Due to the nature of MLPs, PSXP will likely have a competitive cost of capital and beneficial tax advantages. Phillips 66 plans to significantly increase its midstream earnings via its GP and LP ownership interests in PSXP.
Conclusion
Phillips 66 is definitely a stock worth buying on dips as the company has shown itself to be extremely shareholder friendly. In addition, Phillips 66 is hardly expensive, with a forward PE ratio under 10X and its EV/EBITDA at around 4.50X. However, given the recent turmoil in Washington, I would probably hold off on initiating any new positions until the impasse is resolved.
Disclaimer: The opinions in this article are for informational purposes only and should not be construed as a recommendation to buy or sell the stocks mentioned. Please do your own due diligence before making any investment decision.
Disclosure: I am long PSX, COP. I wrote this article myself, and it expresses my own opinions. I am not receiving compensation for it (other than from Seeking Alpha). I have no business relationship with any company whose stock is mentioned in this article.