Department store operator Macy's (NYSE:M) reported third quarter earnings that showed its loss was narrower than expected. Net income showed a loss of $35 million, or about 8 cents per share, but when stripping out one-time items that loss was only 3 cents per share. Revenue fell by 3% to $5.28 billion, which came in ahead of consensus estimates of a loss of 7 cents per share on $5.25 billion. The company's online sales were a bright spot as that division increased revenue by 21% in the quarter and 15.6% year to date. This helps to offset the 7.5%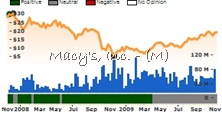 decline in same store sales in the quarter.
In addition to topping analysts' estimates, Macy's raised its fourth quarter guidance and the full year, which investors would normally expect to help the stock move higher. Previous guidance for the full year, in which only the fourth quarter remains, called for earnings of $0.70 to $0.80, but management lifted that to expectations of $1.01 to $1.06 per share. However, the stock has fallen by nearly 8% on Wednesday because consensus estimates had already risen above the level of guidance to $1.11 per share. For a stock that had nearly quadrupled from their lows last November, the guidance below expectations did nothing to ease fears that valuation was starting to get too rich.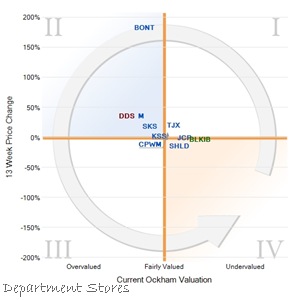 At Ockham, we are unlikely to budge from our Fairly Valued rating anytime soon. The stock was near the high end of our expected price range coming into the day given the improving but still negative earnings and the continued slump in sales figures. That is not to say that Wednesday's sharp drop was expected after beating earnings and raising guidance, but it is not a surprise either as the market has obviously priced in quite a bit of improvement from a year ago.
Macy's is starting to see sales improve, particularly at their newly rolled out locally targeted stores, and improvements in online sales should help the bottom line. We would expect the company to see the benefits of cost cutting efforts soon, but we still believe value investors should look elsewhere for a retail play. At this point, Belk, Inc. (OTCPK:BLKIA) is the only department store that our methodology rates as Undervalued. Belk's B shares are much less freely traded than M, but they do sell for a price-to-sales of .15x, which is currently less than half of Macy's, Saks (NYSE:SKS), or JC Penney (NYSE:JCP).