By Mike Yamamoto
Bearish traders are betting that next spring won't be a bountiful one for fertilizer producer Intrepid Potash (IPI).
optionMONSTER's systems detected a large trade at the March 22 contracts, where 3,022 puts changed hands in a clear buying pattern. All of the trading took place in a 10-minute span yesterday morning, with the puts going for $0.60 and $0.65.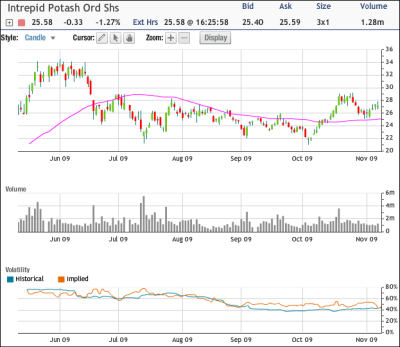 The activity dwarfed the average volume of two puts a day at the strike for the last month and was 23 times the open interest of just 132 contracts, indicating that that buying represented newly opened positions. Overall puts at all IPI strikes outnumbered calls traded by about 6 to 1, a further bearish indication.
IPI fell 1.27% Tuesday to close at $25.58. For the puts purchased Tuesday to turn a profit, the stock would need to drop at least 16.5% by their March 19 expiration date.
Last month the stock had finally seemed to break out of a range between $22 and $29 that had been in place since mid-June, rising sharply in the first three weeks of October. But it fell when Credit Suisse initiated coverage of the shares with an "underperform" rating.
Then in its third-quarter earnings release last Thursday after the bell, the company reported that profits plummeted 81% as fertilizer sales slumped. That led to a downgrade Monday from RBC Capital to "sector perform" from "outperform."
(Chart courtesy of tradeMONSTER)