Wednesday morning, at the behest of the NYSE, FAB Universal Corp. (NYSEMKT:FU) put out a press release delineating the massive dilution it has previously obfuscated and cited its previous disclosures. The central artifact of their transparency claim is a reference to their September 12th SeeThruEquity presentation. Ironically, their handling of this presentation is the smoking gun in what appears to be their deliberate deception of shareholders.
I was shocked when I navigated to the referenced presentation because it is NOT the presentation that was previously published. The company has replaced the previous presentation and misleadingly referenced it under the same hyperlink and under the same date of September 12th. The new presentation includes an appendix clearly explaining the current and forthcoming dilution that was NOT in the original presentation.
The company references the presentation with a link on their website. This link was changed from referencing the old presentation to the new swapped presentation. Also, Fab Universal Corp. misleadingly backdates the file and kept the same reference hyperlink to hide the fact the presentation has been updated to its new form.
If you were a legitimate Chinese RTO, legitimacy would be your first and last concern. If you are legitimate, you do not:
Backdate files
Change previously published links
Publish new files and hyperlink them to old dates in place of other files
Reference a presentation that previously never existing in a press release promoting your transparency
Do all of the above without disclosure and with the apparent intention to deceive investors
I have attempted to contact the company in order to clarify the situation and they have not responded.
Valuation
In my previous article I was a bear on FU principally because I thought: the market misunderstood the dilution and valuation (which I view as rich), it was negative that insiders have been overwhelmingly selling, and the current conversion/lockup expiration could result in significant selling pressure. I have now increased my short position (sold calls and bought puts) because I still believe the above and now believe it's possible FU is a house of cards. If you are a legitimate company, you simply do not deliberately mislead your investors. My new price target is $1.5 at half my previous valuation (5x free cash flow plus cash) because I think there is now a 50% chance FU could be worthless like other Chinese RTOs that have lied and misled investors. Again, if you own FAB Universal Corp. , I suggest you follow the CEO's lead - he sold $1.4mm worth of stock last week (at $9.70 / share). This far and away dwarfs his previous sales, was nearly 40% of his stake, and not part of a plan. It also suspiciously occurred just a few days before ~25mm came of lock/converted. If Fab has such a bright future as Mr. Spencer proselytizes - why is he in such a rush for the exit? I think it is because he knows a good bid when he sees one.
I am posting my evidence with explanatory notes below as a summary of FAB Universal Corp. misleading actions and because I suspect they may further alter their published materials without notice or disclosure.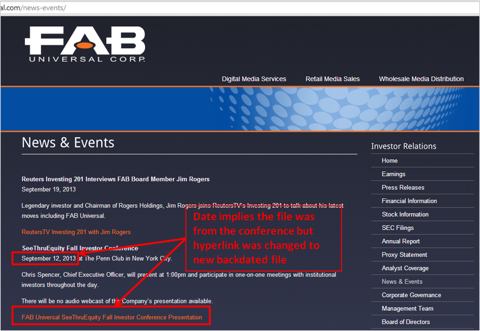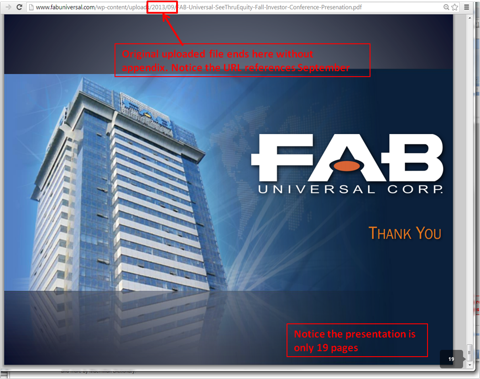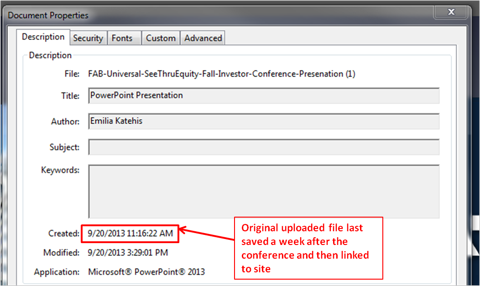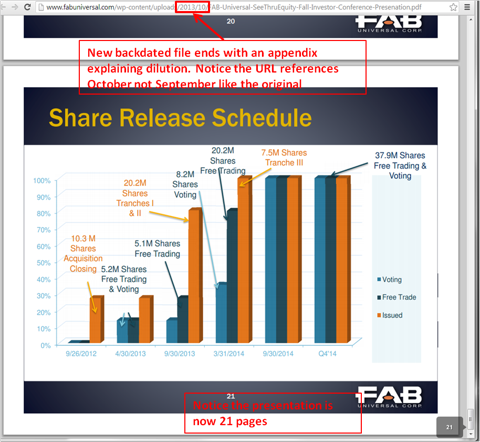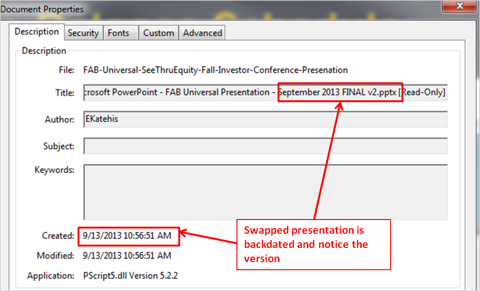 Disclosure: I am short FU. I wrote this article myself, and it expresses my own opinions. I am not receiving compensation for it. I have no business relationship with any company whose stock is mentioned in this article.