Independent oil & gas companies had an outstanding run over the last years. Companies like Anadarko Petroleum (NYSE:APC) produced huge gains for shareholders vastly outperforming index measures such as the S&P 500. Realizing that past performance is no indicator of future performance it may be time to take profits and sell Anadarko Petroleum into strength. Over the last five years Anadarko Petroleum's share gains are more than double the share gains of Occidental Petroleum (NYSE:OXY). Share of Marathon Oil (NYSE:MRO) increased 123.40% qualifying for a respectable bronze medal. Apache Corp. (NYSE:APA) underperformed substantially with a five year plus of 28.19%.
The comparative chart below depicts the extent to which Anadarko Petroleum has outperformed. Since July 2012 Anadarko's outperformance has been accelerating moving further away from the average sector performance.
Industry faces unfavorable pricing trends
Over the last couple years the Obama administration as made an unprecedented effort to push the U.S. toward energy independence. As a result, supply levels increased making it more probable that the U.S. will become a crude oil net exporter in 2014. Higher production levels also had a negative impact on energy prices which the U.S. Energy Information Administration predicts to further decrease in 2014. EIA's Short-Term Energy Outlook forecasts declining prices for a variety of energy commodities: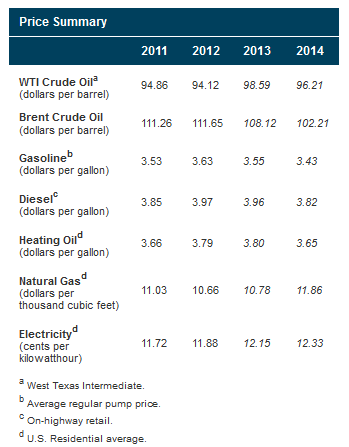 Since global growth remains compressed for now due to lower Chinese energy demand and supply levels, especially in the US, have increased substantially, the pricing prospects of the energy sector are deteriorating. Lower energy prices will immediately affect oil- and gas companies as they pose substantial operating cash flow risk.
Peer group
Anadarko is everybody's darling which shows in APC's much higher market valuation: The stock trades at a 34% premium to the peer group average. Taking Anadarko out of the peer group would yield an average peer group P/E ratio of 11.32: a 52% premium in earnings-based valuation compared to other independent oil- and gas companies. At the same time, given the elevated share price, the dividend yield is the lowest of the peer group and truly unexciting: 0.39% compares to 2.71% for Occidental Petroleum and 2.23% for Marathon Oil. Dividend investors probably should take a closer look at Occidental and Marathon Oil while anti-cyclical, contrarian investors might find Apache Corp. an interesting Buy based on recent underperformance and low valuation metrics.
Historical free cash flow and projections
Posted below is an overview of Anadarko's historical free cash flow performance including my estimates for 2013 and 2014. I estimate operating cash flow will improve by 18.72% in 2013 and 7% in 2014. Total investing cash outflows have grown 17.6% every year from 2010-2012. I estimate that a normalized level of investment spending averages somewhere in the $7-8 billion range going forward. Net borrowing activity fluctuated wildly over the last years and for reasons of prudence I do not include any net borrowing changes in the 2014 calculation. Anadarko currently (3/10/2013) trades at $92.38 per share which leads to a 18.02 multiple on a free cash flow to equity basis. The table below summarizes the FCFE valuation.
Conclusion
Anadarko Petroleum already had a fantastic run as the best performing E&P company but now fetches a premium valuation based on earnings and its free cash flow. Apache, for instance, offers a compelling valuation and more upside as management and compensation issues are resolved. Given the limited amount of catalysts for Anadarko and the high multiples the shares trade at, Anadarko shareholders might want to take their profits and invest in less visible exploration and production companies with better valuation growth prospects.
Disclosure: I am long APA. I wrote this article myself, and it expresses my own opinions. I am not receiving compensation for it (other than from Seeking Alpha). I have no business relationship with any company whose stock is mentioned in this article.