Country-style restaurant and retailer Cracker Barrel (NASDAQ:CBRL) posted decent fourth quarter results Wednesday morning that were overshadowed by a wide guidance range and a letter from its largest shareholder, Sardar Biglari. With the firm lapping a 53-week fiscal year, total revenue declined 4% year-over-year to $674 million, modestly exceeding consensus expectations. Earnings per share, adjusted to reflect comparable time periods, increased 19% year-over-year to $1.43. For the full-year, the firm earned $4.90 per share, an increase of 11%. Cracker Barrel generated roughly $135 million in free cash flow, equal to 5% of total revenue.
Comps are Modest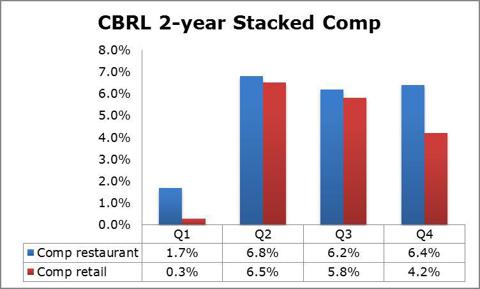 Source: Company Filings, Valuentum
Biglari Wants a Big Dividend
Sardar Biglari, CEO of Biglari Holdings (BH), which is Cracker Barrel's largest shareholder, has put pressure on the company since he became an investor in 2011. Although he has failed three times to gain a seat on the board while owning 19% of the company, few can doubt Biglari has done his best to create value for shareholders. Since he became involved in the company, Cracker Barrel has seen its dividend grow significantly to $0.75 per share quarterly while the stock itself has more than doubled. He is credited with ousting CEO Michael Woodhouse, and he has shown that he really likes the business over the long term, rejecting the company's attempt to buy his shares.
Aside from Cracker Barrel, Biglari is known for taking over Western Sizzlin as well as Steak 'n Shake. His reign over Steak 'n Shake has not lacked controversy. Though he plans to make the company significantly larger, his existing franchisees have sued him over the control of pricing. Battles between corporate and franchisees are nothing new, as we've noted many times before that McDonald's franchisees have long-been frustrated with Dollar Menu pricing.
Regardless, few doubt Biglari's genuine interest in creating value for shareholders. Unlike some activist shareholders that will simply clamor for change for short-term profit, Biglari makes suggestions and has shown no interest in selling his stake. Taken directly from his letter to the board (emphasis ours):
"Cracker Barrel generates more cash than it consumes. We advise against using surplus cash for the following options:
1) Open new stores. The idea of plowing money at a low return on invested capital is asinine. Incidentally, management should fully disclose the historical performance of its new stores so all shareholders can evaluate the sagacity of reinvestment. We believe the limited factual material submitted by the Company on new-store investments puts forward data that once all expenses are factored in, new-store investments have achieved a return below the Company's cost of capital. Fortunately, a significant slowdown has occurred in new store openings.
2) Accumulate cash. The idea of stockpiling cash when interest rates are nearly zero is also asinine. A return below cost of capital is obviously value destructive.
3) Debt repayment. Paying down debt when the financing environment is favorable is also asinine. Every dollar that reduces debt is achieving an after-tax return of less than 3%. The Company should lever up judiciously in order to take advantage of low interest rates, not delever when it holds over a billion dollars in real estate value."
Of course, Biglari has specific instructions on what the firm should do instead, saying in the same letter:
"We have an alternate plan: Because of Cracker Barrel's current debt and debt capacity, we believe that the Board should declare a $20 per share special dividend. As of May 3, 2013, Cracker Barrel had amassed $58.5 million of cash and cash equivalents. Long-term debt stood at $400 million, down from $525 million at the beginning of the Company's fiscal year. (The debt stood at over $900 million several years ago.) Moreover, as already noted, Cracker Barrel continues to generate cash in excess of what is required to maintain its business. We believe additional debt to fund the dividend would continue to leave the Company with a margin of safety given Cracker Barrel's powerful collection of real estate assets and earnings power. In fact, you have effectively indicated publicly that the Board is comfortable in adding debt to the Company's balance sheet with a proposal to purchase our shares. If you can buy our shares, you certainly have the money to issue a special dividend to all shareholders.*
In our view, Cracker Barrel is presently capitalized overconservatively. After incurring additional indebtedness to finance the proposed special dividend, Cracker Barrel would have a capital structure more appropriate to its business. Net debt would be around $800 million for a real estate, restaurant and retail company with over $1 billion worth of real estate. Moreover, the cash flow coverage, in our view, would be more in line with that of its peer group.
Surely if Cracker Barrel's current credit facility would permit a buyback of our shares, then a similar accommodation by Cracker Barrel's lender could be created for the benefit of all shareholders. We think shareholders would welcome an ample return of their capital. And we hold a firm view that the shares of the Company will not fall by a corresponding $20 per share as a result of the dividend. We therefore believe that the alteration of the capital structure will be accretive to shareholder value."
It would make sense for Biglari to simply purchase more shares to force change, but the company adopted a poison pill to thwart any efforts from Biglari in April of 2012. Still, it is interesting to note that Biglari cares about what is near and dear to our heart: value creation, returns on invested capital and economic profits.
Though we don't think a special dividend fits the current capital allocation environment, it could certainly make sense if the firm improves operating cash flow, reduces capital expenditures, or both-which are implied by Biglari's comments. As we can see from the below chart, Biglari is correct when he asserts that the company isn't generating much economic profit (ROIC - WACC).
Source: Valuentum
Guidance
For fiscal year 2014, Cracker Barrel anticipates earning $5.60-$5.80 per share on revenue of $2.7-$2.75 billion with same-store sales increasing 2-3% and 7-8 new locations opened. Both of these figures are roughly in-line with consensus estimates, while the firm also expects to spend $90-$100 million on capital expenditures.
Our Take
Whether you agree or disagree with Biglari's tactics, there's no doubt that he wants to create value for shareholders and has successfully done so over the past few years - even if the board refuses to admit it. Nevertheless, we aren't following Biglari into Cracker Barrel, as shares look fairly valued at this time. Continued capital investments could put pressure on dividend coverage. Still, it is worth following an investor like Biglari who many peg as a future Buffett.
Disclosure: I have no positions in any stocks mentioned, and no plans to initiate any positions within the next 72 hours. I wrote this article myself, and it expresses my own opinions. I am not receiving compensation for it (other than from Seeking Alpha). I have no business relationship with any company whose stock is mentioned in this article.