We continue to see many of the commodity equities rise in the face of the government shutdown and thus leave U.S. with very few buying opportunities. The spillover effect within the industry has been quite impressive, but we are not sure how to view the MLPs and their lack of performance recently. Some names have done rather well, but many that we watch, and own, have fared poorly and we cannot quite put our finger on the reason. Yes rising rates, or the potential for rising rates, would be cause for concern but we are also looking at the businesses that the MLPs are in and those should provide for growth!
We have not made up our minds either way of whether what we are seeing is true value or simply a rotation out of MLPs and into other names, but it is something we are researching and trying to assemble a game plan for. Currently we have not divested any of our exposure to our previous MLP positions.
Chart of the Day:
This three day chart showing Palladium trading worldwide in the various markets highlights the big move to the downside yesterday and today's move below the all important $700/ounce level. We are not ready to say the bears have won, but pay careful attention to see if the bulls can peg it back to $700/ounce as both sides have fought to do the past few weeks. This trade remains quite interesting, to say the least.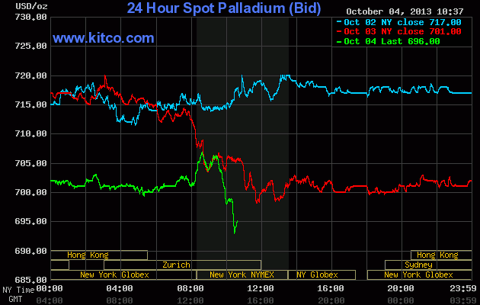 Click to enlarge
(Click to enlarge)
Source: Kitco
Commodity prices this morning are as follows:
Gold: $1307.00/ounce, down by $10.60/ounce
Silver: $21.56/ounce, down by $0.226/ounce
Oil: $103.83/barrel, up by $0.52/barrel
RBOB Gas: $2.6288/gallon, down by $0.0108/gallon
Natural Gas: $3.528/MMbtu, up by $0.029/MMbtu
Copper: $3.3025/pound, up by $0.035/pound
Platinum: $1381.20/ounce, up by $7.90/ounce
Materials
For those looking for other ways to play the oil and natural gas boom via the suppliers of materials and goods to the drillers, we think that U.S. Silica (NYSE:SLCA) is an interesting play. The company has production assets across the United States, including facilities located not too far from our residence, and has been a key supplier of materials to those who have been fracking. The company's stock has been a strong performer and the reason we highlight it this morning is due to many questions and remarks we have received about how to better diversify within this bull market. This is one way and should help one create a portfolio with a bit less volatility than if they had all their exposure in the sector exclusively in the E&P names. The stock is trading at its highs after yesterday's 4.27% jump in stock price, so that is something to keep in mind but we think that there is 20% upside in the name moving forward.
This name has been a strong performer off of its lows and has kept pace with the likes of the companies they supply with products. We like this as a way to diversify within the commodity space. Morgan Stanley raising its price target to $36/share also adds to our bullishness.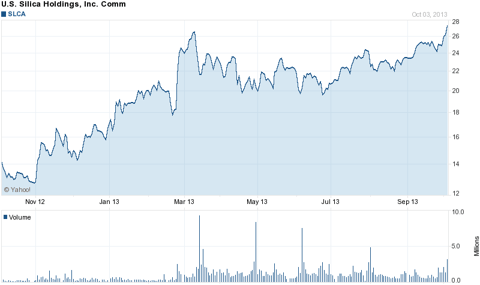 Click to enlarge
(Click to enlarge)
Source: Yahoo Finance
LNG
Last night we saw that Jim Cramer's Mad Money featured Dominion Resources' (NYSE:D) CEO in their CEO interview segment. We caught the tail end of the interview but noted that they discussed the LNG business and added some good color for those watching. We have long been bullish LNG names, specifically Cheniere Energy (NYSEMKT:LNG), due to their ability to buy cheap gas, export it to markets with far higher prices and pocket the difference minus any transportation and operating costs. The business also appears poised to be monopolistic in nature with very few players and extremely strict government oversight. Our point we have made numerous times about LNG not being able to move natural gas prices in the U.S. very much higher is that there are plenty of drill sites out there to drill if prices show signs of rising, but Dominion's CEO took it a step further. He obviously was looking at it from the perspective of 'all things being equal' and stated that if prices rise here significantly due to the LNG exports, less will be exported because it would not be economical. Just further evidence (and put far more simply and eloquently than we explained it we might add) that the politicians in Washington have nothing to be worried about.
Smaller Is Better
We were always taught that one should not get caught up in the trends of the day because when it comes down to two options the pendulum swings from one extreme to another. Ideally one would position themselves to stay in the middle and not have to worry about repositioning, but that is not always an option. We are seeing this in the oil names as the integrated model is becoming outdated and more and more activist investors are pushing for MLPs to be created with assets and/or spin-offs to break up these diversified monsters into focused entities. We like both models, but recognize that right now it seems that we are seeing a reversal of the mega-mergers of the late 1990s and early 2000s in the sector as many names have either broken themselves up or plan to, like Hess (NYSE:HES). We would note however that these breakups are going to lead to future consolidation once again, either between pure-plays or between companies that feel an integrated model is best as they seek diversification of revenues and profits.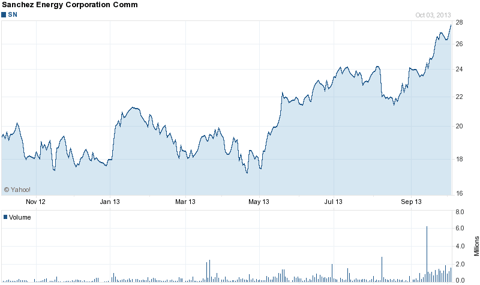 Click to enlarge
(Click to enlarge)
Source: Yahoo Finance
If one wanted an example, look no further than AT&T and Verizon. The breakup eventually led to consolidation once again and this wave of consolidation saw many smaller names get taken over that were created in the boom years. We are in boom years in the oil industry, and names like Sanchez Energy (NYSE:SN) are going to prove to be ideal takeover targets in the coming wave of consolidation. The $750 million to $5 billion market capitalization names are going to be the most desired candidates due to their size and the ease with which these transactions can be completed. They are also going to be quite desirable for many more potential partners because that price range keeps open the possibilities of mergers of equals, outright buyouts and even doable hostile takeovers with large premiums.
We think that 2014 will see a pick-up in M&A activity with 2015-2016 being years in which we see players in the various plays consolidate heavily and then some of the bigger players move in to gobble these names up.
Disclosure: I have no positions in any stocks mentioned, and no plans to initiate any positions within the next 72 hours. I wrote this article myself, and it expresses my own opinions. I am not receiving compensation for it (other than from Seeking Alpha). I have no business relationship with any company whose stock is mentioned in this article.