Apache Corp. (NYSE:APA) is an independent oil and gas company hugely underperforming the sector and even the broader S&P 500. In terms of peer group performance, I pitch Apache against Occidental Petroleum (NYSE:OXY), Anadarko Petroleum (NYSE:APC) and Marathon Oil (NYSE:MRO). The chart below shows how severely Apache is lagging in terms of share price performance.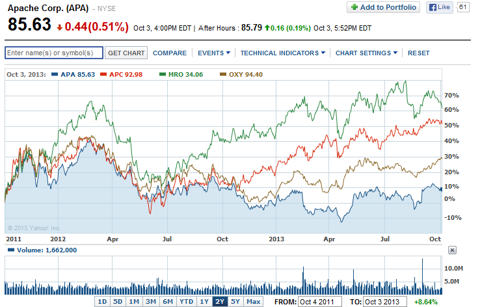 Not only did Apache underperform its peers but investors would have fared much better if they invested dollars into a plain ETF tracking the S&P. The cyclical bonus usually assigned to energy firms in growing markets did not play out for Apache shareholders. The S&P exposure would have outperformed the Apache investment by a wide margin: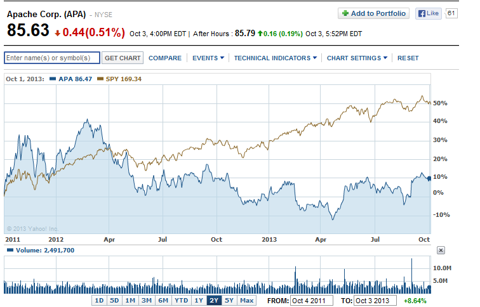 Thesis
Apache has operations in North America, Europe, Australia, Argentina and Egypt. The most recent underperformance in Apache's share price can be attributed to Apache's Egyptian operations. The unrest in the country results from fierce and violent opposition between Muslim brotherhood supporters and secular elements in the Egyptian political landscape. The de-facto coup by the military and the ousting of Egyptian president Morsi caused uncertainty about future oil production levels. Uncertainty, caused by singular events and fueled by fear, often offers outsized returns. Scenarios tossed around by investors concerning Apache's Egypt operations include the perceived threat of expropriation by a military regime and production interruptions.
Egypt fears overblown
Apache entered the Egyptian market in the mid-90s and has continually increased its local production, ultimately becoming the number one oil producer in the country. The oil and gas sector is hugely important to the Egyptian government with significant revenues and cash flow. No government in Egypt can afford to repel foreign direct investments. In a political and geo-strategic context, foreign direct investments are a tough bargaining chip. The oil- and gas sector does not only keep the government afloat but also supports know-how transfer and infrastructure updates to the economy. Not to mention the thousands of jobs and livelihoods that are depending on continued oil production. Any government would want to avoid direct economic confrontation with the United States and would not want to estrange the international investor community. Even if Egyptian authorities would default on their obligations toward foreign oil companies, Apache has entered into long-term political risk insurance policies that secure a pay-off in the case of expropriation by the Egyptian government. The reinsurance statement from the Multilaterial Investment Guarantee Agency, for instance, was released on October 4, 2012:
The Multilateral Investment Guarantee Agency (OTC:MIGA) announced today it is supporting private investment in Egypt's oil and gas sector. The agency is providing reinsurance for the Overseas Private Investment Corporation's (OPIC) political risk insurance policy to Apache Corporation and its subsidiaries for investments in Egypt. MIGA's provision of long-term reinsurance to OPIC will allow Apache, an oil and gas exploration and production company, to maintain its insurance coverage after the private insurance market partially withdrew from Egypt following the recent political unrest.

MIGA is providing reinsurance of $150 million to OPIC for its $300 million coverage to Apache, held by the company since 2004. The reinsurance will be provided for an additional 13 years, against the risks of expropriation and breach of contract.
Production interruptions are another area of worry. So how can Apache guarantee that production is not going to get cut for one reason or another? Well, it can't. That's why investors pay a risk premium (in form of lower prices) which includes the risk factor "production interruptions." However, the company has taken the extra effort in letting investors now that Egypt operations are not only doing fine but that it is planning to spend a total $1.1 billion in capex in 2013 alone. Something you would not be doing if you expected something to happen to your operations: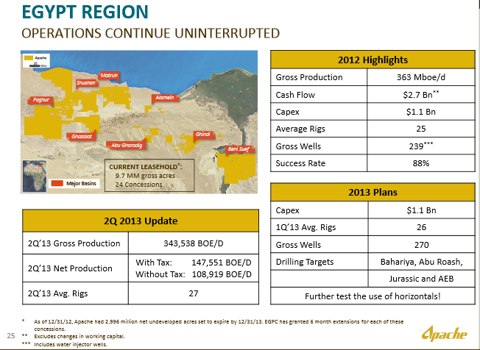 Furthermore, Apache's production record in Egypt is quite impressive: In 1996 Apache produced 44 MBOE/D. This compares to 363 MBOE/D in 2012 (59% oil/41% gas): A compound annual growth rate of 14.1% without a single down-year.
To put Apache's oil production into context, the following graph depicts that Apache only derives 16% of its total production from Egypt (down from 26% in 2009). Apache has actually become less dependent on Egypt which is primarily due to its expansion in North American onshore liquids.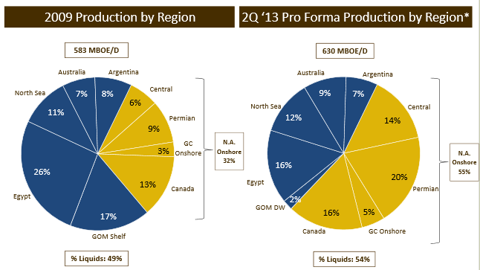 Additional downsizing occurred in August when Apache sold 33% of its Egyptian oil and gas business for $3.1 billion to China Petrochemical Corp. Having shown that investors need not fear Apache's Egypt exposure a few additional themes contribute to the attractiveness of Apache as an investment: First off, $4 billion in non-core asset sales are expected in 2013 which produces a leaner organization and helps digest $16 billion worth of acquisitions. $2 billion each are earmarked for debt reduction and share repurchases. Second, Apache's valuation has been driven lower based on irrational fears of an oversized Egypt exposure. Apache's P/E ratio is the lowest of the peer group and the company trades at just 10.48 forward earnings giving investors all the upside from debt paydowns, cost savings and North American onshore liquid growth. Apache's two LNG projects (Wheatstone LNG in Australia and KITIMAT LNG in Canada) in partnership with Chevron (NYSE:CVX) are high quality assets as well.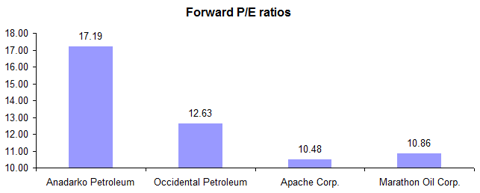 Conclusion
Apache has a great track record in growing production not only in Egypt but for all its operations. The fears about a disproportional reliance on Egypt as a revenue source are overblown: China Petrochemical was just too happy to snatch up a stake in Egyptian oil- and gas assets in North Africa. Egypt-centered worries have driven the stock so low that Apache has become the most attractively valued company in the independent exploration and production sector. Apache also pays a tiny quarterly dividend which amounts to $0.2 a share (annual yield below 1%). Investors interested in gaining exposure to a mis-priced oil- and gas company might want to consider an investment in Apache Corp. APA's underlying fundamentals make the company a buy contrary to popular opinion.
Disclosure: I am long APA. I wrote this article myself, and it expresses my own opinions. I am not receiving compensation for it (other than from Seeking Alpha). I have no business relationship with any company whose stock is mentioned in this article.