"A default would be unprecedented and has the potential to be catastrophic: credit markets could freeze, the value of the dollar could plummet, US interest rates could skyrocket." Treasury Report
In less than two weeks, the US government will be left with just $30 billion to pay its bills. This amount would be far short of net expenditures on certain days, which can be as high as $60 billion.
Treasury officials indicated that there is no alternative to raising the borrowing authority and that prioritizing certain payments over others is unworkable.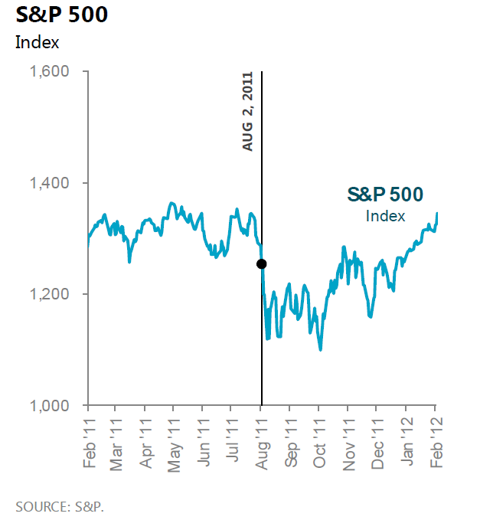 Investor anxiety is already on the rise and many are expecting a repeat of the August 2011 debt-ceiling crisis, which triggered a 15% collapse in US equities in late July and early August 2011 and resulted in the first sovereign downgrade for the US and loss of its S&P AAA status.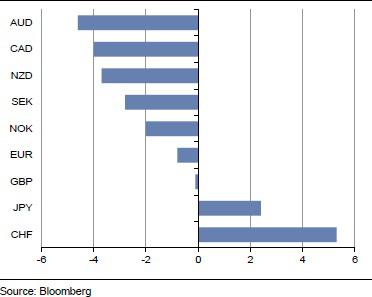 Leading currencies vs US dollar - July 22 to August 12, 2011 (% change)
Despite the downgrade, the dollar index, which tracks its progress against a basket of six leading currencies, held steady during the 2011 crisis but there was a wide-ranging performance among G10 currencies.
Traditional safe havens such as the Yen (NYSEARCA:YCL) and Swiss franc rallied strongly, while risk-sensitive currencies such as the Australian (NYSEARCA:FXA) and New Zealand (NYSEARCA:ENZL) dollars fell hard.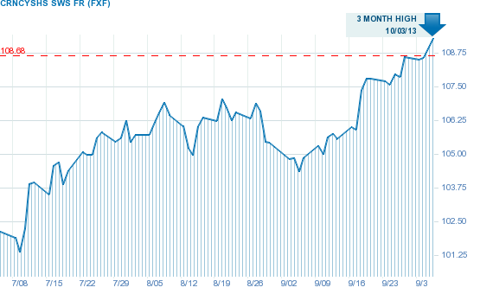 CurrencyShares Swiss Franc Trust ETF (NYSEARCA:FXF) - 3 Month Trend
The Guggenheim CurrencyShares Swiss Franc Trust, which offers investors the opportunity to participate in the market for the Swiss Franc through an investment in securities, is already up 6% over the past three months.
However, the Swiss National Bank set a cap of 1.20 per Euro on the franc in September 2011, after it nearly touched parity with the Euro amid the 17-member bloc's debt crisis, citing risk of deflation and recession as its justification for the step. So more upward potential on this one might be limited.
As I mentioned in a previous article, the Deutsche Bank US Dollar Bearish Fund (NYSEARCA:UDN), designed to replicate the performance of being short US Dollar against a basket of international currencies, offers a balanced hedge. However, at a capitalization of $65 million it is rather small.
Since most Sovereigns are printing money at an unprecedented rate, all FIAT currencies are now flawed and the dollar seems to be, long term, the safest of them all.
However, reading Marc Chandler's super insightful "3 Keys To China", where he makes a strong case for the Yuan, got me thinking: How can one hedge against a potential short-term weakness in the dollar while still continue holding dollars?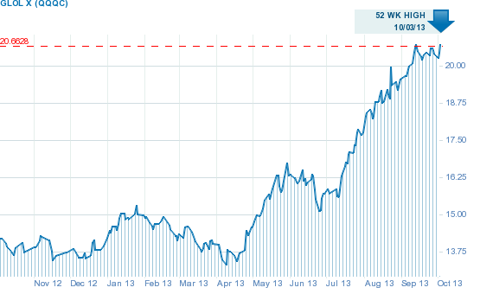 Global X China Technology ETF (NASDAQ:QQQC)
As my Eureka moment dawned, I started thinking about the 126 Chinese companies listed on the NASDAQ and the Global X NASDAQ China Technology ETF, which is already up 50% for the year.
Investing in either the QQQC or a basket of well selected shares from the index would offer the best of both worlds; exposure to the Yuan and keeping portfolio simple, denominated in dollars and close to home.
Since the QQQC is tiny, slightly over $8 million in total capitalization, I took the next step and screened for eligible companies that could offer a balanced portfolio that can capitalize on the coming "big bang" in the Yuan, as Marc Chandler put it.
My goal was to select five companies from different economic sectors so they can offer diversification. Reasonable capitalization and low P/E ratio were also part of my screening criteria.
| Company | Ticker | P/E | Mkt Cap |
| --- | --- | --- | --- |
| China Automotive | CAAS | 11.2 | 216 Million |
| China Biologic | CBPO | 16.2 | 795 Million |
| China Ceramics | CCCL | 5 | 73 Million |
| China Petroleum | SNP | 8.4 | 93 Million |
| China Housing | CHLN | 4 | 86 Million |
China Automotive Systems offers a way to play the world's largest auto market with over 20 million auto, SUV and light trucks sold every year. Jeffrey Friedland has recently covered the stock which is up 60% for the year.
China Biologic Products, headquartered in Beijing, is a fully integrated biopharmaceutical company that manufactures over 20 plasma-based products. IAE Research has recently covered the stock which is up 80% for the year.
China Ceramics manufactures and sells ceramic tiles for exterior siding and interior flooring. According to Brett Wilson China Ceramics is positioned to benefit from Chinese urbanization. China Ceramics' shares are already 67% up for the year.
China Petroleum & Chemical Corporation is an energy and chemical company that explores and mines original oil and natural gas, refines its original oil into products that it markets and distributes as gasoline, diesel oil, kerosene and fuel oil. The company also has a chemical segment which manufactures and distributes petrochemical products.
China Petroleum's shares are down 10% for the year. However, it has moved into purchasing European North Sea crude in a recent move that indicates a trend towards more focus on the refining segment of the market.
China Housing & Land Development is a real estate development company engaged in the acquisition, development, management, and sale of commercial and residential real estate properties located primarily in Xi'an, Shaanxi Province in China. The company, which stands to benefit from Chinese urbanization trends, has seen its share price go up by 89% for the year.
Conclusion
The current debt ceiling crisis bodes negatively for the dollar, however, other major currencies are in no better position. The Chinese Yuan is expected to fair well in the long term and one way of capitalizing on the trend is through Chinese traded stocks on the Nasdaq.
This is my first stab looking at the sector, which looks promising and I intend to give it a deeper look in future articles. Chinese companies listing on the NASDAQ are subject to the reporting requirements of the US Securities and Exchange Commission, so transparency and disclosure are available to investors.
Caution
The above selection of companies were simply offered as an example of a Dollar/Yuan possible hedge strategy, rather than an investment recommendation.
There is no question that investing in smaller-capitalization companies, as well as investing in companies in emerging markets, is not suitable for all investors, and can be risky. It's important that investors thoroughly perform their own due diligence and analyze potential risk.
Disclosure: I have no positions in any stocks mentioned, and no plans to initiate any positions within the next 72 hours. I wrote this article myself, and it expresses my own opinions. I am not receiving compensation for it (other than from Seeking Alpha). I have no business relationship with any company whose stock is mentioned in this article.