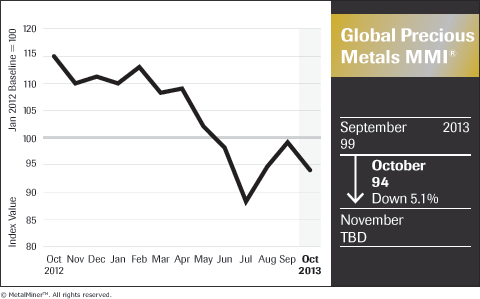 Silver prices in the U.S. and India led the sharp decline in October's reading of the Global Precious Metals MMI®, while gold prices did not fare much better as political turmoil in Syria and worries over the U.S. economic recovery reversed two months of upward trends.
However, while the U.S. platinum price lost considerable ground, the U.S. palladium price only saw a modest drop in September – coupled with the latest outlooks and forecasts, palladium should be looking up in Q4 and perhaps well into 2014.

The Case for Higher Platinum, Palladium Price Forecasts
Many signs point to the PGM market's continued supply worries. ETF Securities, for one, released its latest quarterly report, citing strong platinum ETP inflows. Higher jewelry demand in China and improving diesel autocatalyst demand from a slowly awakening European economy have "increased expectations of large supply shortfalls this year and next," the firm stated.
But the distillation of why palladium prices could buoy MetalMiner's global precious metals price index into next year comes from Sprott Asset Management: "It is hard to paint a rosier picture for this precious metal from a fundamental standpoint," the firm wrote recently.
"The largest seller of palladium [Norilsk Nickel] has exhausted stocks and a 1,000,000-ounce deficit projected for the current year representing almost 15% of mine supply, new investment demand is emerging from an ETF to be launched in South Africa, future demand has been underpinned from increased air pollution regulations in China, and a significant short position that if reversed could provide explosive buying power" all support a positive palladium price outlook.
However, much will depend on whether the global automotive sector can keep humming and selling cars the way it has been.
Key Price Drivers of Precious Metals Index
Indian silver prices fell 13 percent after rising the previous month. After also rising the previous month, U.S. silver prices dropped 9 percent. After rising the previous month, U.S. gold bullion prices dropped 5.7 percent.

U.S. platinum bar prices fell 7.5 percent after rising the previous month. After dropping the previous month, the price of U.S. palladium bar prices dropped 1.8 percent. Chinese gold bullion prices fell 0.8 percent after rising the previous month.