Peter Lynch once said "The person who turns over the most rocks wins the game." Spin-offs are often rocks that are never looked under for value, and often present considerable upside. I believe WhiteWave Foods (NYSE:WWAV) is one of these overlooked rocks and offers a great long opportunity. The economics of WWAV's business are forming a widening moat within the niche and trending industry they are in. WWAV offers healthier relative value in their universe of comparable companies, which in turn offers an array of vertical merger or acquisition possibilities.
Who Is WWAV?
To quote from WWAV's recent 10-Q: "We are a leading consumer packaged food and beverage company focused on high-growth product categories that are aligned with emerging consumer trends." WWAV's industry niche is that they specialize in plant-based beverages (PBB). Originally they were wholly owned by Dean Foods (NYSE:DF), but in fall 2012, DF's current CEO Greg Tanner -- in an attempt to deleverage DF's balance sheet -- decided to spin off WWAV into its own entity. Currently, with five distributing facilities throughout the U.S., they are undergoing a capital expenditure plan to build more due to increasing demand in their units. WWAV has shown rapid growth since 2009 before it was spun off. From 2009-11, overall grocery sales grew just 1% year over year, while WWAV's categories grew at 8% and 9% year over year. The low costs of their raw materials is aiding their bottom line and potential to expand.
Regarding the spin-off from DF, two important footnotes are important for the investor: The spin-off came at a time when consumer sentiment was still in the early phase of cultivating a taste for newer beverage products, specifically soy milk, almond milk, and to a lesser extent, coconut milk. It seems this taste has been cultivated and the consumer is thirsty for more of WWAV's products. Reviewing their 10-Q, net sales across all segments for WWAV, both domestically and abroad in their operations in Europe (see sales figures beginning on page 30 of the 10-Q), had a year-over-year increase of over 10%.
Click to enlarge images.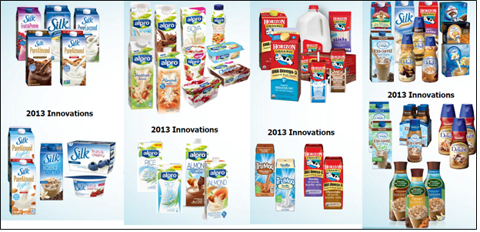 The former CEO of DF, Gregg Engles, took the helm of WWAV. Engles has a remarkable track record of running businesses, strategically looking at expansion possibilities through acquisitions. During a four-year span from 1996-00, while Engles was running Suiza Dairy, he acquired 40 dairy companies, which led to him buying DF, merging it with Suiza yet retaining the DF name due to its more notable brand. The point here to make is clear: WWAV has strong management at the helm, adding to its attractiveness as an investment.
Spin-offs are generally mispriced by the market and WWAV seems to be no exception. During a spin-off, when investors receive shares for the newly formed entity from the parent company, they often sell those shares in favor of buying more shares of the parent company. And this makes sense, right? Spin-offs were once a segment of an established corporate structure. Now, as a stand-alone entity with a newly formed corporate structure, investors don't know how it will perform long term and there are no historical valuations to analyze or metrics to discount. This presents a dilemma for investors. In WWAV's case, however, if investors were to take a closer look they would see that WWAV was DF's fastest growing business segment. WWAV's value has been there, it's just now out in the open as it's now its own business.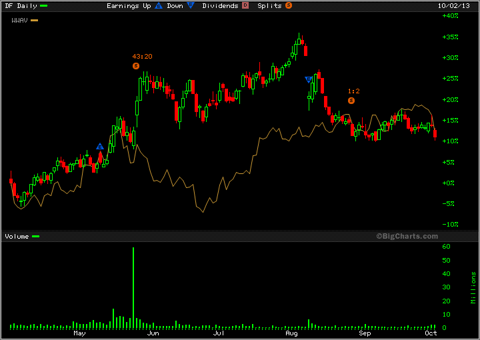 The above chart confirms this point regarding a spin-off's value compared to the parent company. Six months ago DF and WWAV were tightly correlating as the spin-off was underway, but not yet complete. Come the latter part of May when the spin-off was completed, DF and WWAV diverged accordingly as investors bought the parent company and ditched the spin-off. Six months later, however, WWAV has steadily been converging on DF again and if the trend continues, it looks to continue climbing above DF.
Consumer Niche or WWAV's Risk?
Data shows rising consumer trends in organic food products and coffee beverages. WWAV meets this demand head on offering products in their Coffee Bar Solutions and Wellness Beverages categories. What's unique to WWAV's units, forming a wider moat than that of their competitors, is that their units attack this demand on all sides, whereas their competitors may only have one or two core units in this niche. For example, WWAV has products for the cold or hot coffee drinkers (International Delight flavored creamers, Land O Lakes, and International Delight ready-made ice coffee).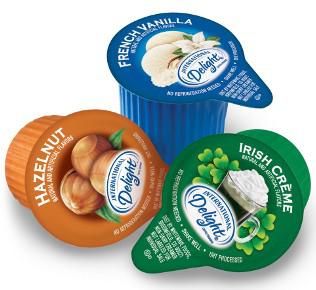 For children, they have Horizon Organic, which has become a consumer favorite for a grab and go health snack for children. Their fastest growing brand seller Silk is also what's widening their moat the most for them. WWAV's products haven't simply shown solid growth in their respected category, they have actually taken the number one spot in soy milk, almond milk, and organic milk (see company data).

A Further Word on Silk
Little has been discussed regarding how WWAV focuses not merely on what the consumer wants, but also on what the consumer needs. Lactose free products have abounded over the years, but few have become dominant in their market. What's more is that few of them have been an alternative form of a milk-like beverage other than an actual lactose free milk. In fact, WWAV's main competition for lactose free milk is Lactaid, produced by McNeil Nutritional, LLC -- a privately owned company based out of Pennsylvania. Before any private equity GP's reading this begin looking into this company, McNeil Nutritional, LLC is a subsidiary of Johnson & Johnson (NYSE:JNJ). I mention this to highlight WWAV's opportunity.
Lactaid has been around longer, yet WWAV has surpassed them in market share. They are meeting consumer's needs in providing to lactose intolerant consumers a new milk-like beverage alternative that is no longer simply just lactose free milk and are doing so with a more favorable price point than Lactaid (Silk ~$3.15/unit; Lactaid ~$3.90/unit). But is there really that many people who are lactose intolerant? The data below would suggest so. Although this point strengthens my thesis, I'm not suggesting entering a position on WWAV solely based on the lactose intolerant insight, but I do believe this hasn't been properly considered when viewing WWAV as a possible investment.
Lactose Intolerant Statistics
Total percentage of people who are lactose intolerant
33%
Total percentage of adults that have a decrease in lactase activity
75%
Total percentage of people who maintain ability to digest lactose after childhood
40%
Total number of Americans who are lactose intolerant
40 million
Total percent of all African-American, Jewish, Mexican-American, and Native American Adults who are lactose intolerant
75%
Total percent of Asian-Americans that are lactose intolerant
90%
Average amount of time it takes for side effects of lactose intolerance to occur after intake
30 min
Demographic and Operational Risks
While the above data would point in WWAV's favor, there is a demographic risk that needs to be disclosed. Women, Infants, and Children, the Federally funded aid program otherwise known as WIC, provides service to approximately nine million low-income women. Lactaid is a product offered under this service whereas WWAV's Silk products are not. With BMO Capital's recent downgrade of WWAV, sighting an increase in competition, this could provide further merit to their analysis. To read two analyses contra to BMO Capital's giving a greater glimpse of WWAV's fundamentals, please see the articles written by fellow Seeking Alpha contributors Marshall Hargrave and Justin Kundrat.
Furthermore, with increasing demand in their products, WWAV is increasing their COGS and overall operating costs. Most of their expenses go towards the raw materials needed for their units. They have had to utilize a third party to help with manufacturing and distributing. While third-party costs are typically very high, in WWAV's case, it will be a non-recurring expense over time as WWAV completes their capex program. The assumption on the long side would be that WWAV's top line will continue to exceed these operational costs. If history is any indicator, WWAV looks to do so.
A Word on EV and Vertical Merger Possibilities
Enterprise value is a crucial metric to look at as it incorporates the value of a company including all of their debt (junior or senior). This not merely gives a glimpse of the health of a company, but also gives a glimpse of how healthy an acquisition of a given company could be. While many have written on WWAV's EV/EBITDA ratio and mentioned they have the lowest against their main competitors, making them ripe for a potential buyout, I would like to further suggest that perhaps WWAV is more interested in buying out other companies, evoking vertical mergers. Sure, if the price were right, they would accept an offer. But if you review CEO Engles' history and if you review WWAV's business focus from their website and filings, it would suggest they are wanting to expand and do so rapidly, creating a potential long-term value opportunity with WWAV.
Outlook
With earnings due out a little more than a month from now, the metrics to focus in their next 10-Q will be their COGS and overall operating costs, and any outlook the company may have with regards to the effect U.S. interest rates rising and the effect LIBOR rates may have on their domestic and European operations. Others have suggested higher upside over the long term for WWAV, and that could come to fruition. In the near term, however, I see 25% over the next six months, giving them a $23 price target by the end of Q1 2014.
Disclosure: I am long WWAV. I wrote this article myself, and it expresses my own opinions. I am not receiving compensation for it (other than from Seeking Alpha). I have no business relationship with any company whose stock is mentioned in this article.