Meru Networks, Inc. (NASDAQ:MERU) is a provider of virtualized wireless LAN solutions which are design to optimize enterprise networks. Thanks to a recent market sell-off, this stock looks cheap now. With relatively little analyst coverage and investor interest at this time, it could be poised to surprise to the upside. It appears to have a number of potential upside catalysts and other positives which include a strong balance sheet, significant insider ownership and buying, plus takeover potential.
Meru has a strong balance sheet with about $32 million in cash and just $8.17 million in debt. This company has been posting some losses and that is a potential risk factor for investors to consider (in addition to the fact that technology is prone to obsolescence in some cases.) However, analysts expect revenues to grow and for the company to lose just 27 cents per share this year and post near break-even results in 2014. I don't think the current financial results are of significance at this time, especially when you see "hot" tech IPO's at bubble-like valuations in companies that are posting large losses. What investors should consider focusing on is the potential for Meru to be acquired by another major player in this sector. That would bring to mind Aruba Networks (NASDAQ:ARUN) since it is possibly Meru's largest competitor, or perhaps Cisco Systems (NASDAQ:CSCO) or Dell (NASDAQ:DELL) according to one analyst. Dell, Aruba and Cisco all have the financial resources to buy Meru as well as potential strategic reasons for doing so.
An article states that the enterprise WLAN market is projected to grow 75 percent by 2015, according to research from Dell'Oro Group. The article goes on to point out that some analysts believe Meru has a superior wireless product compared to Cisco Systems and that it would make an attractive acquisition; it states:
"Meru is widely seen as an attractive acquisition choice because of its proprietary single-channel wireless technology, lack of debt, and relative low price. With a valuation of about $100 million, Meru would cost far less than its closest competitor Aruba Networks (valued by analysts at close to $3.5 billion).

When asked what kind of company might be interested in acquiring Meru Networks, Noland suggested a hardware company like Dell, Inc., which already has an in-house wired Internet product and might view Meru as attractive given its purely wireless technology and price."
Cisco Systems is a highly acquisitive company and as a dominant player in the networking industry, it could make sense for it to acquire Meru Networks for its technology and use that to bundle it with other products. It does appear to be that Cisco's bundling capabilities are a challenge for Aruba and Meru, but with a product that many believe is not as good, Cisco should consider acquiring one of these companies for the growth potential expected from the WLAN market.
Another positive is that there has been repeated insider buying throughout this year and according to Yahoo Finance, about 27% of the stock is held by insiders. This means top executives at the company are aligned with shareholder interests and that could eventually lead to the sale of the company or another upside catalyst for the share price.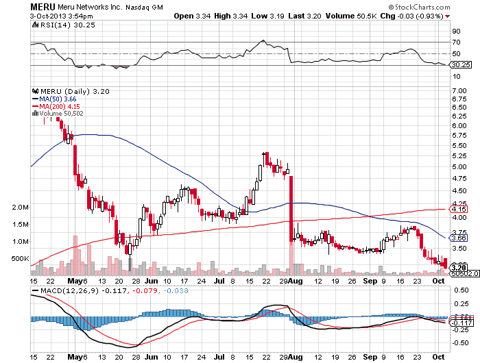 Earlier this year, analysts at William Blair gave Meru shares an "outperform" rating. The average analyst price target is $5.63 which implies substantial upside of about 70%, from current levels. As recently as September 20, this stock was trading at $3.85 per share. There has been no negative news released by the company since then, but there has been a market selloff due to concerns about the U.S. Government shutdown. This appears to be a great buying opportunity for investors to consider now which could offer short term rebound potential, as well as what could be more significant gains as a possible takeover target. Furthermore, as the chart above shows, the stock is now oversold with the relative strength index at just around 31. That is another sign that it could soon be poised for a rebound, possibly to at least $3.66 per share which is the 50-day moving average.
Here are some key points for MERU:
Current share price: $3.34
The 52 week range is $2.06 to $6.96
Earnings estimates for 2013: a loss of 27 cents per share
Earnings estimates for 2014: a loss of 5 cents per share
Annual dividend: none
Data is sourced from Yahoo Finance. No guarantees or representations are made. Hawkinvest is not a registered investment advisor and does not provide specific investment advice. The information is for informational purposes only. You should always consult a financial advisor.
Disclosure: I am long MERU. I wrote this article myself, and it expresses my own opinions. I am not receiving compensation for it (other than from Seeking Alpha). I have no business relationship with any company whose stock is mentioned in this article.