It has been over a year now that I wrote an article about the "conundrum of net lease valuation" and in the article I explained that "in the triple-net investment sector, a higher multiple is what you strive for since the lower cost of capital is the mantra for success. While many investors are looking for the cheapest (bargain) stocks, there is a misconception, or myth, that a low multiple equates to safety.
Indeed, a "margin of safety" is a critical element for the value investor but in the world of triple net REITs, a high multiple equates to being the "low cost provider." In most circumstances, a REIT with a higher multiple has cheaper cost of capital and that means better margins and the best strategically flexible operating platform (i.e. unsecured debt).
Sometimes investors confuse Triple Net REITs with bonds. In fact, many investors got spooked earlier this summer when on May 22nd Ben Bernanke's comments signaling tapering of the Fed's QE (quantitative easing) program created uncertainty, putting downward pressure on the Triple Net sector. I summed up the sell-off in an article a few weeks ago:
This is no argument that Triple Net REITs have seen some dizzy highs and recently some fearful dips. Like most REITs, fortunes have reversed over the last few days as investors got spooked by Mr. Market's mention of anything related to the word "dividend."
Conclusively the Triple Net REITs are considered one of the safest REIT classes as I explained:
Most investors are attracted to the Triple Net sector because of the minimum lease-up risk and reduced volatility. By owning shares in a Triple Net REIT, investors can diversify, minimize loss of principal and maximize returns. But more importantly, the Triple Net REITs are structured to minimize volatility and it's important to recognize that in one of the most serious financial crisis recorded (the Great Recession), the Triple Net REITs performed the best.
The Triple Net sector is not an industry made up of just three of four REIT players, but instead this $2 trillion industry is made up of hundreds of operating businesses like Wal-Mart (NYSE:WMT), Target (TGT) and Safeway (NYSE:SWY), which own significant free-standing products. Unlike many of the fragmented real estate sectors, the Triple Net REITs are in a position to "move the needle" much quicker by taking down large portfolios where the "law of large numbers" generate considerable external growth.
The total size of the Triple Net operational real estate market is in excess of $1.8 trillion (according to STORE Capital). Examples of single-tenant operational real estate include chain restaurants, supermarkets, drug stores and other retail, service and distribution facilities that produce profits and are integral to customers' business.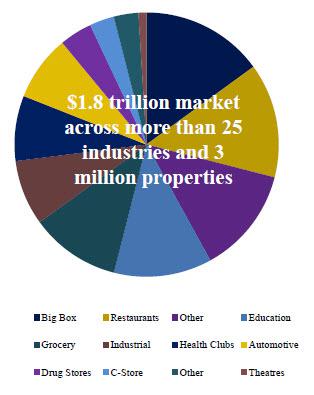 Lessons from a Veteran Triple Net Expert
Indeed it's a myth: Triple Net REITs look like bonds, and in some cases act like bonds, but they aren't bonds. To help understand the facts behind the durable asset class, I recently moderated an SNL Financial-sponsored webinar and one panelist, Randy Williamson, Managing Director with Eastdil Secured (*), provided an excellent macro-level overview of the industry. Williamson has deep investment banking experience in the Net Lease space and he is considered a veteran investment banker with broad experience in capital markets.
On the webinar this week Williamson pointed out that triple net leases require tenants to pay all operating expenses, including property taxes, insurance, maintenance and utilities on top of base rent.
These stable investment vehicles offer strong, predictable cash flows, supported by contractual rents on long-term leases. Accordingly, it was pointed out that the steady net lease dividends are due in large part to the lower volatility of cash flows. Here is a snapshot of the REITs that encompass the net lease space further differentiated based on asset class focus:

The public Net Lease sector is comprised of retail, office/industrial, diversified and specialty REITs. Williamson (and Eastdil Secured) provides the following coverage universe chart: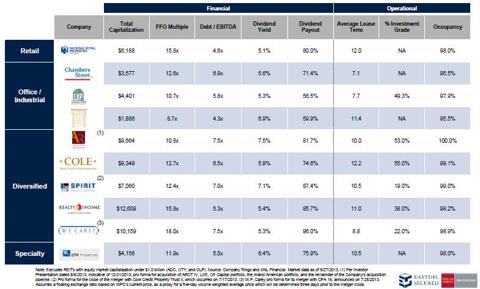 As I mentioned at the outset of this article, there are certain Net Lease REITs that are more expensive and Williamson provides several key attributes that drive premium valuations:
Superior Asset
Strong, high-performing and diversified net lease portfolio that features A-quality assets with stable cash flows generated from long-term leases to quality tenants.
Conservative Capital Structure
Less relative leverage compared to their peer group, preserving balance sheet flexibility and liquidity for growth.
Sustained Predictable Growth
Business models that consistently produce sustainable and predictable cash flows enhanced by a mix of internal and external growth opportunities.
Adequate Size
Reaching a target size threshold is important to gain certain cost of capital and operational advantages.
Transparent and Focused Strategy
Clean, streamlined business plans that are "simpler" and easier for investors to fully understand tend to be rewarded in the public markets.
Strong Management Team
Strong management teams and a track record of mitigating operational and investment risks through efficient capital allocation and business plans are favored platforms.
As Williamson pointed out:
REITs that consistently demonstrate these attributes are viewed as Best-in-Class operators and rewarded with higher risk-adjusted returns, premium valuations and a lower cost of capital.
Williamson provided several Key Themes in the Net Lease Market:
Cap Rate Compression / Increased Transaction Volume
Cap rates have returned to 2007 levels driven by attractive all-in financing costs. Attractive pricing has led to significant increases in sales volume, particularly ahead of concerns over interest rate increases.
Focused on Scale / Cost of Capital
Buoyed by lower costs and availability of capital, net lease REITs have embarked on significant asset accumulation in the recovering economy. This greater scale has contributed to a decreasing cost of capital, causing a circular effect on net lease transaction volumes.
Unprecedented Market Activity
Eight announced M&A transactions in the net lease sector since beginning of 2012 (totaling $20.9 billion). Several new entrants of considerable size (COLE, CSG, WPC, SRC) to the public net lease sector currently comprising $30.1 billion in total capitalization have also contributed to meaningful shift in scale across the sector.
Increased Asset Diversification
Historically, net lease REITs have been rewarded for business plans with narrowly defined investment scope. With increased scale, many REITs have looked to diversify as they capitalize on investment opportunities.
Expansion of Available Capital Sources
Increased use of perpetual preferred equity and at-the-market equity programs to match fund acquisitions. Renewed focus on attaining investment grade ratings to broaden access to debt capital.
Key Themes - Cap Rate Compression / Increased Transaction Volume
Since the downturn, cap rates have compressed nearly 150 bps and are now approximately at 2007 levels. Williamson adds that the spread to underlying debt costs remains attractive from a historical perspective (200 - 250 bps).

The contraction in cap rates has led to significant deal flow (in excess of $15 billion in the last six months) and we anticipate that volume will remain strong. Given the speed at which rates moved, many sellers have accelerated internal disposition processes and we expect the market to remain active for the next 3 - 6 months. Depth of capital for net lease transactions continues to expand in light of the recent well-capitalized new entrants, providing additional liquidity for net lease assets.
The combination of attractive pricing and ongoing volatility has increased desire to take assets to the market - Williamson said the he anticipates an active fourth quarter. Here is a snapshot of the new net lease REITs and unprecedented market activity:
Over the last two years there has been considerable growth in the sector with numerous new REITs listing including Penn National Gaming (NASDAQ:PENN), Cole Real Estate Investments (NYSE:COLE), Chambers Street (NYSE:CSG), W.P. Carey (NYSE:WPC), Spirit Realty Capital (SRC) and American Realty Capital Trust (merged with Realty Income).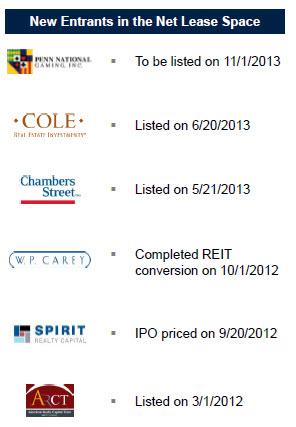 Williamson explains that no other REIT sector is growing faster than the net lease sector, fueled by new entrants and significant M&A activity. Here is a snapshot of some recent transactions: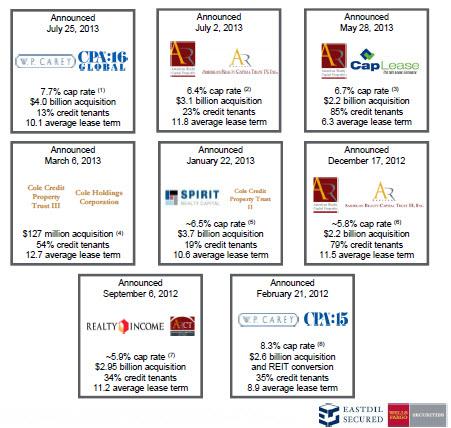 Key Themes - Increased Asset Diversification
Here is a snapshot of the Triple Net "universe" as of March 31, 2012, and a snapshot of the "universe" as of September 27, 2013: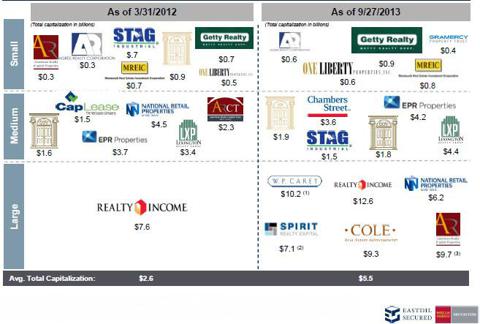 Key Themes - Increased Asset Diversification
At the beginning of 2010, Realty Income (NYSE:O) was the largest net lease REIT with a portfolio of 2,339 retail properties located in 49 states. Convenience stores composed 17% of rental revenue and restaurants accounted for 19%. Since that time, the company has done several key acquisitions diversifying its holdings into multiple property types. Other Triple Net REITs that have increased in size while diversifying include American Realty Capital Properties (ARCP), Cole Real Estate Investments and W.P. Carey.
The recent trend toward diversified business plans is likely to continue with substantially all of the major players in the public net lease sector, such as Realty Income, expanding their product focus across the retail, office and industrial sectors.
Key Themes - Expansion of Available Capital Sources
Williamson provides a snapshot illustrating the impact of size on credit ratings for all equity REITs: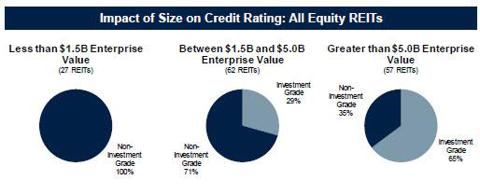 I have often argued that investors should price securities, taking into account all available information about growth and risk. By utilizing the price to funds from operations (P/FFO) valuation metric, investors can draw attention to the performance of value stocks and "glamour" (growth) stocks. Ben Graham defined value and "glamour" by relating stock prices to financial indicators and by analyzing the P/FFO of various REIT securities we can determine whether an adequate "margin of safety" exists.
As Williamson points out, there is a direct correlation between a REIT's investment grade rating, size and P/FFO multiple. Here is a snapshot illustrating the impact of these metrics: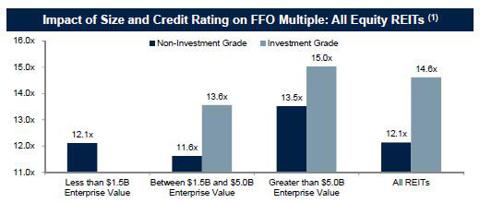 The Triple Net REITs with investment grade ratings include Realty Income (BBB+), National Retail Properties (BBB), Lexington Realty Trust (BB) and EPR Properties (NYSE:EPR).
There are several REITs that have indicated they were migrating towards investment grade ratings and they include Cole Real Estate Investments, American Realty Capital Properties, W.P. Carey and Chambers Street Group.
Net Lease REIT Market Performance
From 2013 YTD through May 22, 2013, the net lease sector outperformed the broader REIT market by approximately 2x. Investors are drawn to net lease's defensive nature characterized by predictable cash dividends (average yield of 6.8% at beginning of 2012). Recent transaction volume and new entrants into the space further attracted new investors. Net buying activity in the net lease space totaled $665mm during Q1 2013 - the second most among all REIT sectors. This investment activity increased the dedicated community's position in the sector by 31.8%.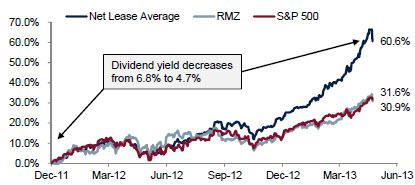 Ben Bernanke's May 22nd comments signaling tapering in the Fed's quantitative easing program created uncertainty, putting downward pressure on the net lease space. Net lease sector weighted average forward FFO multiples have dropped from 20.1x to 13.7x since May 22nd. However, the sector has rebounded modestly since September 18th when the Fed announced its intent to maintain quantitative easing.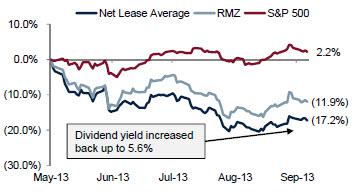 Net Lease Value Proposition
While the recent rate movements and continued uncertainty around the Fed's next move have had a modest impact on net lease cap rates, Williamson believes "these to be temporary" and he sees room for net lease cap rate compression. As compared to trophy and secondary market office trades, net lease continues to provide meaningful yield premiums = 75 to 100 basis points wide.

As the net lease sector continues to mature, Williamson believes that there is a value proposition in the space as cap rates continue to contract towards the core asset classes. As he summed up:
The net lease sector is no longer a fringe asset class that can be ignored by real estate focused investors. As the sector continues to mature, continued contraction in pricing toward other asset classes in the public REIT space is expected.
By now most of you know how I "sleep well at night" as I consider the Triple Net REITs to be one of the safest and most durable asset sectors. Yes, the sector is "bond like" but they are not bonds. As the free-standing category evolves, investors will have an increased opportunity to pick and choose various REITs that provide a wide variety of differentiating investment characteristics. I plan to include a Triple Net Report in my upcoming newsletter, The Intelligent REIT Investor.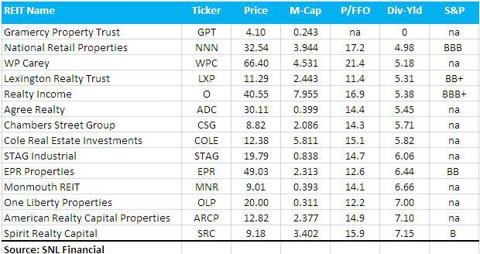 Source: SNL Financial, STORE Capital (first graph) and Eastdil Secured.
REITs mentioned: (NYSE:LXP), (NYSE:STAG), (NYSE:MNR), (NYSE:GPT), (EPR), (NYSE:NNN), (NYSE:ADC) and (NYSE:OLP).
Disclaimer: This article is intended to provide information to interested parties. As I have no knowledge of individual investor circumstances, goals, and/or portfolio concentration or diversification, readers are expected to complete their own due diligence before purchasing any stocks mentioned or recommended.
(*) Eastdil Secured is the trade name for the real estate investment banking services of Wells Fargo & Company and its subsidiaries, and Wells Fargo Securities is the trade name for the capital markets and investment banking services of Wells Fargo & Company and its subsidiaries. Securities products are offered through Wells Fargo Securities. Wells Fargo Securities makes no representation or warranty (express or implied) regarding the adequacy, accuracy or completeness of any information in the Materials. The Materials are not an offer to sell, or a solicitation of an offer to buy, the securities or instruments named or described herein
Disclosure: I am long O, ARCP, VTR, HTA, CSG, UMH, STAG, HCP, GPT DLR. I wrote this article myself, and it expresses my own opinions. I am not receiving compensation for it (other than from Seeking Alpha). I have no business relationship with any company whose stock is mentioned in this article.