We now have sales data for the first 16 week (4 months) of Belviq sales. Belviq is the anti-obesity medicine brought to market by Arena Pharmaceuticals (NASDAQ:ARNA), and marketed by Eisai (OTCPK:ESALY). This week Belviq sales, according to unadjusted IMS Health data, broke through the 4,000 barrier for the first time, avoiding a 10th week in the 3,000's range. The sales figure maintains a flatter trajectory than some have been anticipating vs. expectations, and with that, the equity is not responding positively.
Make no mistake, progress is happening, and every prescription filled helps. The big issue here is the pace. Investors that were looking for $150 million by the end of the year, or $200 million by the end of next March will be disappointed by the current pace. More pharmaceutical reps will help, and consumer advertising can help as well, but if you have not figured it out already, this process will be a slower build than was originally though, and perhaps even slower than many investors have already adjusted for.
As I have stated many times, the weekly script numbers are geared more toward active traders. Longer term investors use the weekly data to project longer term trends, but immediate stock price fluctuation happens on the heels of whether or not the perception of the sales data is good. What is perceived as good or bad is based on company projections, street expectations, and penetration into the potential market.
With current pacing, we are looking at gross sales of $30 million to $40 million. Net sales will be half of that at best. The Belviq share of net sales is 31.5%. If you do the math, you will see that the pace is showing $100 million in sales by the end of March (half of the original Eisai projection presented just before launch) as a challenge. To get to $100 million in gross sales, we need to see 500,000 bottles of Belviq sold to distributors.
We are now 16 weeks into the launch of Belviq. If we adjust the prescription numbers of IMS and Symphony Health upward (to account for non-reporting, etc.), the company has just below the 63,000 bottle mark. The average is about 3,900 bottles per week on an adjusted basis. For perspective, to reach a goal of $68 million in gross sales by the end of the year, we would need to see a total of 341,000 bottles sold. That would mean that we would want to see 278,000 bottles sell in the next 14 weeks. That average would be almost 20,000 bottles per week. To reach $30 million in gross sales, we would need 150,000 total bottles sold. That would mean that 87,000 bottles would need to sell in the next 14 weeks. That places the average at 6,200 per week. Essentially, it is much more realistic to anticipate 2013 sales at $30 million than it is to anticipate the number at anything above.
The charts below track IMS Health and Symphony Health sales data on an adjusted basis with comparisons to $150 million in gross sales by the end of 2013 and $70 million in gross sales by the end of the year. Analysts have modified projections in the last week. Rather than change the analysts line now, I will give another week to see if there are other analysts will adjust as well. Next week a new analysts' expectation line will be added to the chart. In addition, next week I will add a new line for company expectations, which appear to now set at $150 million by June 30th of 2014 (though, as with all numbers from Arena and Eisai, official guidance has not been made)
QUALIFIERS
· The data used are from IMS Healthcare (orange). This company reports numbers each Friday.
· I adjust the IMS data up 30% to account for any underestimates that can arise for a number of reasons.
· Another company, Symphony Health, also tracks sales data. It typically comes out later in the day, and after the sales data from IMS have carried their impact on the markets. I track Symphony data, and I adjust it up by 20%. I'm adding a Symphony data line (in green), though it may be one week trailing due to the timing (unless Symphony releases prior to submission of the article).
· The tracking blue path is a model on how Eisai can arrive at $150 million in gross sales by the end of the year. More realistically, in my opinion, sales are pacing toward between $30 million and $40 million (gross) by the end of 2013 and the $150 million goal will not be met. Analysts like Leerink Swan and Jefferies (yellow line) are likely in the right neighborhood on their respective gross sales expectations, though currently the sales pace is trending below that line as well. It is important to understand that gross sales is the sales number prior to discounts and adjustments. The blue lines track Eisai's "hopeful aspirations" goal, not Arena's goals.
· The charts have an "analysts' expectations" line (depicted in yellow). This line now tracks to $68 million in gross sales by the end of the year. In theory, $68 million in gross sales will pay out about $10 million in "royalties" (percentage of net sales) to Arena. I use an average net script price of $100. In the most recent quarter the average prescription was $82. I'm adjusting upward (to $100 per bottle) because the weight of free trials should improve as the next 6 months pass. The analyst line represents what sales would have to track to get to the $12 price target that it has established.
· While I talk about gross sales frequently, the driver for Arena is its percentage of net sales. It is gross sales that determine things like blockbuster status, while net sales get to the meat and potatoes of what Arena garners from the sale of the drug.
· The orange line depicts my 30% adjusted IMS sales. It is currently pacing below the blue hockey stick as well as the yellow analysts' model.
· The green line depicts my 20% adjusted Symphony sales. It is currently pacing below the blue hockey stick line as well as the analyst line.
· I have not stated that the company will track to any particular line.
This week the IMS scripts came in at just over 4,000. This represents modest week-over-week growth, but falls short of delivering a "wow factor." As stated in the qualifiers, I adjust the weekly number up by 30%. My adjusted IMS script number is just over 5,259. On a non-adjusted basis Belviq has spent 9 weeks in the 3,000's.
The chart below illustrates what I have been cautioning readers about with regard to flatter sales. As you can see, the current adjusted script pace is now below the yellow analyst line that would, in theory, generate a $12 price target (according to analysts). Scripts are also pacing well below the blue hockey stick model (illustrating an exponential type growth) that would pace Arena to $150 million in gross sales by the end of this year. It should be noted that my adjusted total scripts at this point are just above the analysts line and now well below the hockey stick. The reason for this is that the initial 8 weeks of sales were above both the hockey stick and analysts lines, and the initial 12 weeks were above the analyst line.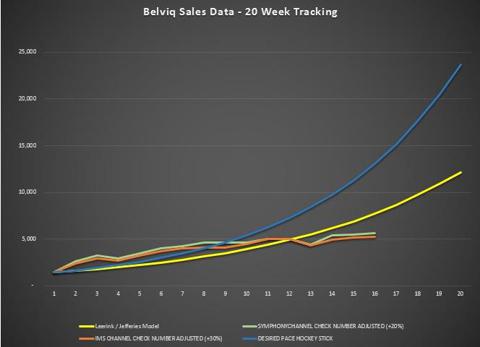 Click to enlarge
(Click to enlarge)
The 30-week chart below outlines the overall pace and projected paths through the end of 2013. The current pace for script sales is pointing toward about $30 in gross sales to consumers by the end of this year. It would take roughly $68 million in gross sales to garner Arena the $10+ million in revenue analysts are looking for in establishing $12 per share valuation targets. As you can see, we are pacing below that territory. I had cautioned investors that the pace of sales was such that we should anticipate downgrades in estimates. That is exactly what we saw transpire this past week. I now caution investors that there are still analysts covering this equity that have not yet made adjustments. We should bear that in mind as we consider any buying or selling.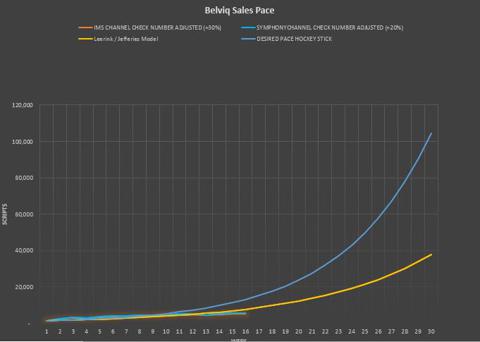 Click to enlarge
(Click to enlarge)
Investors need to remember that Arena is paid based on net sales, not gross sales. My analysis is that, based on a $199.50 per bottle gross sales figure, it would take about $68 million in gross sales to achieve $10 million in sales revenue to Arena. I apply a $100 per bottle net figure to the number of scripts sold to calculate a running total on theoretical revenue to Arena. Investors should note that Arena and Eisai recognize revenue when the wholesaler buys the drug, not the consumer. The data in this chart is reflective of consumer purchases of Belviq.
This week scripts were up 1.5% from last week. The pace of sales is demonstrating that it will be a difficult challenge to get 2013 sales figures to the levels that the more bullish analysts had outlined, and why we may see continued adjustments from analysts. This does not mean that higher sales cannot be accomplished, but the odds of accomplishing $70 million in gross sales in 2013 gross are diminishing as each week passes. On the positive side, with advertising starting, the potential for a more exponential type growth curve does exist. However, that being said, I do not see it very likely that the current advertising will deliver the traction needed to get back on track with the analysts growth line.
I want to reiterate that investors need to remember that there is an active traders dynamic to Arena and weekly scripts as well as sales pace play a major role here. When script numbers are low, the equity will suffer. At this point, to correct the trajectory we need to see a huge improvement over last week. The data now show that adjusted sales have fallen below the analyst line. There is longer term potential that still exists, but it is reliant on getting insurance coverage and direct to consumer advertising ramping up. With DTC ads now beginning, the insurance issue is a big one. There will likely be additional sales force increases dedicated to Belviq, but that will happen at the tail end of the year.
We are still early in the sales process, and refills are going to become another important item to consider. I will be addressing refills in another article. Last week my refill article gave insight on some varying ways to look at how refills can help project action in the equity. Look for this week's refill article in the next two days or so.
Summary
· Weekly IMS numbers are up 1.5% week over week
· The current adjusted pace is well below the $150 million hockey stick model
· The current pace is tracking below the analyst line
· Current unadjusted IMS sales are at 48,229
· Current 30% adjusted IMS numbers are at 62,698.
· Estimated YTD gross sales (to consumers) is $12,508,191*
· Estimated YTD net sales (to consumers) is $6,269,800*
· Estimated YTD Arena share (from sales to consumers) $1,974,978*
*Arena is not using sales to consumers to book revenue. It is using sales to the wholesaler to account for revenue. Eisai books sales to wholesalers as well. Weekly scripts are tied to actual consumer sales, thus the translation in revenue modeling.
Disclosure: I am long ARNA. I wrote this article myself, and it expresses my own opinions. I am not receiving compensation for it (other than from Seeking Alpha). I have no business relationship with any company whose stock is mentioned in this article. I have no position in Eisai