Linn Energy (LINE) is primarily an oil and natural gas company, engages in the acquisition and development of oil and natural gas properties. I have been in and out of the stock, most recently in late 2012. I still follow the headlines and read an occasional article. As I do own other stocks in the oil and gas sector, I started looking over the recent moves by the company, and I stumbled upon something that no else is really talking about. In this article, I want to address that.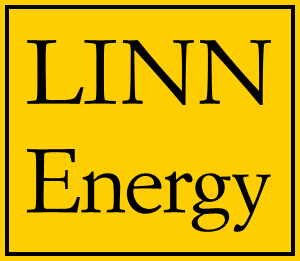 For Those Who Don't Know
LINE' is a master limited partnership that pays a hefty monthly dividend from its oil and gas operations. LINE's properties are located in the Mid-Continent, the Hugoton basin, the Green River basin, the Permian basin, Michigan, Illinois, the Williston/Powder River basin, California, and East Texas in the United States. At the end of 2012, LINE boasted an impressive proven reserves of 4,796 billion cubic feet equivalent oil, natural gas, and natural gas liquids; and operated 15,804 gross productive wells. It is on path to two major deal of critical importance to the company's long-term growth. The first is a merger with Berry Petroleum (BRY) and the second is the expansion of its Permian Basin Properties.
As I write, LINE still awaits the Securities and Exchanges Commission's ruling on the fate of its large and complex deal with its affiliate company Linn Co (LNCO). This deal for is for LINE to buy and acquire the assets Berry Petroleum. BRY is a publicly traded independent oil and natural gas production and exploitation company with operations in California, Texas, Utah, and Colorado. The deal is important for Line's long-term path in my opinion.
What's So Special About BRY?
First off the deal is huge, as it will be costing LINE about $4.4 billion and LINE will assume all of BRY's debts. BRY has over 3,000 producing wells covering more than 202,000 acres of land. Further these assets have relatively low-decline in quality/quantity and long-life which makes it a great fit for LINE's master limited partnership structure. The deal will help LINE expand its growth into markets in California, the Permian Basin, Texas and the Uinta Basin. With the annual production that occurs in BRY's properties, LINE could see its production increase anywhere from 20%-40%. Further, a good portion (about three quarters) of BRY's reserves are in oil, which will increase LINE's liquid oil exposure by approximately 17% on a relative scale. That is serious growth that cannot be overlooked. Overall, for shareholders, it ultimately translates to the potential for higher dividends, above the current 11.7% yield it currently pays. However, the deal will need final approval before it can move forward, however from my research I do not see any reason the deal will not go through.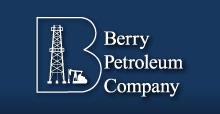 Expansion In The Permian Basin-Related To The BRY Merger?
Although the details of the BRY deal are still being worked out, LINE has taken an interesting step by announcing that it was spending slightly more than half a billion dollars to add to its assets in the Permian Basin (see map below). The move is being done seemingly to help increase access to liquid oil. Because it is extremely difficult to access most of the oil in any area, varying techniques are utilized to extract oil, and they increase with difficulty the more oil is extracted. One of the later phase approaches is use of a method termed waterfloods.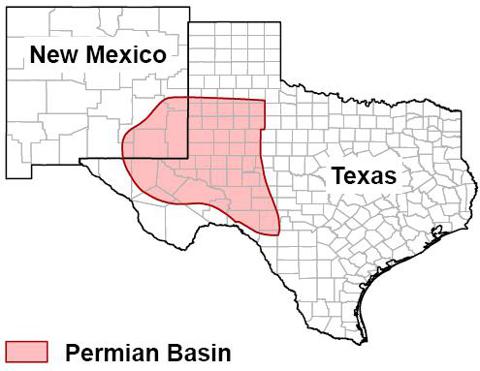 Click to enlarge
(Click to enlarge)
This actually takes us back to the merger with BRY. BRY employs one of the world's experts in this technology, as they described in a recent 2013 company update. Just what is the waterflood technique? It is a technique that I learned about as a shareholder of Schlumberger (NYSE:SLB). According to SLB, it is an approach that uses steam. SLB provides great details on their website for its approaches (something I think more companies should do). In describing this technique, SLB states that it is
"A method of thermal recovery in which hot water is injected into a reservoir through specially distributed injection wells. Hot waterflooding reduces the viscosity of the crude oil, allowing it to move more easily toward production wells. Hot waterflooding, also known as hot water injection, is typically less effective than a steam-injection process because water has lower heat content than steam. Nevertheless, it is preferable under certain conditions such as formation sensitivity to fresh water."
Now that we know what it is, and it is a huge plus to be able to execute successfully, why am I bringing it up?
So Where Would Waterflooding Be Applied?
In theory, LINE could utilize this method successfully in many areas. Perhaps, the Permian Basin properties? One good example is the East Goldsmith Field that was recently acquired. This is because there are some deeper formations such as the Clearfork formation that would be an excellent target for waterfloods, which would allow a greater amount of oil to be extracted. LINE believes this could unlock another 24 million barrels of oil equivalent, which would be a big boost to the proven reserves of 30 million barrels of oil equivalent that LINE purchased in the recent deal. There are several areas of future growth beyond the traditional infill drilling and conducting waterfloods in the Clearfork formation is likely only the beginning. There is a lot of different approaches that can be taken in different locations that LINE possesses and will look to acquire in the future. In my opinion, the expansion into the Permian Basin, where advanced techniques will be required to extract maximum oil at the lowest costs requires expert personnel. This is something that has not received fair attention in this deal.
Bottom Line
This article provides a different insight into LINE's transactions. Many other articles here on Seeking Alpha have focused more in depth on LINN Energy's financials, dividend sustainability and accounting practices. I think it has actually become quite the controversial stock this year. I held this stock in 2012 for a bit, but given my ownership of SLB and knowing that the company is looking to acquire BRY, which has fantastic assets and expertly trained geologists and engineers, coupled with the recent increase in Permian Basin activity, I felt compelled to share my thoughts from this unique perspective. Essentially, I think LINE is stacking the odds in its favor by continuing to make acquisitions, but also looking to acquire existing teams and infrastructure that will help guarantee its long-term presence. With it, despite all of the accounting issues, and questionable profitability, I think the company is setting up for future success, and that bodes very well for the income investors and dividend hunters who flock to this stock.
Disclosure: I am long SLB, HAL. I wrote this article myself, and it expresses my own opinions. I am not receiving compensation for it (other than from Seeking Alpha). I have no business relationship with any company whose stock is mentioned in this article.