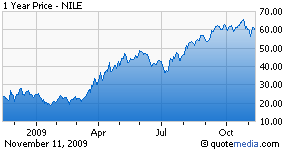 Prior to the release of the third quarter results, analysts had the following expectations as set forth in the table below.
The company's results were ahead of expectations with revenue at $66.9 million and earnings of $0.17 per diluted share. According to Yahoo Finance, analysts have revised their estimates.
As an aside, it is interesting to look at how the annual estimates have risen from the first quarter when I wrote Strong First Quarter 2009 For Blue Nile (NASDAQ:NILE).
I listened to Blue Nile's positive conference call. Using the company's press release and my notes from the conference call, I will highlight key items in point form.
Prior to Conference Call: Blue Nile's Revenue and Earnings Estimates:


Financial Metric
Current Qtr
Sep-09
Next Qtr
Dec-09
Current Year
Dec-09
Next Year
Dec-10
Data Sources
Yahoo Finance 5 November 2009
Revenue Estimates
65.64M
95.88M
293.41M
330.90M
Earnings Estimates
0.16
0.33
0.81
1.02
Blue Nile's New Revenue and Earnings Estimates:


Financial Metric
Current Qtr
Dec-09
Next Qtr
Mar-10
Current Year
Dec-09
Next Year
Dec-10
Data Sources
Yahoo Finance 11 November 2009
Revenue Estimates
106.27M
75.07M
303.37M
351.16M
Earnings Estimates
0.38
0.20
0.85
1.10
Company Commentary
Sales rose 2.9% for Q3 to $66.9 million on the strength of bridal jewelry sales and growth in international markets.
Diane Irvine, President and CEO, indicated that the company performed well, "One of the key highlights of our quarterly financial performance is our profitability. Our gross margin in Q3 reached its highest level in nearly 4 years at 22.1%, an expansion of 180 basis points year-over-year."
Company grew operating income over 17% to $3.9 million and expanded operating margin by 80 basis points to 5.8%. Moreover, it generated $6.3 million of EBITDA, an increase of 17% year from last year and a record third quarter EBITDA level.
Earnings per share in the third quarter increased from $0.15 last year to $0.17 this year.
Irvine stated, "In 2008, there was a 5% contraction in retail jewelry capacity in the US; and industry sources predict a similar contraction for 2009. The total number of jewelry businesses, retailers, wholesalers and manufacturers that have gone out of business in the first nine months of 2009 increased by 60% from the same period a year ago."
Even though the global market for jewelry is expected to decline by 15% this year, Blue Nile expects to exceed its 2008 sales level.
While US sales were down only slightly at 0.5% from last year, international sales in Q3 grew at 27.5% to $8.8 million, which surpasses 13% of the company's total sales. International growth was hampered by foreign exchange. On a constant exchange rate basis, international sales grew 34.8%.
Company's strongest category was bridal jewelry, including diamond engagement rings and wedding bands. This category grew in proportion from last year's sales and increased in sales as well as units.
On 1 September 2009, the Company launched it new Blue Nile website. The aim of the new website is to provide a better shopping experience with more innovative tools and features such as improved search for diamonds, customization, and search for jewelry.
Irvine stated that the Company is excited and optimistic about the upcoming holiday season. Moreover, the Company expects significant year-over-year growth in the fourth quarter. As such, the company raised fourth quarter guidance. (See Stoltzman's commentary shortly.)
Marc Stolzman, CFO, took over from Irvine on the conference call and indicated that in the fourth quarter, foreign currency should provide a tailwind compared to the fourth quarter in the prior year.
In the third quarter, the total number of orders increased about 4% from the year prior. Average order decreased 1.7% to $2123 because of product mix as well as lower average ticket in core bridal category, which includes diamond engagement rings and wedding bands.
Engagement and wedding bands continue to be the strongest category, with sales under $25,000 growing most rapidly.
Gross profit was $14.8 million, with gross margin up 180 basis points to 22.1% of sales. Gross margin improvements are attributable to better sourcing for diamonds and jewelry. Margins for the fourth quarter will be up from last year's fourth quarter level. Margins should stabilize at these higher levels for 2010.
SG&A was $10.9 million versus $10.0 million last year.
Effective tax rate for the third quarter was 35.0% versus 34.4% third quarter last year.
Net income increased 10.3% to $2.6 million and earning per diluted share rose from $0.15 to $0.17.
Inventory level was relatively flat compared to last year at $17.8 million.
Cash, cash equivalents, and short term investments totaled at the end of the quarter at $47.5 million compared to $26.6 million at last year's third quarter ending balance.
Non-GAAP free cash flow was $20.9 million, a gain of $0.8 million from last year.
Stolzman stated, "As is typical with the seasonality of our business, we have a significant buildup of our accounts payable in the fourth quarter related to holiday sales. It is our expectation that our free cash flow in the fourth quarter of 2009 will exceed the level achieved in 4Q 2008, thereby increasing our free cash flow level for the full year well above the trailing 12-month level of $21 million."
Stolzman further stated, "We are projecting fourth quarter net sales between $100 million and $109 million, and diluted EPS in the range of $0.35 to $0.39. Our capital expenditures are projected to be approximately $2.5 million for the year."
Question and Answer with the Analysts
With the downturn in the diamond mining industry, several diamond miners either shut-in mines or stockpiled product. Irvine believes that diamond prices have stabilized and that there is some downward pressure because of all the goods that need to come to market. Moreover, there should not be a significant upward movement in prices in the near term.
International sales as a proportion of overall sales are becoming significant to Blue Nile. Even though gold jewelry and watches are not doing well internationally for all jewelry retailers, the bridal category remains stronger, which plays into Blue Nile's strength.
Mark Vadon, Chair, commented that as product mix eventually shifts toward more non-bridal jewelry and as the business grows larger, both factors will contribute to higher gross margins. In other words, gross margins will grow with time.
Recent gross margin improvements resulted from mostly improved sourcing. As the company continues to grow, it has more influence and significance in the industry. This benefit will continue, regardless of diamond pricing. Moreover, diamond prices were weaker, which allowed the company to capture some incremental gross margin.
With regard to the new website, Irvine mentioned the increased conversion benefit and Vadon mentioned the aspirational branding. As expected, the Company will not provide detailed data on its website. That information is too strategic in its importance to divulge.
While gold prices have risen, they are a small part of the overall cost equation. Vadon estimates gold is about 15% of cost of goods sold (COGS). Diamonds are the key cost consideration.
With regard to repeat customers, Irvine mentioned that because of the emphasis on bridal, customers don't repeat frequently. However, repeat business is about 20% of the overall business. That reflects the non-engagement part of the business where a customer starts with an engagement ring and continues to purchase other important items for special occasions. As Vadon mentioned, as the product mix begins to emphasize other items besides engagement rings and wedding bands, gross margins will increase.
International business is in its infancy. Furthermore, Blue Nile is able to grow its international business with minimal capital. As an example, Blue Nile launched its facility in Dublin to serve its European markets for about a $500,000 investment.
Stolzman indicated that the stock buyback program remains active, though no shares were purchased last quarter and he didn't provide buyback guidance for future quarters. I was left with the impression that the company will remain opportunistic to use excess cash to buy back shares.
At present, all international websites are English, but in the future, the company will expand to where it makes sense to have websites in the local language.
Blue Nile spends approximately 4% of revenue on marketing, which is focused on online marketing through search, affiliate programs, and portals.
Before providing my overall comments, I will provide some additional data and graphs with some additional commentary.
Blue Nile: Key Financial Metrics:
| Financial Metric | Blue Nile |
| --- | --- |
| Data Source | Yahoo Finance, 11 November 2009 |
| Market Cap. | $884.49M |
| Enterprise Value | $829.42M |
| Forward P/E (fye 04-Jan-11) | 55.31 |
| PEG Ratio (5 yr expected) | 3.57 |
| Enterprise Value/EBITDA (ttm) | 45.522 |
| Qtrly Revenue Growth (yoy) | 2.40% |
| Float (shares) | 13.98M |
| % Held by Insiders | 3.01% |
| % Held by Institutions | 122.10% |
| Shares Short (as of 12-Oct-09) | 2.70M |
| Short Ratio (as of 12-Oct-09) | 21.4 |
| Short % of Float (as of 12-Oct-09) | 19.10% |
Please note that you can click through the next two graphs to see full sized versions.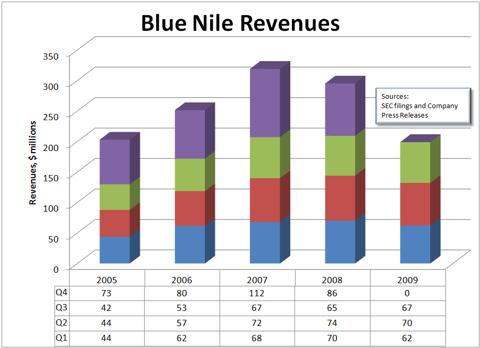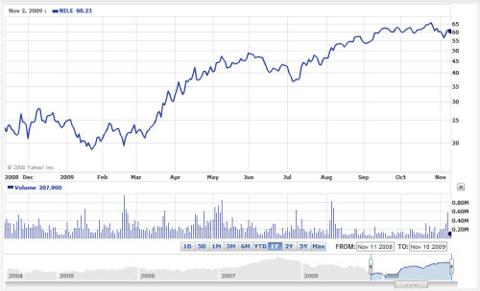 Let's review some of the information contained in the tables and charts. The market capitalization is nearly $900 million. Forward Price-to-Earnings multiple is 55.31 and the five year PEG Ratio is about 3.6. Quarterly revenue growth is 2.4%. At first glance, these numbers seem to suggest that Blue Nile is richly valued. If you look, however, at the numbers published in my review of Q1 2009, you'll note that the outlook has become much brighter. That is, revenue and earnings have increased dramatically. If Blue Nile can perform this well when the U-6 unemployment statistic is 17.5%, imagine what it will do when the economy eventually returns to normal.
The key point is that the future estimates are subject to wild changes. And, during this time of unprecedented economic turmoil and uncertainty, Blue Nile is doing reasonably well, becoming stronger and healthier, while its competitors are suffering, becoming sicker and weaker. So be careful when looking at the traditional valuation metrics in isolation.
I have glanced at some of the commentary regarding Blue Nile over at Seeking Alpha. There are some vitriolic comments regarding Blue Nile's share price and short interest. The short interest values deserve further comment.
Before reading my brief discussion on short interest, you should know that I enjoy shorting stocks occasionally. Furthermore, I do not believe the shorts in Blue Nile are having a material adverse effect on Blue Nile's share price. Whether they were shorting Blue Nile or not, I think the share price would be roughly the same.
I'd like to engage in a small thought experiment. Let's assume that there are four large fund managers that each own 25% of the stock of a new company called NewCo.
NewCo Owners
FundA: 25%
FundB: 25%
FundC: 25%
FundD: 25%
FundA and Fund B each allows 15% to be borrowed through its brokerage firm. That is, FundA and FundB have 10% that cannot be borrowed and 15% that can be borrowed.
The shorts come along, borrow the shares and short the stock. Now there are 30% shares short.
As part of the 30% purchase of the short shares, FundE purchased a 25% interest and small retail investors purchased 5% of the shares.
We have the following situation:
NewCo Owners
FundA: 25%
FundB: 25%
FundC: 25%
FundD: 25%
FundE: 25%
Small Retail: 5%
Short sellers: -30%
Total ownership is 100% (=130% long and 30% short).
Along comes a hostile company that makes a bid for NewCo. FundA, FundB, FundC, FundD, and FundE all cease trading while their analysts begin preparing copious PowerPoint slides. FundA and FundB instructs their brokers to call in any shares that were lent.
The key questions is, where do the shorts find their shares to repurchase?
As you ponder that question, you might wish to use your search engine with the terms Volkswagen short squeeze. I am not suggesting that the facts in the Volkswagen situation are similar or even relevant. I do, however, want to draw your attention to what is possible.
I rarely short stocks that have a high short ratio. The short ratio is the number of days of average trading required to equal the outstanding short interest (number of shares that are short). A ratio at or above five is usually enough to keep me away. It's frustrating when the company issues negative earnings news and the stock rises rather than falls. That sometimes happens because professional shorts have a catalyst in mind for their short sale. They believe that the company will disappoint and that the stock will fall. If the stock doesn't immediately fall, they begin buying back their shares because their catalyst event has come and gone with the planned subsequent fall in share price missing. So be careful when shorting stocks with a high short ratio.
If you are determined to short a stock with a high short ratio, you might wish to consider using options. For example, you might wish to purchase puts. I can almost hear some of you complaining that puts are expensive. And my response is, if you are concerned about the cost of a put, then you probably lack the conviction of your argument that Nile is wildly overpriced. One of the benefits of a put is that it forces some discipline to pick a price and a time. That is a far better situation to have than to have a short position that you watch grow in size and, unfortunately, importance with time. At least with a put, the worst that can happen is that it expires worthless.
If you are shorting a heavily shorted stock such as Blue Nile, exercise caution and discipline.
Moving away from the short sale discussion to my overall thoughts on Blue Nile, I am long the stock and will continue to hold Blue Nile. I like that it continues to execute extremely well. The management team impresses with the laser focus on the customer. Throughout the entire conference call, management emphasized that it wants to deliver solid value to the customer. In other words, if Blue Nile continues to satisfy the customer, then the stock will take care of itself. I like that the company is growing, especially during these difficult economic times. I like that it is in the early phases of its international growth and that it is able to expand its global footprint at minimal costs. And I especially like that it is gaining market share from its competitors.
What about its financial metrics? Aren't they wildly excessive? After looking back at the first quarter in 2009 when the share price was much lower, I noticed that Blue Nile had a five year peg ratio of about 3.3. Today, that ratio is about 3.6, which is not so different. The reality is, we are unsure of the overall economic growth, let alone the company's growth.
As long as the company continues to perform well, I am not worried about the financial metrics. For strong growth companies, they really don't matter too much. In point form, in no specific order, here are some positive factors to consider:
The Company has a focused and consistent management approach to building a stronger brand and business.
Management is focused on improving and growing its business, while the competition is distracted and fighting to stay afloat.
Blue Nile is gaining market share.
It is considering buying back more shares again.
It is growing in its domestic and in international markets.
International efforts are still in their infancy with considerable headroom (for example, websites to serve foreign markets in their local languages).
Blue Nile has no debt.
The Company is not in danger in any way of going bankrupt (can the same be said of its competition?).
It enjoys strong customer loyalty as evidenced by its growing repeat business.
In summary, I am not concerned that, at first glance, financial metrics appear rich. As long as the company keeps its focus on delivering value to the customer and continues to execute well, then I fully expect that the share price five years from now will be substantially higher than today's closing price of $60.84.
Disclosure: I am long Blue Nile stock.