Earlier this week, LAN Airlines S.A. (NYSE:LFL) and its subsidiaries released its preliminary monthly traffic statistics and punctuality indicators for October. Passenger traffic rose 15.7% year over year while capacity jumped 10.1%. Its load factor increased 3.9 points to 80.2%.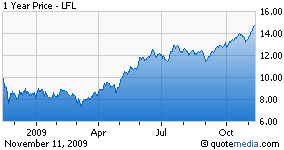 International passenger traffic accounted for almost 69% of total passenger traffic, with the rest coming from domestic passengers.

Domestic passenger traffic in Chile, Argentina, Peru and Ecuador rose 14.1% and international passenger traffic rose 16.5%. Domestic capacity increased 8.6% and international capacity increased 10.8%. International capacity was mainly driven by a surge in operations in Europe and certain regional routes.

In line with the global decline in import and export markets cargo traffic fell 6.2% mainly due to the slowdown in import and export markets in Latin America, as well as the reduction of salmon exports from Chile. In line with the decrease in demand, capacity fell 4.8%. The cargo load factor reached its highest level this year at 70.7%.

The company's near-term outlook is not as bright as it was a few months ago primarily due to the international economic crisis. However, we believe Chile will perform reasonably during 2009.

In fact, the Chilean Government has already announced a $4 billion economic stimulus package that represents 2.8% of the country's GDP. The plan will be funded by the country's sovereign wealth fund. As the most organized and developed economy in Latin America, Chile is now capable of pursuing a truly anti-cyclical policy.

The company accounts for more than one half of Chile's international passenger traffic and nearly three-quarters of its domestic traffic. Moreover, consistent positive results and solid financial and liquidity positions will enable LAN to move ahead with a number of long-term initiatives.