It is hard to argue against the reality of growing consumer demand in developing countries. The challenge has been finding diversified, low-cost, pure exposure to the theme. WisdomTree's Emerging Market Consumer Growth Fund (NASDAQ:EMCG) takes a big step in this direction. This article looks at EMCG and compares it to its established peer EGShares Emerging Markets Consumer (NYSEARCA:ECON). Interestingly, we will find two different ways of going about a similarly clever strategy.
Since launching back in 2010, ECON has been the primary ETF focused on pan-emerging market consumer stocks. ECON has grown to become the largest sector-dedicated emerging market ETF with assets under management totaling $1.2bn. ECON has also proven to be a relatively good option for investors in the asset class, generating a total return of +35% since its inception compared to a -2% return for the benchmark iShares MSCI Emerging Markets (NYSEARCA:EEM) over the same period.
The launch of EMCG compliments ECON by offering a more diversified and different portfolio in which to invest in the theme. The fund also comes with a lower expense fee.
EMCG vs. ECON

EMCG is more diversified
The most obvious difference between EMCG and ECON is the number of holdings each fund has. EMCG has nearly 200 holdings in its portfolio already and an index that includes 250 companies. The fund also caps single holdings to no more than 5% of its portfolio supporting more balanced allocations. ECON is more concentrated with only 30 holdings and has over 50% of its fund represented by its top 10 holdings.
Another area where EMCG offers more diversification is through its sector exposure. EMCG is structured to hold 60% of its portfolio in companies from the consumer staples and consumer discretionary sub-sectors. It can also include non-mega cap financials, telecom services, and even has a small percentage of utilities in its portfolio. ECON is purely focused on only consumer staples and consumer discretionary companies.
Some investors may view financial and telecom services as less of a 'pure-play' on the EM consumer since they may be subject to more regulation than pure FMCG companies. That is often the case but it is hard to argue that financial and telecom services are not essential services consumed by most people, especially as they move up the wealth ladder.
EMCG has more China exposure
Geographic exposures also differ widely. EMCG has more direct exposure to China (18% of holdings) compared to ECON (6.5%), while ECON gives investors greater exposure to Mexico, Chile, India and Russia. EMCG offers larger exposures to Indonesia, Turkey, and South Korea, in addition to China.
It is important to note that ECON's largest holding, Naspers (NPN SJ), derives a majority of its value from its stake in Tencent (700 HK), China's largest Internet portal even though Naspers is a South Africa-listed company. Also, EMCG has a portion of its India exposure through the MSCI India ETN (NYSEARCA:INP). This is likely to be a short-term holding and replaced by individual positions as the fund grows.
ECON Top-10 holdings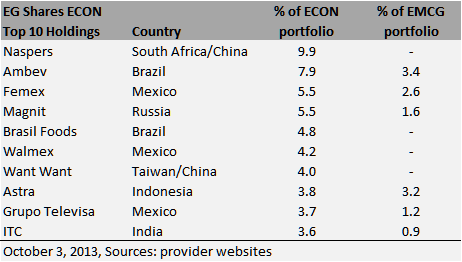 EMCG uses a custom WisdomTree index that screens companies based on earnings growth trends and valuation metrics.
EMCG has a lower expense ratio
The other obvious differentiating aspect of the funds is EMCG's lower expense ratio of .63% compared to .85% for ECON. Lower fees don't guarantee performance but they certainly don't hurt. One other consideration relates to EMCG's lower liquidity on the open market at the moment given its small size currently.
Updating the case for investing in Emerging Markets
With that digested let's revisit the case for investing in emerging markets briefly. For some time, and still today, economic growth rates in developing countries have exceeded the growth rates in developed countries. While this doesn't always translate to higher equity prices it is still a powerful economic trend that inevitably will lead to more rapid income growth in the developing world.
For some time growth has been the main rationale for investing in emerging markets. Lately this has shifted following the broad underperformance of the asset class since August 2011. Arguments today often point to the 'value' proposition justified by traditional metrics like low P/E and P/BV multiples relative to historic levels. The drum beat never stops.
Dividend yields provide my preferred tangible measurement of value and returns. From the standpoint the broader EM asset class they remain un-compelling. The current 12-month trailing yield for EEM stands at a mere 1.8% in relation to the 2% offered by SPDRS S&P 500.
The reality of emerging market equitization represents another headwind for the asset class, which we visited in my earlier report. Very few emerging market companies buy back stock while new issuance competes for a seemingly finite and fickle asset pool.
So while the broad asset class remains unappealing, the case for targeted exposure to companies exposed to growing domestic demand driven by growing incomes is unlikely to change anytime soon. EMCG gives us a diversified and cheaper option to invest in this theme and warrants serious consideration from investors allocating to the asset class.
Disclosure: I have no positions in any stocks mentioned, and no plans to initiate any positions within the next 72 hours. I wrote this article myself, and it expresses my own opinions. I am not receiving compensation for it (other than from Seeking Alpha). I have no business relationship with any company whose stock is mentioned in this article.