We had a big day for shipping firms today in the stock market, with SEA (Claymore-Delta Global Shipping ETF) moving up over 3%, and some shipping companies posting gigantic advances: EGLE up 16%, OCNF up 15%, GNK up 15%. So what is the real reason for the sudden optimism in this beaten-down, depressed and desolate market sector?
Most traders will probably point to the Baltic Dry Index (.BDI), which has been up about 10 days in a row, as the cause. Now it is over 3700. The market considers 4000 to be a portent of the recovery of shipping rates, leading to bigger profits. The yearly high is only a bit more, near 4200. This means that rates for new contracts have almost doubled in the past couple of months. The BDI explains a lot, especially the rate at which speculator money flows into the dry bulk names, but it is as much a symptom here as the stock prices are.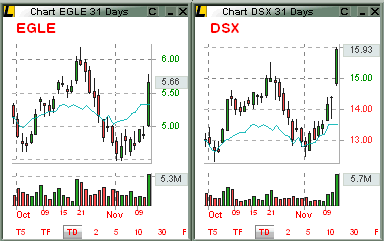 More important than the BDI are the underlying industrial activities affecting demand for shipping services. We see this in recent anecdotal tales of heavy bookings, especially in Pacific routes, carrying ore to China. BMTI reports:
The Cape spot market, helped along by a renewal in futures trading, rockets ahead for another day with day-on-day upgrades most dramatic on the Pacific round voyage, which some owners tell BMTI looks like a pinball machine with relets bouncing back to double relets. Ships that are currently getting up to US$67,000 daily on Australia/China rounds were settling for US$55,000 just five short days ago.
The slightly smaller Panamax ships, commonly used for grains, have been cornered by firms trying to get foodstuffs to countries with marginal harvests this year. Delays in US harvesting due to weather are complicating the situation, causing shipping demand to become more concentrated in time and location, leading to some increased rates.
Dry bulk shipping stocks (DRYS, GNK, EXM, NM, DSX, PRGN, EGLE, TBSI, SBLK, ULTR, and FREE) should benefit as farmers should be able to harvest a decent amount of crop in the near-term, which should boost demand and thus daily time charter equivalent rates for the smaller and mid-size vessels. This increased shipping activity will primarily affect Panamax ships. (briefing.com)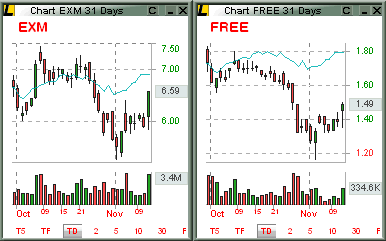 In addition, economic numbers from China last night showed that industrial production was 16.1% higher year/year for the month of October, and core machinery orders surged 10.5% month/month in September. This final datum carries enough weight that non-speculator money is, at long last, eyeing the shipping stocks as possibly a rational play for early 2010. In a sector where P/E numbers are tiny (generally in the range of 4-8) and price/book numbers are laughable (averaging around 0.50, some much lower) you would normally expect to see a few bankruptcies going on, but aside from a small British shipper last year, there is no one going out of business to explain the massively depressed shipping stock prices. Clearly, there is ample room for stock price improvement, and that means that the shippers, as a sector, remain in the eyes of Wall Street as the last and most severely unrecovered stock sector left in this recent bull market advance, the last shoe to drop.
The recovery of shipping cannot be separated from the recovery of the world economy - it is so closely related, that we can say both "The shipping stocks are low due to not having a real recovery yet." and "The depressed shipping stocks prove that we don't have a real recovery yet." Conversely, some rational normalization of shipping stock prices is inevitable as economic recovery takes place, and we can bet that end-of-year money desperately wants to be sure to be in on it, if a case can be made that earnings have finally bottomed.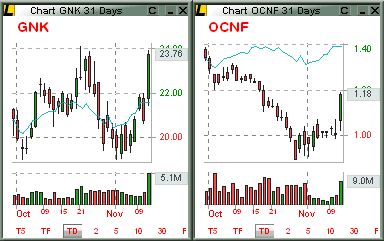 Fundamentals aside, we have seen some real, honest earnings beats too. Yesterday, DSX beat on the top and bottom line, and earned a Cramer endorsement. Micro-cap PRGN matched with beats of its own. Earlier, GNK and DRYS both bested Wall Street's expectations in posting their earnings. Prospects for the near future include upcoming earnings reports from FREE, NM, DHT, SBLK, SFL, FRO, and NMM. The market will concentrate some of its incoming money into these last earnings reports, expecting one or two more excellent reports to add fuel to the fire. Therefore, these names are among those to consider for taking on a position. As usual, any topping behavior in these stocks will be met with the usual heavy shorting, but careful management of positions can help to diversify risk. Try to trade in increments and avoid joining late in any explosive up move which may develop in one of these stocks. The best we can hope for in this early stage, if the shippers rally significantly, is a series of rising waves of stock prices, interspersed with pullbacks of at 20% or more.
Disclosure: My own positions right now include NM, EGLE, EXM, and OCNF.