Innovation has been the key reason for success, and the manufacturer of household soda machines, SodaStream International (SODA), works hard to innovate. Investors are closely observing this company and its success this year as the stock is up by more than 38% year-to-date. Moreover, SodaStream's profits increased by 36% year over year in the second quarter of 2013, mainly due to the rise in demand for its products from the launch at Wal-Mart Stores.
Going forward, the company has set a target to reach $1 billion in annual revenue, and the management is confident that the sales this year will increase by 30% year over year to $566 million. Let's find out what initiatives the company is taking to reach the desired target.
New Soda machine will help generate revenue
SodaStream wants to further increase its presence amongst consumers around the world. With a unique concept of "play it your way," the company launched its new soda machine 'Play' in September this year. This concept is customer-oriented and is designed to focus on individual taste and preference. This new soda machine will be available in six different colors and is the first soda machine in the world that offers an option to customize color of the body of machine. According to SodaStream, Play will be available to the consumers in early 2014. We assume this will aid the company to meet its target and secure revenue growth. Our assumption is based on the impressive performance of the predecessor, the SodaStream 'Source', which it launched during 2012. SodaStream sold 3.5 million soda machines during last year, out of which 1 million soda machines were sold in the last quarter alone. Despite the 36% revenue contribution from the U.S., SodaStream machines have approximately 1% penetration in U.S. households. We believe that the new product will help SodaStream increase brand popularity in U.S. households and meet its expectation to double its penetration in the next two years. The U.S. is the world's No. 1 market for carbonated drinks, which indicates that it has the biggest growth opportunity lined up in the coming quarters.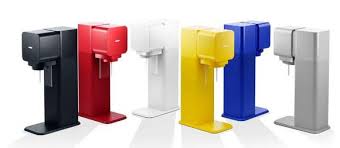 Source: coolhunting.com
SodaStream's new product success is also dependent upon its competitors present in the market. One such competitor is Starbucks (SBUX), which plans to launch "Fizzio," a new beverage making machine that is currently in the test phase. Since June this year, Starbucks has been testing three flavors Lemon Ale, Original Ginger Ale, and Spiced Root Beer. It is also testing the new product by offering customers an option to carbonate other drinks, such as iced tea and iced coffee, at no extra charge.
Starbucks is also focusing on the fast growing premium juice category with its 'Evolution Fresh' juices and expects that these juices will be available in around 8,000 U.S. coffee houses and grocery stores. It also recently acquired a chain of tea shops named Teavana. According to Starbucks, tea represents a huge growth opportunity. We don't think this will affect SodaStream sales, as Starbucks launched Verismo in 2012, a home espresso and latte maker, which failed to gain traction in the U.S. Within few weeks of launch, Starbucks lowered the price to $149 from $199 for the Verismo 580 brewer and to $299 from $399 for the Verismo V-585. One of the reasons behind the price reduction was slow sales of the machine. Additionally, Starbucks will find it difficult to beat SodaStream's expertise and dominance in the market.
The new refrigerator will bring additional revenue
Along with the new product, which is set to launch next year, SodaStream will benefit from its partnership with electronics giant Samsung Electronics (OTC:SSNLF). In February this year, Samsung launched a new four door 'French Door Sparkling Refrigerator' equipped with SodaStream soda machine. The 890L refrigerator has a built-in sparkling water dispenser that uses SodaStream's 60L CO2 cylinder. The Samsung launched the SodaStream refrigerator in the U.S. in April this year. This refrigerator is worth $3,899, and it is gaining popularity in the U.S. home appliance market. With the market share of around 10% in the U.S., we believe Samsung will observe an increase in the sales of its home appliances including the Samsung SodaStream refrigerator.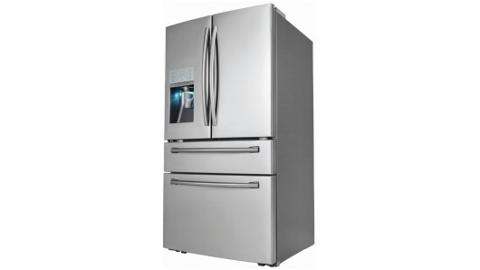 Source: Samsung.com
Going forward, Samsung plans to launch this refrigerator in Australia and New Zealand this year. We expect the refrigerator launch will guide Samsung to reach its annual revenue target from the home appliance segment of $18 billion in 2015 from around $12 billion last year. Also, the growing popularity of Samsung's mobile phones should boost the sales of its other products including refrigerator, T.V., oven, and washing machine.
SodaStream will definitely profit from the rise in sales of the Samsung's refrigerator. To secure revenue growth from this partnership, SodaStream launched three new cola flavors in Australia. The new SodaStream cola flavors will be Cola, Diet Cola, and Sugar-Free Cola. It created these flavors with a new flavor base and improved sweetener system. SodaStream conducted 'Blind' taste test trials in the U.K. that have shown consumers couldn't find any difference between SodaStream Cola and other cola drinks from Coca-Cola. We expect this will result in a surge in sales, and these new flavors will hamper cola giants including Coca-Cola and PepsiCo, which will make SodaStream a stronger and well-known brand. Another reason for the success of the product is the growing obesity concern amongst consumers. The new cola flavor doesn't contain high fructose corn syrup and contains 2/3 less sugar and calories than its major cola drink peers. Moreover, it is environmentally friendly, as using home soda machines can save 2,190 bottles and cans every three years.
Conclusion
We believe the various initiatives SodaStream is taking to make its brand stronger will guide it to a new level. The new product and the partnership with Samsung have built our confidence in the stock, as this will secure future revenue growth. In our view, the company's target also looks achievable with the brand gaining popularity with the masses going forward. These above mentioned factors will take the stock price beyond the $63 mark in the next two years.
Disclosure: I have no positions in any stocks mentioned, and no plans to initiate any positions within the next 72 hours. I wrote this article myself, and it expresses my own opinions. I am not receiving compensation for it (other than from Seeking Alpha). I have no business relationship with any company whose stock is mentioned in this article.
Additional disclosure: Fusion Research is a team of equity analysts. This article was written by Madhu Dube, one of our research analysts. We did not receive compensation for this article (other than from Seeking Alpha), and we have no business relationship with any company whose stock is mentioned in this article.