Randgold's (NASDAQ:GOLD) CEO Mark Bristow spent several minutes of his speaking time at the September 2013 Denver Gold Forum reading the industry his version of the riot act best summarized in the following two quotes:
"After a decade of rising gold price almost all of them (ed. the gold miners) are back where they started, and in some cases even worse."

"As the gold price increased there was a rush to increase reserves and production - at all cost."
He went on to compare the performance of the company he has been heading since incorporation with the performance of gold and the peers within the gold mining industry. The chart below replicates the corresponding slide in Mr Bristow's presentation. The picture does not really change whether we use a 10-year time frame as shown below, or some other period. Randgold has managed to outperform peers dramatically and consistently in terms of per-share growth.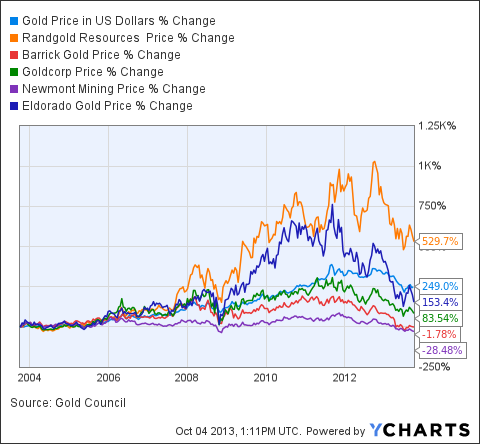 Gold Price in US Dollars data by YCharts
Mr Bristow attributed Randgold's success to long-term planning and a focus on cash-flow instead of growth for growth sake. Of course this mantra has been repeated by many speakers at the Denver Gold Forum and elsewhere, but considering Randgold's success the company must have done a few things right.
Randgold operates three mines in Mali (the Loulo, Gounkoto and Morila mines) and another one in Cote d'Ivoire (the Tongon mine). Only a few days ago first gold was poured at the Kibali mine in the Democratic Republic of Congo, or DRC, which is being developed into the company's fifth operating asset.
Randgold manages extremely high exposure to country risk, but appears to be able to reap the associated rewards. Mr Bristow prides himself with having built the Tongon mine amid a civil war. The company has weathered recent turmoil in Mali, and the company has been able to execute the construction of the Kibali mine in the DRC very well so far. The listed countries are associated with extreme country risk. Mr Bristow emphasizes Randgold's strategy of always delivering on promises and making sure of stakeholders benefiting from mining developments.
Despite the challenges posed by the declining gold price the company continues to generate meaningful profits and has yet to announce write-downs or impairments. Mr Bristow attributed this ongoing profitability to a very conservative gold price assumption of $1,000/oz for the calculation of gold reserves. Compared to other companies Randgold uses exceedingly conservative assumptions for its mine plan and this approach has paid off so far during the downturn in the gold mining sector.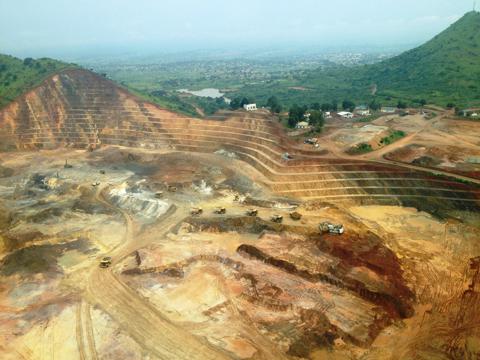 Click to enlarge
Kibali - The Next Step
Once completed Kibali will be one of Africa's largest gold mines. Randgold acquired the Kibali project by outbidding Red Back Mining for the acquisition of Moto Goldmines in 2009. (Red Back Mining was taken over by Kinross Gold (NYSE:KGC) for its Tasiast project about a year later.) The takeover was accomplished with participation of AngloGold Ashanti (NYSE:AU) who has since partnered with Randgold in the development of the Kibali mine.
The partnership between Randgold and AngloGold Ashanti is well tested. The same two companies have been operating the Morila mine in Mali since 2000. Both companies own 45% of the Kibali mine and the remaining 10% are free-carried by the DRC parastatal Sokimo.
Randgold optimized the feasibility study for the project by December 2011. Construction started early in 2012 and will be ongoing for some time to come. The project is structured into two phases.
Phase I includes construction of the open pit, the metallurgical plant, parts of the tailings storage facility, parts of power supply, and various pieces of infrastructure. A resettlement program for 14 villages is almost completed. More than 4,200 houses have been built, community infrastructure has been implemented and graves have been shifted.
Phase II will see the underground mine established and first underground ore is scheduled for the second half of 2015. Various additional infrastructure including hydro power stations will also be implemented as part of this second phase.
To quote Mr Barstow:
"We have carved out a word-class mine. Out of the bush in one of Africa's remotest regions. And in the process doubled its reserves to more than 11M ounces and increased its resources to 21M+ ounces."

"It has been an enormous feat of geology, engineering and logistics, as well as negotiation and diplomacy."
Gold sales from Kibali will start once the oxide circuit reaches steady state which could be as early as October. The sulphide circuit will be commissioned in the first half of next year. Guidance of 30,000 ounces should be exceeded in 2013.
2014 will presumably be the first full year of production for the Kibali mine with anticipated 550,000 ounces of targeted production. The additional attributable gold mined from Kibali will take Randgold's total production past the 1M ounce mark for the first time in the company's history.
While the project is on schedule time-wise, there have been some modest cost overruns. The price tag for Phase I has grown from originally $920M to current estimates of $1B. Phase II is now estimated to cost $700M, up from the original estimate of $650M.
Despite the downturn in gold price Randgold's operations have remained solidly cash flow positive. This cash flow continues to contribute toward capital expenditures at Kibali. Considering that the company has practically no debt, an undrawn $200M credit facility and approximately $45M in cash financing of the continued construction seems well secured. Year to date about $449M have already been spent on the project.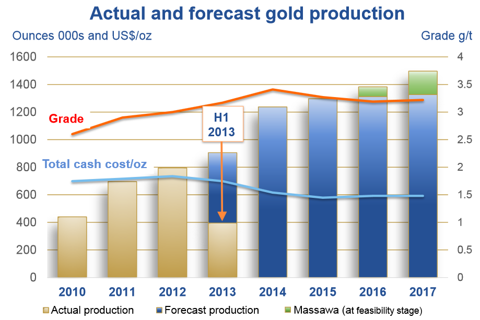 Click to enlarge
What's Next?
Randgold is working on a feasibility study for the Massawa project in Senegal. A development decision for this project may be due sometime next year. If taken further this project may become Randgold's sixth gold mine, and Senegal's second.
The company is spending significant resources in exploring the greenstone belts in Cote d'Ivoire and appears to have great expectations for this particular region.
Conclusion
Randgold offers exposure to a very well managed high risk/reward asset portfolio. If management continues to negotiate risk successfully then Randgold should be poised for further considerable growth over the next year and beyond.
Randgold remains profitable even at current lower gold prices. The balance sheet is un-geared. Once capital expenditure on the Kibali mine eases and cash flow from the mine starts to contribute toward construction of Phase II we would also anticipate the dividend yield to rise.
Completion of the Kibali mine represents the next stepping stone for Randgold and cements its position among the top 10 gold miners globally.
Disclosure: I have no positions in any stocks mentioned, and no plans to initiate any positions within the next 72 hours. I wrote this article myself, and it expresses my own opinions. I am not receiving compensation for it (other than from Seeking Alpha). I have no business relationship with any company whose stock is mentioned in this article.