Monsanto's (MON) stock has shown high volatility in the past four months due to global protests over its genetically modified seeds. According to protesters, genetically modified seeds produced by the company can cause serious health conditions and harm the environment. To avoid such circumstances for its new genetically modified seed "Intacta RR2 PROTM", the company underwent on-farm trials before launching it. Monsanto expects to ramp up its genetically modified seed production with the recent commencement of this seed's commercial production. This commercial production boosted investors' confidence in the company, which increased Monsanto's stock as depicted in the chart shown below. In this article, we are discussing what impact these new seeds will make on the company's profitability going forward.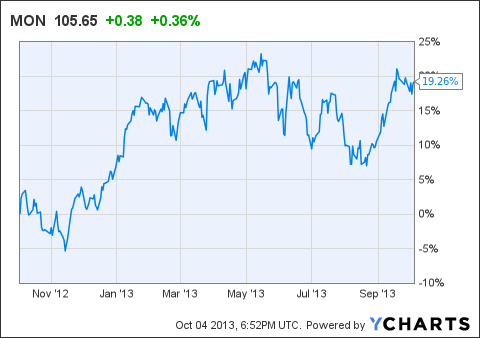 Sowing soybean to reap revenue
China is the world's largest importer of soybeans because its domestic production is not sufficient to meet the local demand. The country imported 60 million tons of soybeans in 2012-2013 and is expected to import 70 million tons in 2013-2014. To meet its growing demand for soybeans, China approved Monsanto's genetically modified soybean seed "Intacta RR2 PROTM" in June 2013.
Intacta RR2 PROTM soybeans have first- ever insect protected traits for controlling epidopteran pests, which are particularly harmful for soybeans. After receiving approval from China, the company started commercial production of these seeds for the 2013-2014 crop season of Brazil, which started in September 2013. Monsanto started this commercial production in Brazil since it is one of the largest producers of soybeans globally, and production of genetically modified soybeans seeds has been legal in the country for the last ten years.
Soybeans accounted for 18% of Monsanto's total revenue in its fiscal year 2012, which is the second most revenue generating segment. This contribution in revenue is $1.77 billion, which is a year over year growth of 14.8%. Assuming this revenue growth to be constant for fiscal year 2014, the soybean segment is expected to generate revenue of $2.0 billion, which will end on Aug 31, 2014. We feel that the company will be able to reach this revenue growth.
According to Monsanto, Intacta RR2 PROTM soybean seeds are estimated to cost around $22 per acre and are expected to cover 100 million acres of land in South America. As these seeds are meant for the September 2013 to March 2014 crop season, and assuming the seeds cover the whole land area in South America by the end of fiscal year 2014, we estimate revenue of $2.2 billion for the company in this region. We believe Intacta RR2 PROTM soybean seeds are a robust revenue generating opportunity for the company because it is expected to boost one of Monsanto's major revenue generating segments. Consequently, it is expected to significantly impact Monsanto's earnings, which will boost its stock price.
Valuation:
The competitors of Monsanto are Potash Corp. (NYSE:POT), Agrium (AGU), and Mosaic (MOS). We selected these three companies because all three are key players in the agriculture chemical industry. Moreover, after the news of BPC split, investors became more interested in knowing about Canpotex, which comprises of all three companies. We based our analysis on the assumption that an investor holding a portfolio of agriculture stocks would prefer Monsanto over the other three companies. We have selected them solely for the purpose of valuation, and we are not demeaning the worth of the other three companies.
The competitive analysis of these three companies is shown below:
| | | | | | |
| --- | --- | --- | --- | --- | --- |
| Valuation Parameter | Monsanto | Potash | Agrium | Mosaic | Industry |
| PE (trailing twelve months) | 23.23 | 12.43 | 9.98 | 10.13 | 15.2 |
| Forward PE | 20.9 | 13.77 | 10.43 | 13.01 | - |
| ROE (%) | 19.6 | 22.5 | 19.1 | 14.5 | 18.9 |
| P/B | 4.12 | 2.69 | 1.85 | 1.42 | 3.71 |
Source: Finviz.com
Monsanto presents a forward price to earnings, or PE, ratio of 20.9, significantly lower than its trailing twelve months PE of 23.23. Generally, a stock with a lower forward PE ratio compared to its trailing PE ratio is considered undervalued. As compared to its peers, Monsanto's stock is undervalued; all of its above-mentioned competitors have a forward PE higher than the respective twelve months trailing PE ratio.
Another valuation parameter, return on equity, or ROE, represents the amount of net income that is returned to the investors as a percentage of money shareholders invested in that company. A higher ROE is considered better. On analyzing the ROE of Monsanto, we found it to be better as compared to the industry ROE and its peers ROE.
Irrespective of other valuation factors, Monsanto's valuation is lagging in its price to book, or P/B, ratio. A lower P/B ratio represents an undervalued stock. Monsanto's P/B ratio is highest out of the above-mentioned companies. However, on comparing it with the industry's P/B, Monsanto presents a fair picture; its P/B is not significantly higher as compared to the industry's figure.
Attractive share thanks to dividend
The dividend growth rate is generally analyzed using the earnings growth rate of the company. For analyzing this dividend growth, we will examine the company's retention ratio and ROE, and under such case, the return on equity and retention ratio is considered constant for the next twelve months. Retention ratio is the portion of earnings retained by a company after distributing dividend to the shareholders. The product of retention ratio and ROE represents growth in the company's dividend.
We are assuming Monsanto's ROE and retention ratio to be constant for the next fiscal year for analyzing growth of dividend in the next fiscal year. Hence, we estimate that the dividend will grow by 13.6% in the fiscal year 2014.
| | | | |
| --- | --- | --- | --- |
| Company | Retention ratio (trailing twelve months) | Return on equity (trailing twelve months) | Dividend growth (for next fiscal years) |
| Monsanto | 0.694 | 0.196 | 0.136 |
Source: Finviz.com
Monsanto's stock looks attractive based on its dividend yield as well. In the past five years, Monsanto's dividend yield ranged from 0.65% to 2.35%. The company's current dividend yield is 1.41%. We feel that the above discussed genetically modified seeds will provide upside potential to Monsanto's earnings. We expect it will drive the company's dividends, and going forward, the dividend yield will rise beyond 1.41% to reach closer to the higher value of the above dividend yield range.
Conclusion:
Monsanto expects to grow with the second generation of soybean seeds in Brazil. On analyzing the financial aspects of these seeds, we found them to be a major growth prospect for the company. Monsanto's stock valuation also favors it compared to its peers. We consider this stock a comfortable returns provider and advise investors to buy it.
Disclosure: I have no positions in any stocks mentioned, and no plans to initiate any positions within the next 72 hours. I wrote this article myself, and it expresses my own opinions. I am not receiving compensation for it (other than from Seeking Alpha). I have no business relationship with any company whose stock is mentioned in this article.
Additional disclosure: Fusion Research is a team of equity analysts. This article was written by Shweta Dubey, one of our research analysts. We did not receive compensation for this article (other than from Seeking Alpha), and we have no business relationship with any company whose stock is mentioned in this article.