In a quick scan of policies offered through the Affordable Healthcare Act in the state of Washington, it appears vision is a covered benefit in the subsidized plans for patients under 19. Policies include one pair of glasses and contact lenses. This is a very positive catalyst for eye care providers and manufacturers and is a departure from previous standard plans that offered no vision coverage. Historically vision was a benefit added to policies for added value or as stand-alone plan. I look for above average revenue through 2014 in manufacturers of contact lenses and eye care retailers. The industry has been in need of a positive growth tipping point and this could be it. The sale of devices through eye care providers is an important source of revenue. Adding millions of new covered patients to the total addressable market should substantially increase sales in the USA. Practitioners depend on device sales and will promote both glasses and contact lenses to increase revenue and patient count.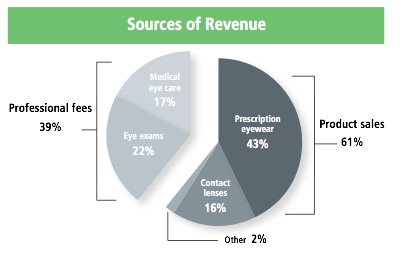 * Key Metrics: Assessing Optometric Practice Performance 2012

The contact lens industry has been stuck in a slow market growth phase for the past 20 years of 4% to 8% gains. This limitation in market scope has impacted both manufacturers and practitioners. The addition of basic vision benefits to standard insurance policies for dependents under 19 opens the door to additional marketing to teens, which is the largest growth segment by age in the industry.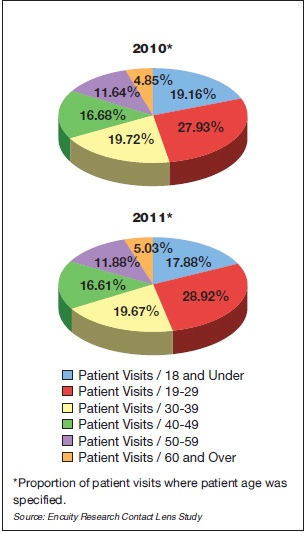 Since the Affordable Care Act is a USA centered program, manufacturer impact will be muted since all major manufacturers are selling globally. The USA is the largest contact lens market representing $2.4 billion compared to a global market of $7.3 billion in annual revenue.
There are four major manufacturers of contact lenses. Johnson and Johnson (NYSE:JNJ) has an eye care division under the Vistakon name representing 40% of global market share. Ciba manufacturers contact lenses and represents 23% of global share. Ciba along with Alcon (NYSE:ACL), an eye care specific pharmaceutical and lens care group, are divisions of Novartis (NYSE:NVS). CooperVision claims 17% of global share and is part of the Cooper Companies (NYSE:COO). Bausch and Lomb represent 10% share and was recently purchased by Valeant, a Canadian specialty pharmaceutical company. Luxottica Group (NYSE:LUX) is a major worldwide and USA retailer and manufacturer of glasses frames.
The eye care sector is generally a very stable sector. The confluence of governmental gridlock and the initiation of the Affordable Care Act look to offer a unique buying opportunity.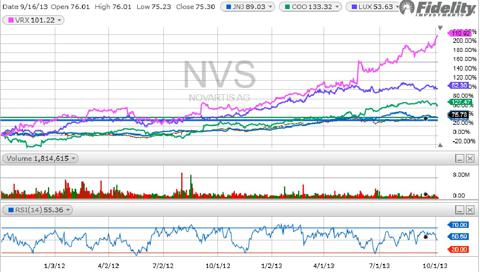 Company Yield 52-Week Change Comment
NVS 3.2% $18.50/24% Buy
JNJ 3.05% $26.60/28% Hold
COO .05% $46.61/34% Hold
VRX 0% $61.29/54% Hold
LUX 1.17% $20.29/36% Hold
Novartis is our top pick based on a number of factors. Good dividend, mix of medical and contact lens care pharmaceuticals with contact lenses, new product introduction in the primary growth area of single use soft contact lenses and competitive market share.
Disclosure: I am long JNJ. I wrote this article myself, and it expresses my own opinions. I am not receiving compensation for it (other than from Seeking Alpha). I have no business relationship with any company whose stock is mentioned in this article.