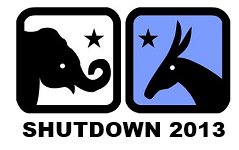 Can The Markets Handle The Debt Ceiling?
In this article, we compare the demand for defensive ETFs prior to the 2011 downgrade of U.S. debt to the present day. According to many talking heads, the U.S. will avoid a default. Do defensive ETFs agree? From Bloomberg BusinessWeek:
BlackRock's Laurence D. Fink and PIMCO's Bill Gross said the U.S. budget standoff will be resolved without a debt default. The congressional dispute will end "very rapidly," Fink said yesterday at an event hosted by the UCLA Anderson School of Management at the Beverly Hilton hotel in Beverly Hills, California, and streamed on CNBC.com. "It's theatrics posed by politicians to get ratings or to get their way via legislation," Gross said. "It's not a realistic proposition."
Consumer Staples: 2011 vs. 2013
Consumer staples refer to things you buy in all economic climates, such as toothpaste. Many pension funds must remain fully invested. When they are concerned about the stock market, they cannot convert to cash, but they can move to defensive consumer staples stocks. As shown in the chart below, that is exactly what they did as they prepared for the possibility of a downgrade announcement related to U.S. debt. The chart shows the demand for consumer staples (NYSEARCA:XLP) relative to the demand for the broader stock market (NYSEARCA:SPY). Fear is evident in the chart below.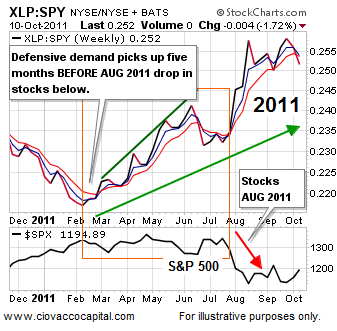 The same ratio looks much healthier in 2013. The demand for consumer staples has been getting weaker in recent months, which tells us to be open to bullish outcomes after the debt ceiling issue has been put to bed.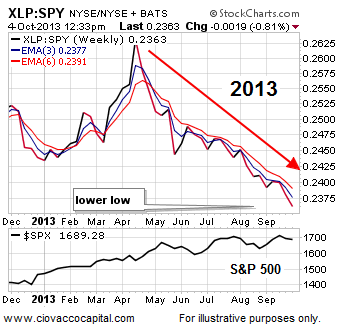 Bonds vs. Stocks
Long-term Treasuries (NYSEARCA:TLT) posted eye-popping gains when SPY was dropping like a stone in both the dot-com (2000-2002) and financial crisis (2007-2009) bear markets. When investors are concerned about the economy and future earnings, they prefer to own conservative bonds over stocks. The demand for TLT was increasing for several months before the downgrade of U.S. debt was announced in summer 2011. The rising TLT:SPY ratio foreshadowed the plunge in stocks (see red arrow below).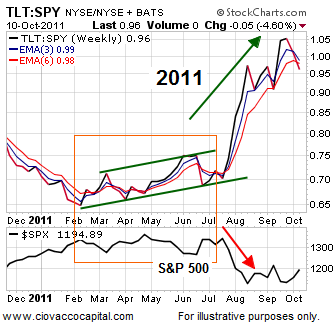 The same supply and demand ratio recently made a lower low, which tells us present day demand for conservative TLT continues to wane relative to SPY.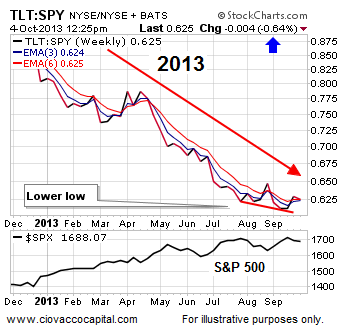 Gold Rush 2011 vs. 2013
When investors are concerned about the stability of the global financial system, often they seek hard assets, such as gold (NYSEARCA:GLD). As shown below, GLD was more popular than SPY for several months before the U.S. debt downgrade was announced. Gold was waving a red flag for stock investors.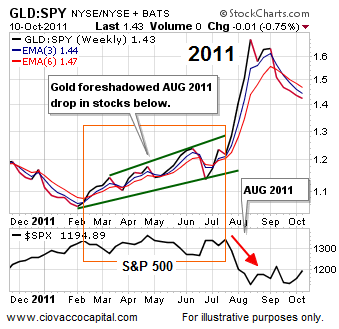 Are investors demanding gold as politicians threaten the possibility of a U.S. default? Not really; the present day GLD:SPY ratio shows demand for gold relative to stocks has been falling for several weeks. However, the higher low that is in place tells us to keep an open mind going forward (see green line).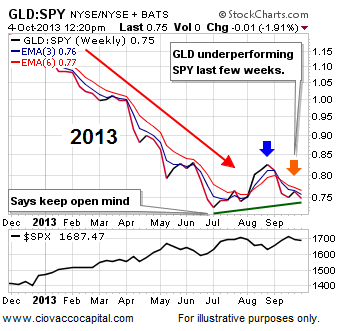 The Currency Markets Must Be Worried, Right?
Although it may be perplexing at times, the U.S. dollar (NYSEARCA:UUP) is still considered to be a safe haven currency. The safe haven status was evident in 2011 as investors prepared for possible turbulence from political sparring in Washington. UUP demand started to increase in late April 2011 or three months before stocks went south.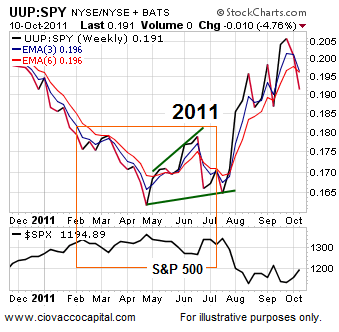 The ratio that measures demand for UUP relative to SPY recently made a lower low, which looks nothing like the 2011 chart above.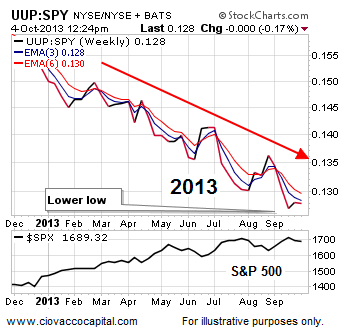 The Fed Has Skewed TLT
Demand for TLT has been altered by the Fed's bond buying programs. Therefore, it makes sense to monitor more than just TLT. A diversified basket of bonds (NYSEARCA:AGG) was gaining traction vs. SPY well before the August 2011 fireworks.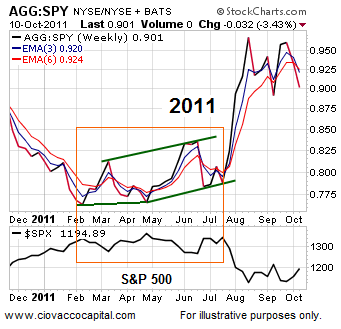 While the 2013 AGG:SPY ratio still sides with the "risk-on" camp, the orange line shows some hesitation. If bond:stock ratios begin to turn back up as they did in 2011, our concerns would increase.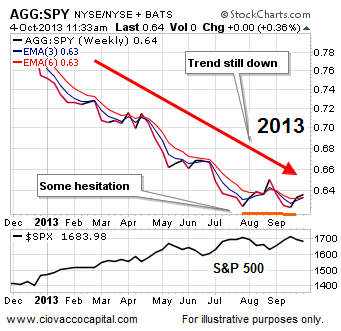 Still Not Convinced - How About IEF?
If we compare the two charts (NYSEARCA:IEF) below, we draw similar conclusions about the market's current tolerance for risk.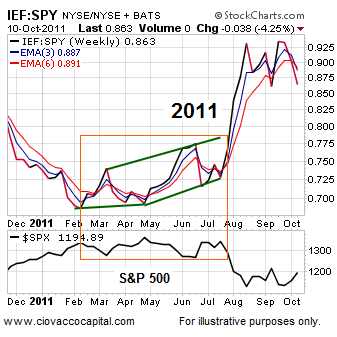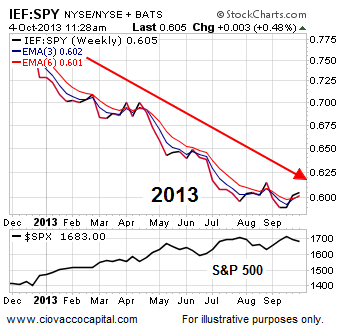 Investment Implications
Our market model has recently called for some padding of our money market funds, but it has not (A) recommended hedging (NYSEARCA:SH), or (B) adding exposure to conservative assets, such as Treasury bonds . Based on observations of the market's pricing mechanism, our core holdings have not changed. We continue to hold positions in U.S. stocks (NYSEARCA:VTI), technology (NASDAQ:QQQ), small caps (NYSEARCA:IWM), emerging markets (NYSEARCA:EEM), and foreign stocks (NYSEARCA:EFA). The outlook for the markets calls for the possibility of ongoing volatility until the debt ceiling has been raised within the framework of the U.S. Constitution. One bearish wild card, covered on October 3, is the scenario where politicians push the markets too far.
Disclosure: I am long QQQ, SPY, VTI, EEM, IWM. I wrote this article myself, and it expresses my own opinions. I am not receiving compensation for it (other than from Seeking Alpha). I have no business relationship with any company whose stock is mentioned in this article.